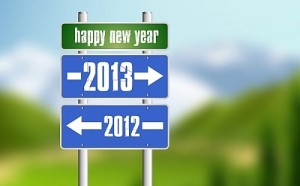 It's good to look back on a year of big dreams and hard work, and know you achieved some success. With the New Year right around the corner, I got to thinking about resolutions, as so many of us do this time of year. What did our Foundation resolve to accomplish this year? What did we get done?
In my New Year's
blog post
last January – right after I'd received the amazing Heroes Among Us award from the Celtics at center court – I predicted this would be a "pivotal" year for our organization. And I was right on the money.
Immersed in this work that we love, Jen and I always feel like every year is the best year ever. But 2012 truly was special. We broke fundraising records at every turn, from our
Boston Marathon team fundraiser
, to our
annual golf tournament
, to our
fifth annual gala
. And we blasted past the fundraising goals we set for our new initiatives – the
Daily Dose
and
Touchdowns by Tom
. (Thanks to our longtime sponsor Millennium, our friend Tom Brady's legendary arm and the generosity of National Grid!)
We gave a lot of thought to who we really are as an organization, committing to a new rallying cry –
(Up)Beat Cancer
– that fully expresses our optimism, irrepressible spirit and joy for life.  We laughed more, had more fun and made more friends – forging high-profile partnerships and attracting powerful and generous new sponsors. And through it all, most importantly, we helped more families than ever before.
Around this time last year, we had helped almost 100 families pay critical household bills during cancer treatment. In this past year, we upped that number to about 400. We also increased our funding for pediatric brain cancer research at Boston's Children's Hospital, honoring the memory of our brave young friend, C.J. Buckley.
None of this was accidental. When we started our Foundation nearly five years ago, Jen and I aimed to at least double our giving every year. We've consistently met that goal, and then some. We are, to put it mildly, ambitious about our growth. We simply want to help more and more people every year, alleviating the financial stress that we know cancer visits upon families.
We're also committed to bringing more joy into these families' lives, getting them out of the house and/or hospital for a little bit of normalcy and fun. We know how serious the cancer fight is, how critical it is to focus on health. I myself celebrated five years cancer-free this year, and I understand the importance of excellent medical care, rest and recovery. But we also know it's crucial to forget about cancer now and then. So we've made play, laughter and inspiration part of our (UP)Beat mission.
This year, we resolved to move the ball down the field, to bring more players off the sidelines and to tackle cancer, on every level. We played with heart, and we scored a lot of points. Right now, we're standing in the end zone, grinning like we won the Super Bowl and fighting the urge to do a little victory dance. But we know the game is far from over. So we're going back into our huddle, and getting our game plan ready to hit the ground running in 2013.
As we look back on this benchmark year, Jen and I thank you from the bottom of our hearts for supporting our team. We're gonna play hard again this year. And we are not shy about running up the scoreboard!
So, here's wishing you all a very happy New Year, from our family to yours. Don't forget to make those resolutions – and make them happen!
– Joe Andruzzi