This past Monday – June 26, 2017 – hundreds of Joe Andruzzi Foundation supporters gathered at the immaculate Pinehills Golf Club in Plymouth, Mass. for the Ninth Annual Joe Andruzzi & Friends Golf Tournament with a few goals in mind: to have fun, to "go-low" as they say in the golfing world, and – most importantly – raise crucial funds in support of New England cancer patients.
Looking back on those goals, we'd say the event was a hole-in-one – and when it was all said and done more than $300,000 had been raised in support of JAF patients and their families, allowing the Joe Andruzzi Foundation to provide financial and emotional assistance to 425+ cancer patients in the months to come.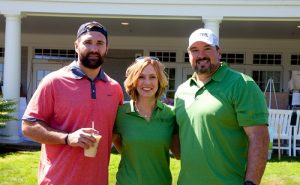 So much of the success of the event is due to our incredibly generous sponsors, led by the event's Presenting Sponsor (and long-time JAF supporter) East Commerce Solutions, Inc. East Commerce CEO Ed Medeiros and President Lisa Medeiros has long been champions of our Foundation, and Monday's tournament marked their seventh year as a JAF Golf sponsor, fourth as Presenting Sponsor. If we say it a million times it still won't be enough (but that won't stop us for trying): thank you for your inspiring support of JAF's mission.
We also want to share our gratitude to so many other amazing sponsors who supported the event – including our Celebrity Sponsor Bob's Discount Furniture; Dinner Sponsor J. Calnan & Associates; Auction Sponsor Walmart; Lunch Sponsors Behavioral Concepts Inc. (Jones Course) and J. Derenzo Co. (Nicklaus Course); Breakfast Sponsor Majestic Construction, Inc.; and Passport Sponsor ROI Communications. These are just a few of the numerous supporters who donated their time and resources to ensure we raised significant funds towards JAF's mission, and we are forever grateful for their commitment towards the patients we serve.
We were also privileged to have 30+ patient recipients and their guests play in the tournament thanks to our sponsors. One former JAF grant recipient in particular – Matt McSweeney – share his motivational story with our golfers through an amazing video produced by our friends at Regan Communications.
"The most important thing is to keep your head up," Matt shares in the video, referring to the emotional toll cancer can take on a patient. "Golf itself will teach you that. You can hit bad shots, but you still have to keep your head up, get to the next shot, and recover."
We'd be remiss to not also thank the all-star list of celebrities who donated their time to support the event, including current and former Patriots greats Rob Ninkovich, Geneo Grissom, Tim Fox, Ivan Fears, and Matt Chatham; former Bruin Cleon Daskalaskis; former player and current Celtics coach Walter McCarty; actor Kevin Chapman, and many, many others. We also want to send a special shout out and thank you to the hilarious duo of Lenny Clarke and Tony V., who once again reprised their roles of auctioneers during the post-round dinner program.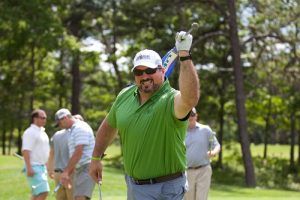 And last, but certainly not least, we want to thank all the participants, board and committee members, and volunteers who generously donated to the event and auction, both with their time and resources. Our annual golf event enables us to keep on giving to those whose lives are affected by cancer, and we are forever grateful to everyone who joins us in this mission. It truly is a touching reminder of what can be accomplished when we all come together to pay it forward.
Be sure to check out our Facebook photo album for some amazing on-the-course shots, and mark your calendars down to save the date for next year's Tenth (!) Annual Joe Andruzzi & Friends Golf Tournament on Monday, June 25, 2018. (You guessed it – right back at our favorite course, Pinehills Golf Club!)
-Jen and Joe Andruzzi