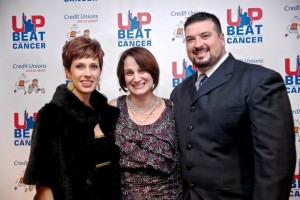 We're still recovering from our big night at Gillette, but we have great news to share: our Foundation raised a record-breaking $500,000 Monday night – $175,000 more than last year! We know we can help many more families in 2013, fueled by the generous donations of our friends, supporters and sponsors.
It was a truly special night – our first gala at Gillette Stadium, which is such a memorable place for Joe and our family. We owe a big thank you to the Kraft family and the Patriots for supporting our event this year.
We were honored to have Mr. Kraft on hand, as well as many of Joe's former teammates – and new players on the team – like Rob Ninkovich, Zoltan Mesko, Sebastian Vollmer, Nate Solder, Marcus Cannon, Steve Gregory, Kevin Faulk, Troy Brown, Sammy Morris and Matt Light. We love our Patriots family, and feel so lucky to have them in our corner, after all these years.
Scott Zolak, a retired Patriot and host on 98.5 The Sports Hub (and an analyst for the Patriots network), did a great job emceeing, and local radio and TV star Billy Costa kept our auction lively. And we very much appreciate all of our friends in the business and sports communities who donated tickets, packages and items to make our auction awesome.
We also welcomed back our 2010 keynote speaker Kimberly Alexander, who founded the Tackle Cancer Foundation after losing her husband Elijah Alexander, an NFL linebacker, to cancer. Dr. Peter Manley, Director of the Pediatric Brain Tumor Outcome Program at Dana-Farber, also updated us on the latest developments in brain cancer research.
We also had a TON of fun unveiling our ne
w book of funny kids' quotes,
"Don't Lick Your Friends! And other hilarious insights from kids." Our first publication grew out of this fall's
Daily Dose
campaign, in which Millennium donated $5 to the Foundation for every funny kid quote Tweeted or posted to
Facebook
by our friends and followers. The book, a collection of our favorite quotes from the campaign,
will be available on our website
, with all proceeds
benefiting
JAF.
But the most touching part of the night was definitely hearing from some of our patient grant recipients. Nicole Fiset, Jason Suffoletto, Rochelle Janey, Patricia Harris (speaking for her son, Ayden), and Michelle and Matthew Rohnke (speaking for their baby, Scarlett) all shared their stories with our donors, and we thank them for their courage and honesty. It is a true blessing to have the opportunity to help brave families such as these.
We also got to honor the amazing Lisa Scherber (pictured above) with our inaugural (Up)Beat Award, recognizing her relentlessly positive outlook and all of her inspiring work with young cancer patients. Lisa is the Director of Patient and Family Programs at Dana-Farber/Children's Hospital Cancer Center, but she's known as the "play lady" to her young friends. She simply embodies our philosophy at JAF – that laughter truly is the best medicine and that patients and families need to have fun and forget cancer now and then.
Thank you, again, to all of you, from the bottom of our hearts. Your loyalty touches us, your generosity inspires us, and your giving allows us to help families struggling with cancer, when they need it most.
As we head into the holidays, our Foundation is looking forward to a new year filled with laughter, love, kindness and many, many patient grants!