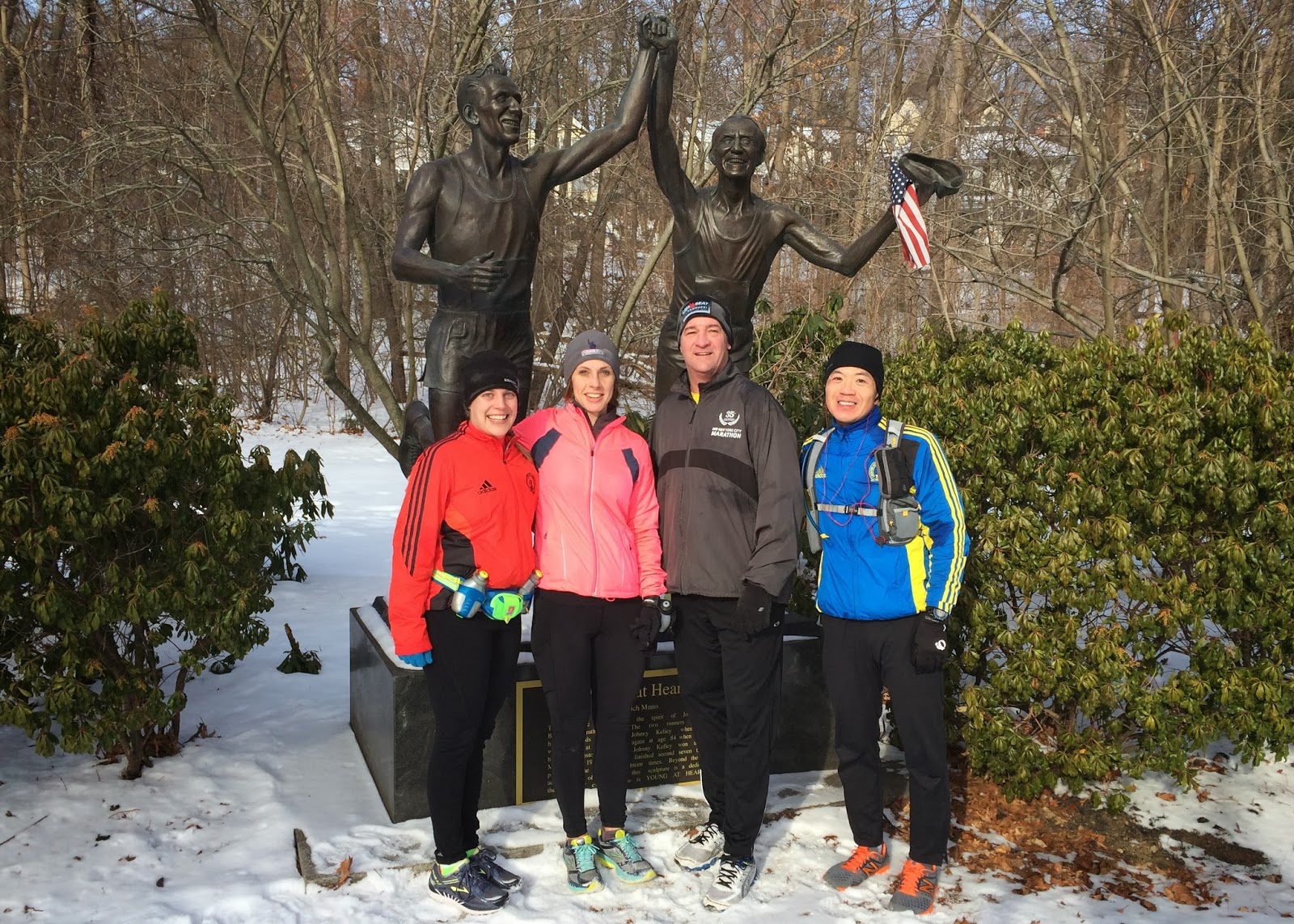 On April 21 the Joe Andruzzi Foundation will once again be tackling cancer with each stride when 47 "Team JAF" runners take to the streets of Boston for the 118th Boston Marathon – all to raise money in support of our mission of providing help, hope and a reason to smile for patients and their families. Team JAF runners will also be spreading JAF's (Up)Beat philosophy, stressing the power and importance of positivity.

Team JAF, which has doubled in size from last year, is a diverse group of cancer survivors, athletes, veteran marathoners and those running in memory of loved ones. We are so grateful for each and every member of our team, and to all those who help them reach their fundraising goals.

What better way to kick off our 2014 Team JAF runner blog series than having JAF Executive Director (and first time marathoner!) Jen Andruzzi discuss her reasoning and motivation to cross the finish line this April. 
__________________________________
For the past three years I have watched members of our incredible Team JAF runners relentlessly train and cross the Boston Marathon finish line with enormous smiles on their faces and such a sense of accomplishment about themselves. I always wondered what that would feel like – I can't wait to find out this April.
After last year's tragic events, I told myself I cannot let my Team JAF family go out there without me in 2014. I have to show the team, my family, and myself that no one can take away Team JAF's determination and spirit. My role at JAF has always been to set a tone to move our mission forward, and now I get a chance to do that literally.
My desire to run with Team JAF this year has been fueled by a longstanding Foundation motto – to 'pay-it-forward' – and I'm excited to cross the finish line in honor of all our runners, volunteers, employees and supporters, as well as the victims and medical professionals that were profoundly affected by last April's events.
Team JAF's fundraising is once again being led by CharityTeams nonprofit consultant Susan Hurley, who helped JAF exceed our 2013 goal by raising more than $172,000! The team–sponsored by East Commerce Solutions, Inc., for the second consecutive year – has already raised more than $127,000 towards our Foundation to date! What a group of rockstars! I can't tell you how special it feels to be part of such an amazing group.
All funds raised by Team JAF through Marathon Monday will go towards our mission of alleviating cancer's financial burdens on patients, as well as funding critical pediatric brain cancer research at Boston Children's Hospital.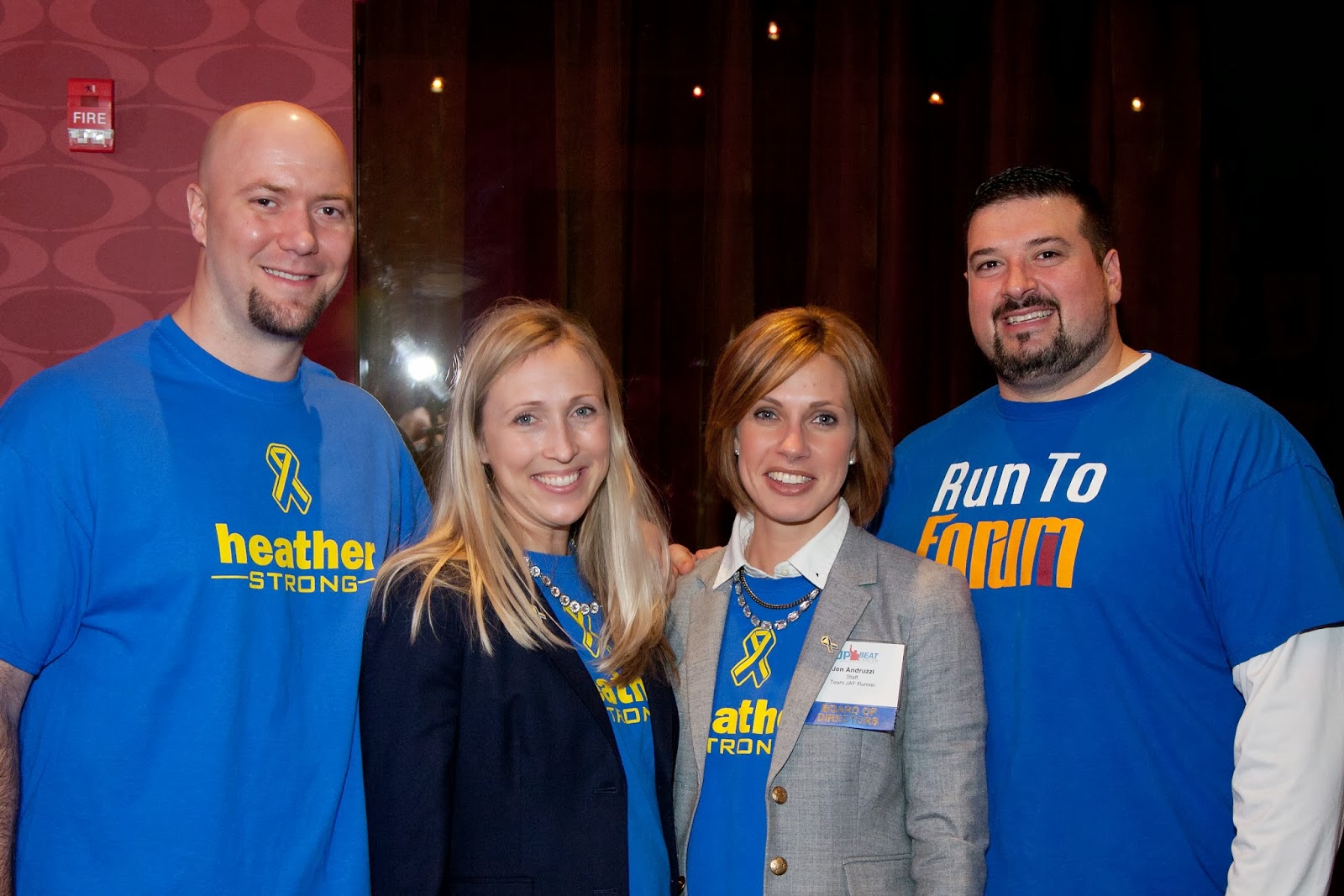 I'm also excited to say that JAF will be returning to Forum Restaurant on Boylston Street for its Marathon watch party, cheering us on as Team JAF comes down the final stretch. It will certainly be an emotional return to the venue, but one celebrating the resiliency of Forum, its staff, the City of Boston, and JAF supporters who were affected by the events. I can't wait to join the festivities after I cross the finish line.
Speaking of which, I have had the pleasure of training with many new and returning Team JAF runners, and it is safe to say that each and every member of our team embraces our Foundation's philosophy of staying (Up)Beat, having a positive attitude and smiling in the face of adversity.
Training is going well so far, and I can't believe how quickly I'm catching the bug. Last week when it was pouring rain I told myself I had to go out and train – after all, no one knows what Mother Nature is going to do on Marathon Monday. At some point during that run I had a thought – what if someone took my ability to run away from me? How devastating would that be? Ever since, I keep in mind that I'm not only running for myself, but for those who cannot.
And that's a feeling all of our runners carry and embrace. Team JAF is a collection of 47 amazing individuals, each with a different story to tell, and I hope you'll check back in with our blog over the next three months to learn more about our (Up)Beat JAF ambassadors, track their progress, and help them reach their fundraising goals.
Donations to Team JAF can be made through the Foundation's Crowdrise page, and our supporters can follow Team JAF updates via the Foundation's Twitter and Facebook accounts and the #TeamJAF hashtag. You can also follow my progress at @jenandruzzi.
Now if you'll excuse me, I've got 26.2 miles to tackle!
-Jen Andruzzi