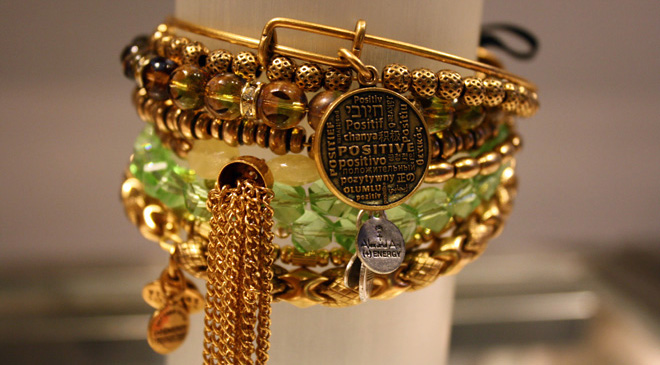 *Note: The following has been featured as a Guest Blog for Alex and Ani, in celebration of our Charity by Design, "Positive Is How I Live" bangle launch. We are overjoyed to share this blog post with you and express our excitement about our new partnership with this incredibly positive company!
At the Joe Andruzzi Foundation, we are committed to providing financial and emotional support to cancer patients and their families when it is needed most. After Joe's own battle with non-Hodgkin's Burkitt's Lymphoma six years ago, we were inspired to create a foundation that alleviated the stress of daily living expenses for families. But we're not just beating cancer's impact – we're (Up)Beating it.
(Up)Beat Cancer
is the Foundation's rallying cry
– it is the belief that smiles, laughter, a positive spirit and an upbeat attitude will have tremendous impact in the fight against cancer. 
Every day, we encourage patients and their families to remain upbeat and continue smiling. However, we know first-hand the impact that a cancer diagnosis brings, and that having a positive attitude is not always easy.
Thanks to an incredible partnership with
Alex and Ani
Charity By Design, patients, family members, supporters and friends of the Joe Andruzzi Foundation from around the globe can now wear a
"Positive Is How I Live" bangle
on their arm as a reminder of this (Up)Beat philosophy and a source of inspiration every day.
The new charm, designed specifically for the Joe Andruzzi Foundation, features the word "Positive" in multiple languages. After all, smiles and laughter break down language barriers
– they are universally understood. The Meaning Card that accompanies each bracelet perfectly encapsulates the Joe Andruzzi Foundation mission to provide help, hope and a reason to smile for cancer patients and their families. It states, "Positivity is contagious. Share your kind energy with others to start a movement of optimism. Greet each day with an open heart, for every situation is enhanced with enthusiasm. Overcome any obstacle with upbeat persistence and create your own positive life."
This bangle is particularly special to us as it speaks to the hundreds of families that our Foundation has helped, and the many more that will be assisted because of this partnership. Even beyond the reach of the Foundation, the message can resonate in anyone's life. Our hope is that you'll become inspired by the meaning behind the "Positive Is How I Live Bangle", and motivated to purchase bangles for yourself, your friends and your family.
On behalf of the Joe Andruzzi Foundation and our patients, families and friends, I'd like to extend a heartfelt "Thank You" to Alex and Ani Charity by Design. Your commitment to the Foundation will help cancer patients overcome unforeseen obstacles and discover the incredible power of an upbeat attitude. This collaboration is truly a continuation of the movement of optimism, and we're thrilled to embark on this journey with you.
To learn more and purchase the "Positive Is How I Live" bangle,
click here
.
Warm regards,
Jen Andruzzi