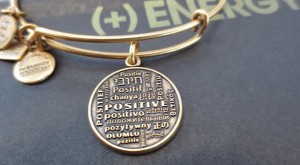 With the holidays in full swing, we are reminded of how generous our donors have been to the Joe Andruzzi Foundation over the past year, especially at our sixth annual New England Celebrities Tackle Cancer Gala, which brought together so many incredible individuals, companies and organizations to help children and families battling cancer. Every single member of the JAF family is so important to our mission, and we have been blessed with some truly impressive support from our sponsors this year. These include Credit Unions Kids at Heart's generous donations and National Grid's Points for Patients program, among others.
This year also brought new support from our friends at Alex and Ani, a rapidly expanding and wildly popular jewelry company known for its motivational and innovative charm bangles. In 2013, Alex and Ani became one of our most creative and inspirational partners to date.
Our Foundation was connected with Alex and Ani in late 2012, when I met Nicki Maher, the company's VP of its Charity By Design branch, at an event. Immediately, Nicki understood our vision and mission, and wanted to do something to help. Over the next year we worked closely together to design something that reflected our vision and hope for the future, while raising funds for JAF's mission.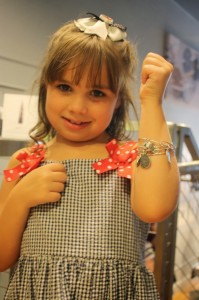 "As a Patriots fan, I have always followed Joe's story," Nicki told us recently. "The way he was so positive and generous, even while battling his own cancer, was so inspirational. When I met Jen, and heard her side of the story, I knew immediately that we wanted to be help."
In August, Alex and Ani launched the "Positive Is How I Live" bangle, contributing 20 percent of every sale to JAF, with a minimum donation of $20,000. Sales of the bangle have already provided impactful funding for JAF, and the bangle itself is a beautiful representation of everything we stand for – a physical reminder for patients, families and supporters of the power of positive and (Up)Beat thinking.
Since the release of the "Positive Is How I Live" bangle in August, Alex and Ani has sold over 25,500 bracelets, and has contributed thousands of dollars to the Foundation over the years to help alleviate the financial burden on patients and families battling cancer. Their generous donations have played a big part in allowing the Joe Andruzzi Foundation to support a record number of patients in 2013.
The charm, designed specifically for the Joe Andruzzi Foundation, features a collage of the word "positive" in several languages, since the spirit of positivity bridges all languages and cultures. This bangle is particularly special to us because it reaches out to all of the patients and families that are battling cancer and offers them a physical reminder of our simple but inspiring message. The positive message also gives strength to anyone struggling with any battle, reaching beyond our organization to bolster anyone in need of positive reinforcement for any reason.
"There are so many people that are sick or just trying to overcome something difficult," Nicki said. "If they had even two ounces of that contagious positive energy that Joe has, it could go a long way toward their recovery."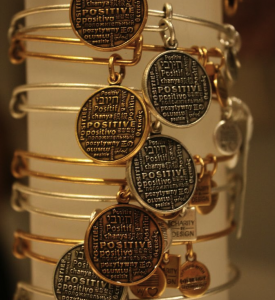 The "Positive Is How I Live" bangle launch this summer received the largest Twitter and Facebook social media response that Alex and Ani has ever experienced, with stories and thanks pouring in from cancer patients, families and supporters from all over the world.  Alex and Ani's Facebook and Twitter were flooded with stories from individuals overcoming their struggles and finding hope in wearing the bangle. We were overjoyed to see so many people connecting with our positive message in such a powerful way.
We are so thankful to have Alex and Ani part of the JAF family, and that our partnership is making a difference in the lives of many battling cancer. As a company, Alex and Ani truly embodies (and understands) our mission and our vision for the future. As people, they are some of the most invested and caring individuals we have ever worked with, and I look forward to accomplishing much more together in future.
To purchase a gold or silver Positive Is How I Live Charm Bangle and directly assist JAF patient families, please visit: http://bit.ly/16IHKwL 
Also, keep an eye on the JAF Twitter and Facebook pages on Friday, December 20 for special Alex and Ani bangle giveaways!
– Jen Andruzzi
P.S. – Check out the video below of Nicki discussing the "Positive Is How I Live" bangle on NECN earlier this month live from the Mass. Conference for Women!