Returning JAF Team member Rebecca McCarthy works as a principal laboratory technologist at Genzyme, so she knows research can take years to deliver results for suffering patients. That's why she loves to raise money for JAF – she knows our families are getting immediate and tangible help with their pressing financial concerns during cancer treatment.
We're so proud this 35-year-old mom, who lives with her husband Donald and two-and-a-half-year-old daughter Lachlyn in Needham, is back for a second year with our team.

Keep up the good work, Rebecca, and thank you for supporting us! 

– Joe Andruzzi
JAF: What inspired you to run for JAF this year?
Rebecca: This will be my second year running Boston for Team JAF, and while the unprecedented heat of last year made me want to come back this year, the main reason is how open and real this cause and team is.
From the beginning, Joe and Jen have been present at meetings and fundraisers. They also show their support through email and by waiting at the finish for all their runners. The cause is also such a real and tangible one. Working in research, as I do, it is nice to see an immediate result, regarding where funds raised are going.  Research can take years to yield results, but paying people's bills while they deal with a family member in the hospital is immediate.
JAF: What's your fundraising goal and how are you meeting it?
Rebecca: My goal this year is $7,000.  I have been reaching out through social networks and letters. I also just held a great fund-raising party, following one of our team long runs. I plan to raise the rest, or as much as possible, through family and friends. The second year has definitely been more of a challenge, fundraising-wise, but it will happen.
JAF: What's on your marathon resume?
Rebecca: Boston in 2012.
JAF: How do you train?
Rebecca: Training this year has been more challenging, due to the weather. We were blessed last year with a mild winter. I can only hope that Marathon Monday will not be a repeat of last year. I follow the Hal Higdon Marathon training plan Novice 2.  I run three days during the week with a friend from work. We both have children and busy lives, so we meet at 5a.m., prior to work, to get the run in.  I cross train on Mondays and do my long runs with the Charity Team group on Saturdays.
JAF: How do you stay motivated to train in winter?
Rebecca: Meeting my friend is a big motivator. Knowing someone is waiting for you. Also, thinking of what these patients are dealing with makes running in the cold a small price to pay.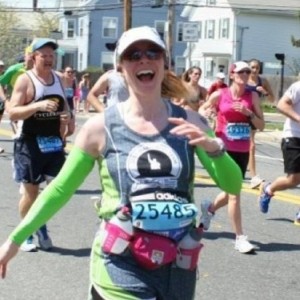 JAF: Do you do other charity work?
Rebecca: No, this is the charity I have chosen to invest my time and energy in. I feel like part of the JAF family. I originally got involved because I wanted to run Boston and because – out of all the charities – this foundation solved an immediate need for the people it helps. After joining the team, my husband and I realized that, along with the cause, comes a great attitude and vibe that all the foundation members give off.
JAF: Give us a good running story!
Rebecca: The most inspiring running story I have comes from this past fall, when I got the chance to run the Smuttynose Half Marathon in Hampton Beach with some of Children's Hospital patient partners. Through JAF, I got connected with a board member who works for the credit unions that help sponsor Children's Hospital patient partners. History was made that day when the first mother/daughter team completed the full marathon. Known as the K girls, seeing this small spitfire of a mom run and push her 17-year-old daughter, who has mitochondrial disease, in a wheelchair was so inspiring. I also got to run with Andy, a high school boy who completed his first wheel chair race. Getting to know these people and their stories and run beside them changed my perspective on a lot.
JAF: Tells us more about you and your family?
Rebecca: I would just say that, as difficult as it can be to balance work, family and running, the reward comes from crossing that finish line and seeing Joe and Jen… and knowing you have helped so many families. At least I am blessed to have a healthy daughter; we have runners on our team who have children battling cancer and I cannot even imagine that. My daughter now knows I'm running to help kids who are sick. I hope to be a role model to her, not just when it comes to putting your health first, but in being philanthropic and paying it forward.
JAF: Who's your favorite superhero?
Rebecca: My mother! She was a single mom, who had to work full-time and still was able to keep it all together and make sure I never wanted for anything. She has been a huge supporter of my running, as well.
JAF: How do you stay "upbeat" and motivated?
Rebecca: I remember how far I have come – from someone who did not exercise and was overweight/lazy to an empowered marathoner running for a great cause.  Looking at my daughter's photo during a tough part of a run also keeps me going.
JAF: What would surprise non-runners about marathons?
Rebecca: It is completely doable. There are plans for every level and, other than the long run on a weekend day, it is not that much of a time commitment. Staying on the course and getting your runs in is what it takes. The little things make the biggest difference: rest, cross train, stretch and good shoes!
JAF: Runner's high… myth or reality?
Rebecca: I think it is real. I have battled with depression and my husband would agree that if I go a few days without a run I am not in a good place. At about 10 miles in, I feel good. And no matter what, when it is over, I definitely have a feeling of calm and relaxation.
JAF: What's the best training snack?
Rebecca: I am a believer in UCAN prior to and during the run. It really keeps my energy up, with no crashing. During the run, I eat pretzels and Fig Newtons every few miles.