For the past two years I have been the

Fight Back

Co-Chair for the Mansfield, Massachusetts Relay For Life. When I arrived at my first meeting in 2008, I was welcomed warmly by many. Now I consider this group of dedicated participants my Relay For Life family.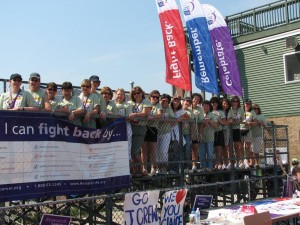 Although everyone comes for a different reason, we support each other to

Celebrate

,

Remember

and

Fight

Back

. As you can imagine, my connection is very personal. When Joe was told that he was in remission, it was the happiest day of my life. However, he had so much healing ahead. The doctors told him that it could take up to year to start feeling himself again.
A year, I thought, that was longer than either of us expected. How would we fill our time to make sure that it passed quickly? Ironically, that is when I found an article in the local paper on Relay For Life. The woman in charge was so excited about my outreach that she signed me up immediately as the Fight Back co-chair.
Tuesday, February 9, 2010 is the big KICK OFF night for the Mansfield Relay For Life. I encourage those who are local to join me at Mansfield High School, starting 7:00 p.m., to learn more. I would welcome your support on our team or even inspire you to form your own. Mansfield's Relay in 2009 had 121 teams, 1,750 participants, over 200

survivors

and raised $422,693.00. If you are unable to make the meeting this evening check out the Mansfield's Relay website

http://relayfor

life.org/mansfieldma.
For those outside of this area, I urge you to look at the ACS website

http://relayforlife.org/relay/
and find out more about your local Relay For Life. Become a volunteer, a participant or even co-chair of your local Relay.