After months of long and challenging training, Team JAF's dedicated marathoners are finally nearing the finish line. And for the first time ever, we'll have front row seats at our own official Marathon Watch Party & Fundraiser at FORUM – a prime viewing spot, just steps from the end of the course on Boylston Street.
We hope you'll join us – along with our sponsors East Commerce Solutions, RadioBDC and Michelob Ultra – for some delicious good eats, festive drinks and plenty of amazing giveaways, as RadioBDC's Adam 12 broadcasts live from the party!
Twenty-five percent of all ticket sales will benefit our Foundation, adding to the already impressive funds our amazing runners have raised this year to help cancer patients and their families. We have a good feeling it's going to be another record-breaking year for JAF marathon fundraising.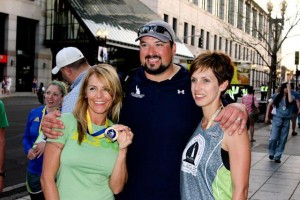 The Boston Marathon is one of the world's hardest courses, but its historic nature and the outpouring of love and support runners receive from our entire region makes it incredibly rewarding, as well.
Jen and I are really looking forward to honoring our team's months of hard work, training and fundraising. We couldn't do our work – providing financial assistance to cancer patients and their families during treatment, and funding pediatric brain cancer research – without the dedication and commitment of our incredible supporters.
The Run to FORUM watch party is planned for Marathon Monday (April 15) from 10 a.m. to 8 p.m. at FORUM, 755 Boylston St. Tickets are only $25 and can be purchased online and at the door (make sure you're in by noon). Or you can go VIP with reserved seating and complimentary food – a limited number of those tickets are available, too.
Come out and watch our fearless runners – and thousands of others, competing for records and charity – victoriously cross the finish line of the 117th Boston Marathon.
A good time + a good a cause = a win for everyone!
– Joe Andruzzi