Just six days ago – on Friday, March 25 –I made a decision that will significantly impact my life over the next month or so. "Decision" may not actually be the right word; it was more of a commitment.
I am going to run the 120th Boston Marathon – my first – alongside 18 other Joe Andruzzi Foundation Team JAF runners.
Having just started training late last week, I know what you're probably thinking. Are you crazy? Are you worried about finishing? How are you going to do it?
The truth is, my motivation to run the Boston Marathon has little to do with myself. I'm doing it in honor of individuals who are diagnosed with cancer every day and have no choice but to begin treatment immediately.
These patients do not get a heads up, or ample time to prepare themselves for the physical toll they are about to endure – and believe me, the aggressiveness of some treatments require patients to be in the best physical health and shape possible.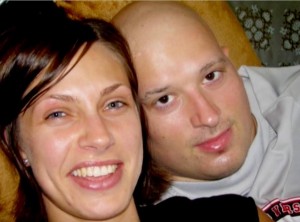 I watched a healthy individual deteriorate within two-weeks of beginning treatment; yes, I am talking about the love of my life. By the grace of god, Joe won his fight against cancer some years ago, but there are so many others that do not.
I can't relate first hand to what that must feel like, but in undertaking this month-long journey, I feel like I can be at least one step closer to better understanding the blunt, harsh realities that so many JAF patients have (and will) face. I am taking this 30-day challenge head on, and every stride I take will be for those who receive a cancer diagnosis and do not get the option of training for treatment.
Though I received an invitational entry into the Boston Marathon – which I am immensely thankful for – I will be treating it as a charity bib, like so many of our 2016 Team JAF runners received as part of the John Hancock Non-Profit Program. As such, my $18,200 fundraising goal has a special meaning behind it: it represents 26 cancer patients and families that – should I succeed – will be able to receive a JAF Financial Assistant Grant (one for each mile). I intend to hand deliver each check personally to upcoming JAF grant recipients.
The road to Marathon Monday will surely be difficult, but it's nothing compared to what so many cancer patients and families deal with on a daily basis. My hope is that I will succeed and remain healthy – I attempted to run Boston in 2014 but an injury prevented me from doing so – but I will also need your assistance to help me reach, and exceed, my goal.
Please consider visiting http://bit.ly/26patients to make a contribution towards my campaign. Every step I take – along with my 18 Team JAF partners – will bring us one step closer to alleviating cancer's financial burdens on those who are going through the most difficult times of their lives.
When the stakes are that high, every little bit counts.
From the bottom of my heart – thank you.
#UpBeatCancer #RunBold