Thanks to our amazing friends and supporters at Boston Harbor Cruises, Joe Andruzzi Foundation patient recipients and their families got to enjoy a beautiful day out on Boston Harbor last Thursday for the eighth annual Joe Andruzzi Foundation Codzilla Thrill Ride (Up)Beat Opportunity!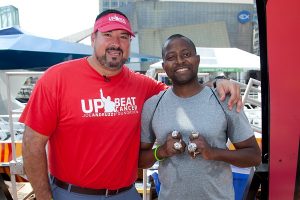 Though we say it each summer, it's certainly worth repeating: the annual Codzilla outing is one of our favorite days of the entire year. Seeing the ear-to-ear grins on the faces of our patient families. Watching kid's close their fists to show off Joe's Super Bowl rings. Soaking in the happiness that comes from young families enjoying a cold ice cream on a hot summer day. These are the things that remind us of what our (Up)Beat Cancer mantra truly represents.
(Up)Beat Cancer is an expression of who we are as an organization: fun, full of laughter and happiness. Upbeat. We truly believe laughter is the best medicine, and that patients and their families can greatly benefit from the relief of cancer's financial and emotional burdens so they can focus on what really matters: getting better and enjoying life.
At the forefront of this mantra is our foundation's ongoing series of (Up)Beat Opportunities – events and gatherings organized to help take patients' minds off of treatment, even if just for an afternoon.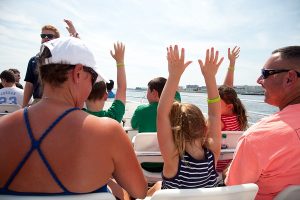 The Joe Andruzzi Foundation flagship mission is to solve the financial burdens New England cancer patients and families have to navigate each day – but we also know the importance of having a positive and optimistic mindset to get through the tough road that accompanies a diagnosis and treatment plan. What better way to reinforce the power of positivity than a day out on Boston Harbor – miles away from any hospital or doctor's office?
As usual, the day turned out perfectly, as the 90-degree July sun was counteracted by the cool splashes of the Atlantic Ocean that spilled into the boat during one of its signature high-speed turns. (Okay, "splashes" may have been an understatement…some riders in the back got absolutely soaked!)
If you haven't had the pleasure of enjoying Codzilla, the ride is Boston's fiercest "Water Coaster," a fantastically designed speedboat resembling the fabled "mutant cod" that roams the waters of Boston Harbor. Fueled by twin-turbo charged diesel engines, this menacing, fire-engine-red speedboat swerved, curved, spun and ripped across the water at speeds of 40 miles per hour.  
But at its core, what Joe and I love most about our annual Codzilla outing is getting the opportunity to talk with our patient recipients. Many of the families in attendance have been battling through extraordinary circumstances, and to provide an (Up)Beat and carefree opportunity for them to take their mind off it is something Joe and I are so proud of.
Please help us send another major THANK YOU to Boston Harbor Cruises and the entire Codzilla Thrill Ride staff who are so generous and a pleasure to be around each and every year. We can't wait to see you all next year!
Oh, and be sure to check out photos from this year's Codzilla event on our Facebook page here!
– Jen Andruzzi

P.S. – Are you interested in donating experiences, tickets, or other fun outings for JAF patients to enjoy? Please email events@joeandruzzifoundation.org – it's incredibly rewarding to help others leave their worries behind, because we all know there's life beyond cancer (and during it, too).