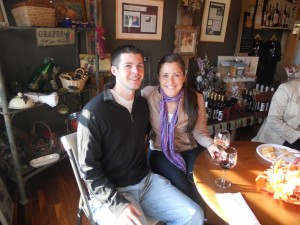 Today, we're excited to feature another member of the Joe Andruzzi Foundation Marathon Team, Drew Betts – a 24-year-old athletic director and physical education teacher from Salem, Mass.
Keep up the great training, Drew – we really appreciate your support and we bet you're a huge inspiration to your students!
— Jen Andruzzi
JAF: Why did you join the Joe Andruzzi Foundation Marathon Team?
Drew: A good friend of mine is very close with the Andruzzi family and has always talked about what an amazing organization it is, and has been very involved with several of their fundraisers. I have always had an interest in trying to run the marathon. So my friend was nice enough to connect me and I feel lucky to join the team.
JAF: What is your inspiration?
Drew: I think, as a teacher I look around and see students who struggle to understand the importance of physical fitness. And it inspires me to try and challenge myself. With so many students living sedentary lifestyles, I want to show them the importance of being active, as well as demonstrate that physical activity can be a fun experience. Fundraising for such an amazing cause is also an inspiration for me, because so many families are affected by cancer. Knowing this money will help some of these families is a wonderful thing to think about.
JAF: Have you ever run a marathon before?
Drew: No, I have never run a marathon in my life.
JAF: What do you like about running?
Drew: I run to try and keep myself healthy and physically active. The best part about running is that it can be very therapeutic in helping clear your mind or release stress.
JAF: How's training going?
Drew: Training is going relatively well; I try to run about three times per week and do a fourth day of cross-training. In addition to my four days of cardiovascular training, I have tried to do yoga every week, as well as strength training four or five days per week.
JAF: How do you motivate yourself to train when it's freezing cold or snowing?
Drew: This certainly is a difficult task, but I really enjoy running when it's snowing outside. And I use music to motivate myself to get out there and run.
JAF: What's your marathon goal?
Drew: My marathon goal is to finish in under four and a half hours.
JAF: What are you doing to fundraise?
Drew: I'm asking family, friends and local businesses to donate.