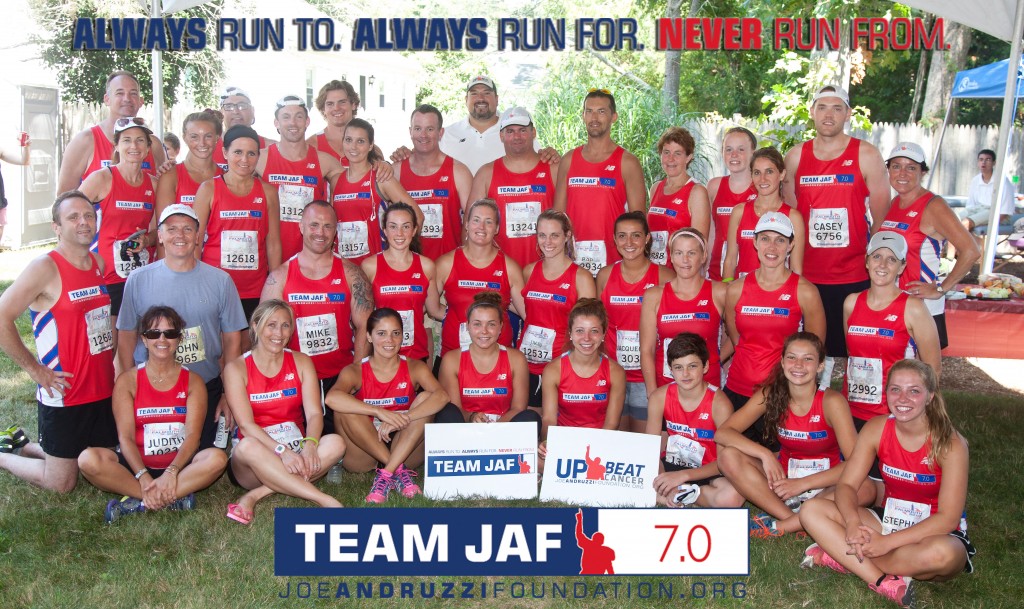 After months of training and fundraising, Team JAF's 2015 Falmouth Road Race campaign culminated in a fantastic run on Sunday, August 16 in Woods Hole.
Nearly 50 members of the team donned Joe Andruzzi Foundation singlets for the 7-mile, scenic Cape Cod race – raising, to date, more than $70,000 for JAF along the way!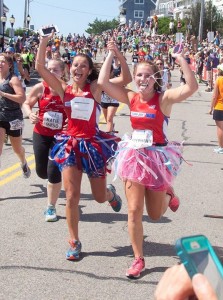 The 43rd annual New Balance Falmouth Road Race not only marked our fourth consecutive year fielding a fantastic team for the event, but it also pushed our fundraising total to nearly $350,000 since we started participating in 2012. This has allowed us to assist close to 500 JAF patient families in paying necessary bills, allowing them to focus on what really truly matters: getting better.
We couldn't be where we are today without the hard work, dedication, and perseverance of our runners – and our 2015 team members are no exception.
Despite humid temperatures reaching close to 80 degrees by start time, our runners ran with determination, drive, and of course an (Up)Beat attitude.
Congratulations to our top five race finishers, who pushed themselves to the limit for our cause: 1) Jack Wheeler, 2) Meaghan Wheeler, 3) Jack Remondi, 4) Samantha Lyons and 5) Joseph Drain. In addition, we want to recognize our top five fundraisers who went above and beyond the minimum donation: 1) Joseph DeStefano ($6,251), 2)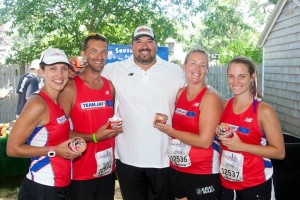 Casey Ford/Tava Sternberg ($4,476), 3) Team Andruzzi ($3,760), 4) Beth Richter ($2,820) and 5) Erin Chatham ($2,460). It was truly a heroic effort by all of our runners. The Foundation and the families we supports thank you from the bottom of our hearts!
After the race, we were fortunate to gather our team once again at in the Kelley family's beautiful back
yard for a celebratory barbeque, where Team JAF, their families and their friends could decompress and salute their hard work. Thank you to the amazing Kelley family for once again hosting us!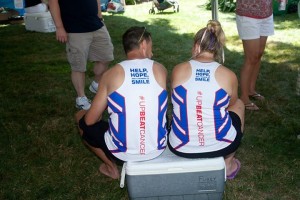 We'd also be remiss if we didn't thank our amazing partners and supporters that made our 2015 Falmouth campaign possible: New Balance, for our beautiful singlets; the Team JAF cheering sections who lined the race course, giving our runners an extra boost; and everyone who contributed to putting the post-race party together, including Patty Kelley, Honey Dew Donuts, The Sausage Guy, Friendly's, Quality Beverage, New England Spinal Care, Marathon Sports, and Carvossa Disposal! We can't thank you all enough!
You still want to make a donation to Team JAF? Our fundraising pages will be up until September 11, and can be found at http://bit.ly/TeamJAFRunsFalmouth2015.
Couldn't make it to Falmouth for the race? Check out photos from the day on our Facebook page here.
And once more – thank you to our amazing runners. We could not be more thrilled to have you as ambassadors of our foundation, and all that you do to further our mission. The sacrifice and commitment you have made for those in need is inspiring, and perfectly mirrors our mission.
Until next time, remember: Always Run To. Always Run For. Never Run From.
– Jen and Joe Andruzzi