After months of hard work, 18 dedicated and determined members of Team JAF successfully crossed the finish line of the 123rd Boston Marathon on Patriots Day 2019 in support of the Joe Andruzzi Foundation's mission.
Team JAF runners ran for very personal reasons, but the one thing that unified them was the desire to make a difference in the lives of families faced with cancer. They chose the Joe Andruzzi Foundation because they understood the impact that a JAF grant can have for a family struggling to pay household bills, while also trying to cover the unexpected costs of cancer treatment.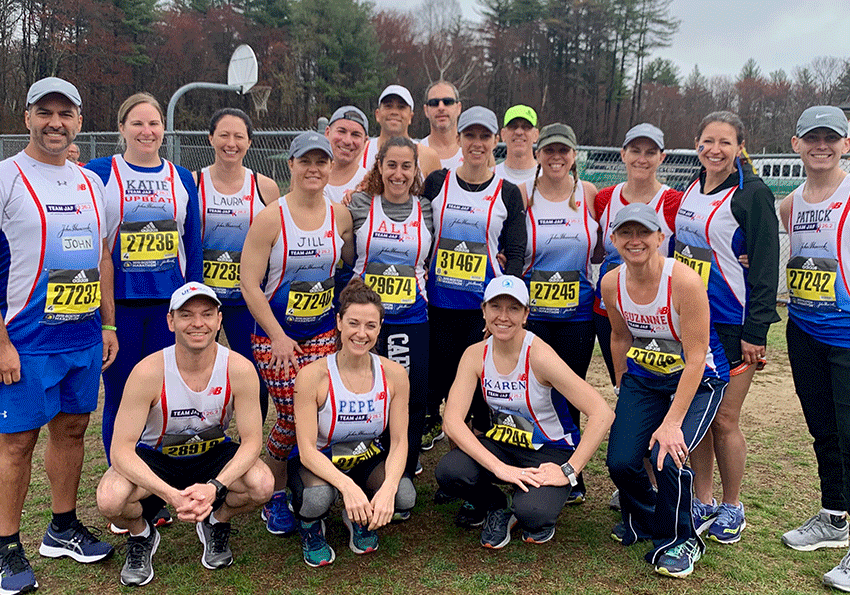 It goes without saying, but on behalf of the entire Foundation, we want to send a special thank you to John Christian, Matt Crowley, Deana DeSilva, Laura Doherty, Eric Gagnon, Maura Healey, Jill Lamson, Patrick McClellan, Nick Monfreda, Marlo O'Connor, Ali Pepe, Amy Pepe, John Ponte, Dave Santoro (his 30th Boston Marathon!), Katherine Tully, Suzanne Viens, and last, but not least, JAF's President and CEO, Jen Andruzzi.
Thanks to their training and fundraising commitments and the backing of so many generous supporters, JAF's 2019 Boston Marathon team raised more than $200,000 in support of New England cancer patients! Because of these efforts, JAF will be able to relieve financial distress for over 297 cancer patients and their families in the coming months:
150+ families who will receive financial assistance will use the funds to stabilize their housing situation (mortgage, rent, and taxes) to help ensure they stay in their home during treatment.
More than 20 cancer patients will have their auto expenses covered by a JAF grant, so they can have reliable transportation to get to their treatment appointments.
25% of the families will use their grant assistance to help with utilities, to keep their lights and heat on.
Year after year, we are in awe of the grit and passion that drives Team JAF runners dating back to our inaugural Boston Marathon team in 2011. It's hard to comprehend just how far we've come over that period – all because of the incredible network of runners and supporters who have donned the Team JAF singlet in support of the cancer patients JAF serves. Because of their selflessness and generosity, our all-time Boston Marathon fundraising is nearing $1.8 million!
As has become tradition, members of Team JAF and Foundation staff invaded Boston for an entire weekend chalked full of Marathon programming, starting with Saturday morning's BAA 5K and our annual Team JAF Pasta Dinner later that night at Davio's Northern Italian Steakhouse for delicious some pre-race carbo-loading.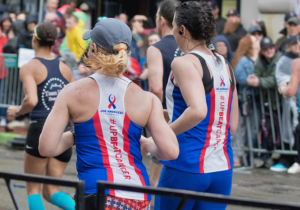 At Davio's, Team JAF runners and their family/friends had an opportunity to mingle and reflect on months of training before hearing from former Joe Andruzzi Foundation grant recipient, Brady Provencher, who shared his cancer journey with the team and stressed the importance of the funds they had raised in support of patients like himself.
"I had been at my full-time job for just shy of a year, so I was not eligible for short-term disability, which put me out of work with no pay for six months," Brady shared with the team. "Although my pay stopped, my bills did not stop coming in. After applying for help with the Joe Andruzzi Foundation and not knowing what to expect, it was so relieving to me the day I received the check in the mail knowing they would cover my car payments."
Some very special hardware was also given out at the dinner, including acknowledgement of Team JAF's top fundraiser (Suzanne Veins), the annual Team JAF Spirit Award, which is given annually to the runner who best represents an (Up)Beat attitude and dedication to JAF's mission throughout Marathon season (Ali Pepe); the Unsung Hero Award, presented to the Team JAF runner who best displays passion, perseverance and determination throughout Marathon season (Katie Tully); and the JAF Ambassador Award, presented to Team JAF runner who shows the most dedication towards increasing awareness for the Foundation (Nick Monfreda).
What is most amazing is just how many individuals played a role in making this year's campaign such a success! Of course, the runners, but also the families, friends, and donors who have supported each of their campaigns over the last few months. You truly help JAF continue to expand our reach across the region – thank you so much for your generosity.
And the thank you list doesn't just stop there. The entire Joe Andruzzi Foundation wants to send our appreciation and gratitude to:
The John Hancock Non-Profit Program, which helped make Marathon Monday possible and allowed us to take our Team JAF Boston Marathon roster to new heights.
Susan Hurley of CharityTeams and her staff, who once again led an incredibly successful Boston Marathon campaign for Team JAF. As our team captain, Susan always puts Team JAF runners in a position to succeed through training and fundraising – and she continues to be a model ambassador for the Joe Andruzzi Foundation's mission.
New Balance, which once again generously designed and donated Team JAF's 2019 Boston Marathon singlets and gear.
The Boston Athletic Association and its army of volunteers, who we are indebted to and in true awe of.
UNO Pizzeria & Grill on Boylston Street and its friendly staff for hosting Monday's Team JAF watch party, which once again was a big hit.
Davio's Northern Italian Steakhouse for hosting and catering our Pasta Dinner Saturday night.
Patients at Hasbro Children's Hospital in Rhode Island for making each Team JAF runner a Marathon cheer sign.
Stacey Howard Photography for braving the elements – not just on Monday, but all marathon-season long – to capture images of our runners working towards their Marathon goals.
Marathon Sports, CORE Hydration, Body Armor, Star Market, and Honey Dew Donuts, for fueling our runners throughout their training runs.
And Right On Hereford, Left On Boylston, for donating swag to our runners for race day!
Weren't able to make it out to Marathon Monday? Check out our photo album from JAF's Facebook page below – and if you would still like to contribute to Team JAF's 2019 Boston Marathon campaign, donations will be accepted through May 20, 2019, at joeandruzzifoundation.org/event/2019-boston-marathon
And one last time to our amazing runners: what makes you so unique is that you can choose to do whatever you want with your time, and you chose to join Team JAF and pay-it-forward for the betterment of patients in need battling the hidden costs of cancer. When you committed to this journey, you each chose to make major sacrifices to your bodies, your social lives, your schedules, etc. It's the ultimate selfless act, and it's exactly why we are so thankful and proud to have you as a member of our team. You represent everything our foundation believes in, and if we say it a million times it still won't be enough.
Thank you.