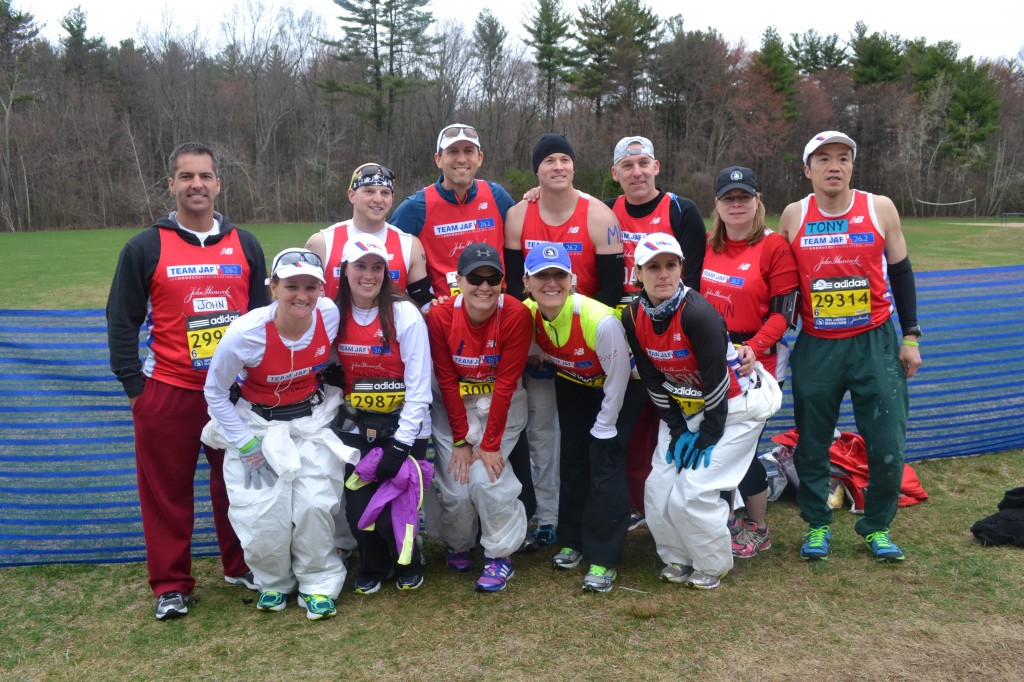 Dedication. Perseverance. Positivity. Courage. Strength.
These are some of the words we've used over the years to describe our Team JAF runners. Thanks to our 2015 Boston Marathon® group, we have a new word to add: grit.
Despite the chilliest, windiest, rainiest, New England "spring" weather imaginable, all 21 of our runners crossed the finish line on Monday, culminating months of training and fundraising. The team was certainly well prepared for the elements, thanks in part to the most brutal winter in Boston's history. Compared to some of the team's sub-zero long runs in February, Monday felt like a jog in the tropics. (Okay, that may be a stretch, but it goes to show that hard work pays-off!)
Though it goes without saying, we are so proud to have such a special group of runners as foundation ambassadors – furthering our mission each step of the way by sharing our (Up)Beat message with their donors, physically and mentally preparing their bodies to endure 26.2 miles of punishment, and most of all, believing in the work the Joe Andruzzi Foundation does.
From the bottom of our hearts, thank you Seth Baerson, Matthew Birnie, Julie Cashman, Tony Chin, Joseph DiMuccio, J. Alain Ferry, Lisa George, Melisa Lufkin, Drew Lufkin, Joyce Maiore, Dawn Minkin, Kathleen McGonagle, Julie Moore, Shannon O'Brien, Ben O'Meara, Amy Pepe, John Ponte, Dave Roche, David Santoro, Emma Sellers Thibeault and Marsha Whitman.
Thanks to the team's collective "grit," we're excited to announce that, to date, Team JAF has raised more than $160,000 through the 2015 marathon – which directly allows the Foundation to provide more than 225 grants to help cancer patients and families with everyday expenses – including rent and mortgage payments, utility bills and more.
And none of this would be possible without help from so many friends, sponsors and supporters, like:
– John Hancock and its Non-Profit Program – which helped make Marathon Monday possible and allowed us to take our Team JAF roster to new heights. Thank you for all that you do!
– Mayor Walsh, Governor Baker, Commissioner Evans, the entire Boston Police Department, Fire Department and Massachusetts State Police for making runners and spectators alike feel as though they were in the safest place in the Commonwealth.
– CharityTeams and its fearless leader, Susan Hurley, whose tirelessly trained our runners and played an essential role in their fundraising efforts.
– New Balance, which generously donated Team JAF's 2015 Boston Marathon® singlet's.
– Back Bay Social Club and our watch party supporters – including CVS Health, Michelob ULTRA, and RadioBDC.
– The Boston Athletic Association and its army of volunteers, who we are indebted to and in true awe of.
– And most importantly, you, our donors, who make everything we do possible. Your support is desperately needed, and touches those during what can be the most difficult times of a patient's life. Thank you for believing in our mission, and supporting the cause.
If you were not able to make it to the Marathon on Monday, check out our photo album on Facebook – and if you have not yet had a chance to contribute to Team JAF's 2015 Boston Marathon® campaign and wish to do so, donations will be accepted through Friday, May 15 at http://bit.ly/SupportTeamJAF.
For Jen and I, the 2015 Marathon represented a theme closely aligned to our foundation's mission: harnessing positivity to move forward and overcome adversity. If last year's race was about healing, closure, and reclaiming the Marathon as Boston's proudest day – then this past Monday was a shining example of how our city can rally around one another, pick ourselves up, and celebrate an amazing day of athleticism, determination, and generosity.
We found this to be most evident on Tuesday, when the 2015 Team JAF runners gathered one last time at our annual post-Marathon brunch. One by one our runners recalled their favorite moments from the race – team members carrying each other down the stretch; turning the corner on Boylston and seeing family members and the Team JAF cheering section in front of Back Bay Social Club; crossing the finish line in memory of friends and family no longer with us.
These are the things that truly represent the spirit of what Marathon Monday is, and what can never be taken away from us.
On behalf of the Joe Andruzzi Foundation, our staff and family, we look forward to seeing you all at the finish line again next year.
– Joe Andruzzi