April 15, 2013, started like any other day for Amanda Harrison. She and her family went to Boston to watch her father, Steve, run the Boston Marathon for the Joe Andruzzi Foundation (JAF). That day was supposed to be a happy one, as it would be the first time Amanda would get to watch her dad run a marathon.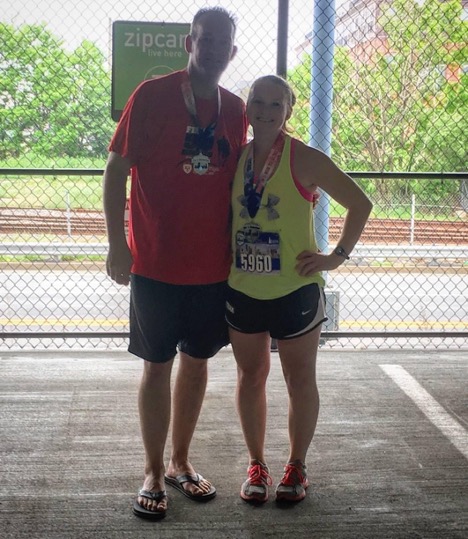 What should've been an amazing memory for Amanda and her family became tragic. At 2:49 p.m., explosions occurred in front of Forum restaurant at 775 Boylston Street. Amanda and her family were near the site of the bombings and, luckily, were able to find safety within Forum.
"It was just absolute chaos," Amanda said, looking back. "April 15 was never the same day for me for a long time."
Challenging times followed for then-17-year-old Amanda. She would experience anxiety whenever she heard things like alarms. It would bring her back to the day of the bombings almost immediately.
However, Amanda has persevered. She is now ready to take on her next challenge and change the narrative by running the 2023 Boston Marathon for Team JAF.
Her dad is Team JAF alumni. However, that isn't Amanda and her family's only connection to JAF. The family has volunteered at JAF events and has been longtime supporters of the Foundation.
Amanda is a financial planner with a great perspective on how vital the Foundation's work can be to New England cancer patients facing financial hardships. JAF was Amanda's first choice when applying to run the marathon.
"Running for a cause that does such great work and for people that really need that help was so important to me," Amanda said. "It's just so unique what JAF does, and that was a driving force. There was no other place I'd really want to run more for than JAF."
Training for a marathon has been a 'whole new adventure,' according to Amanda. Though she regularly runs, prepping to go 26.2 miles is new to her. Those preparations have included some unexpected experiences, including some slightly humorous encounters.
Recently, Amanda headed out one morning for a 10-mile run. As she ran on the sidewalk alongside a busy street, she noticed a rabbit ahead in the middle of the sidewalk.
"I was trying to avoid the rabbit but also have it not run onto the street from me, and I actually ended up face-planting on the sidewalk," Amanda said with a laugh. "I literally said out loud, 'Are you kidding me?!' but thankfully, I only got a couple of scrapes from that, and the rabbit was safe, so it was all ok."
Amanda knows some training days will be tough, but she always reminds herself that she can overcome them. That source of motivation came from talking with her dad.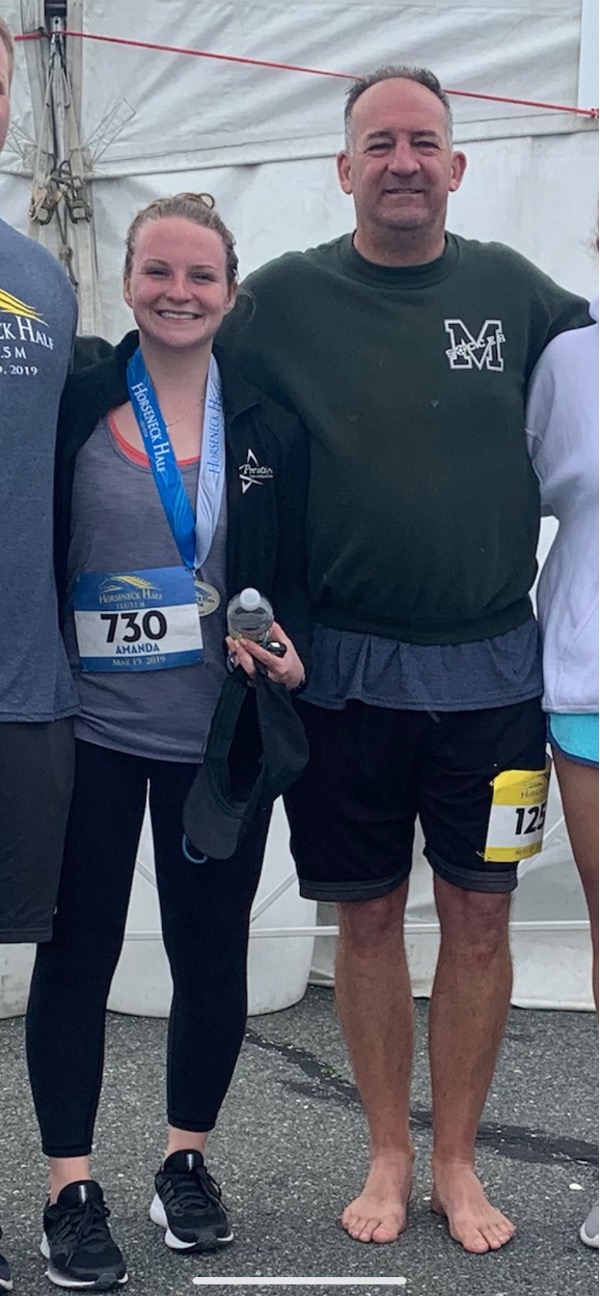 "He told me, 'Sure, people might need training, it might stink sometimes, but anyone can run a marathon,'" said Amanda. "I've taken that message from him throughout this entire journey of how most of the time, it's just convincing yourself that you can do it, and you can."
Amanda has only positive things to say about this year's marathon experience. She's met many new friends through running and has been amazed at how quickly and strong a bond she's formed with her fellow runners. In her words, Amanda was nearly speechless when talking about the amount of support she's received.
"The good that comes out of doing this is well worth any soreness or tiredness you have while training," Amanda said. "It's just been so amazing."
The Boston Marathon has cast a painful shadow over Amanda for the last ten years. On April 17, Amanda hopes to rewrite the meaning of the marathon for her and make it a day to celebrate once more. There is no doubt Amanda and the entire 2023 Team JAF marathon team will bring positivity and inspiration to the streets of Boston on Marathon Monday. Go Team JAF!
To learn more about Amanda and the 2023 Boston Marathon team, click HERE.