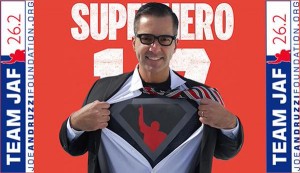 On April 20, the Joe Andruzzi Foundation will once again be tackling cancer with each stride when 21 "Team JAF" runners take to the streets of Boston for the 119th Boston Marathon® – all to raise money in support of our mission of providing help, hope and a reason to smile for patients and their families. Team JAF runners will also be spreading JAF's (Up)Beat philosophy, stressing the power and importance of positivity.
Team JAF is a diverse group of cancer survivors, athletes, veteran marathoners and those running in memory of loved ones. We are so grateful for each and every member of our team, and to all those who help them reach their fundraising goals.
Today, we continue our Boston Marathon runner-profile series – giving our supporters a glimpse into Team JAF and what is driving them to cross the finish line on Patriots Day 2015.
_____________________________________________
TEAM JAF RUNNER: John Ponte
HOMETOWN: East Providence, Rhode Island
AGE: 43 in couple of weeks
OCCUPATION: Director of Marketing for a Boston-based high-tech company called Nasuni
FAMILY (Children/spouse): Wife: Nancy, 2 Sons: Thomas and Jackson, 1 Daughter: Sophia
TWITTER HANDLE: @johnmponte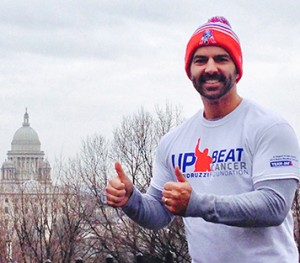 What inspired you to run for the Joe Andruzzi Foundation Marathon Team this year?
I really believe in the mission of the Joe Andruzzi Foundation in helping cancer patients and their families who face financial hardship while undergoing treatment. I got involved with a similar charity last year, and when I learned more about the Joe Andruzzi Foundation and all the support they provide to families in need, I jumped at the opportunity to help.
What's your marathon fundraising goal? How do you plan on reaching that goal?
I'm hoping to raise $10,000. I'm relying a great deal on the generosity of family and friends. I have been securing some local press coverage about my campaign, holding small promotions like Superbowl Squares and other initiatives.
Have you ever run a marathon before? If so, which? When/how often?
I ran my first marathon, and the Boston Marathon, last year for charity. That was my first race and I haven't run any races since then.
How's training going? What is your regimen?
Training has been difficult this year, primarily because of the brutal winter weather we've been having. I have quickly learned this year that flexibility is the key to my training schedule. I try to join other runners for Hill Training on Tuesdays and then for our Long Run on Saturdays. In between those days is when I play it by ear and see what the weather is like. I may go for a shorter run outside if it's "nice" out or hit the treadmill (or "dreadmill" as many of us call it) if the weather is not cooperating. I also try to mix in a couple of days of cross training.
How do you motivate yourself to train when it's freezing cold or snowing?
It's definitely not easy but I try to think of all the people that the Foundation supports that cannot run for themselves. Yes, running outdoors for long distances in the freezing cold and dodging cars and snow banks in narrow, icy streets are difficult, but it pales in comparison to the challenges that cancer patients and their families are facing.
What do you do to stay "upbeat" and motivated while training?
I'm always thinking of the end goal and that "runner's high" you get when you're done. I'm also inspired by all the other charity and JAF runners who are out there pushing themselves. The minute I start trying to come up with excuses for skipping training, I think of all the others who are out there already hitting the pavement.
What are you doing to fundraise?
Tapping my network of family and friends, securing local press coverage on my marathon campaign, various promotions and incentive programs offering free t-shirts, Alex and Ani bracelets, etc.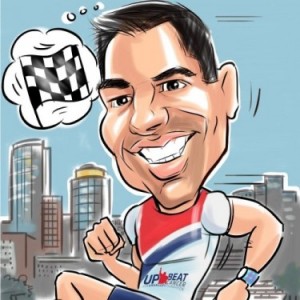 Is "runner's high" a myth… or real?
Oh, it's real alright. That's one of the things that motivates me. When I was training for my first marathon last year, I kept telling people that I was "one and done" and would not run another marathon (or race) as soon as that one was over. However, the second I crossed the finish line in Boston, I couldn't wait to run the next marathon. It's not just a race, it's the entire experience. It's something that you cannot fully comprehend unless you've run in it. From the physical challenge of the race, to the fundraising you're doing and to the sense of accomplishment you feel afterwards … there's nothing like it. It's a high like no other.
Do you do other charity work? How/why did you get involved?
I support a few breast cancer awareness organizations in addition to the Joe Andruzzi Foundation. I got involved after running my first Boston Marathon last year for a charity called Family Reach. Similar to JAF, Family Reach provides a lifeline and financial support to families who need financial assistance while battling cancer. My family and I got personally involved last year with the organization and also befriended a little boy who was getting treatment for Ewing's Sarcoma and his single mom. We saw first hand the emotional and financial challenges they faced and we became immediately drawn to that cause. The marathon serves as a vehicle for me to raise money for these families so that they are not consumed by the financial burden they may face.
Anything else you'd like our supporters to know about you or your family?
I'm really appreciative of all my supporters. It still amazes me at how generous and supportive people can be…from close friends and family to complete strangers!