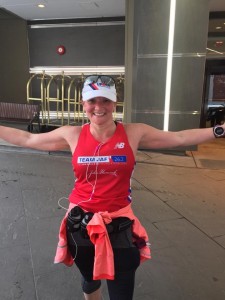 On April 20, the Joe Andruzzi Foundation will once again be tackling cancer with each stride when 21 "Team JAF" runners take to the streets of Boston for the 119th Boston Marathon® – all to raise money in support of our mission of providing help, hope and a reason to smile for patients and their families. Team JAF runners will also be spreading JAF's (Up)Beat philosophy, stressing the power and importance of positivity.
Team JAF is a diverse group of cancer survivors, athletes, veteran marathoners and those running in memory of loved ones. We are so grateful for each and every member of our team, and to all those who help them reach their fundraising goals.
Today, we continue our Boston Marathon runner-profile series – giving our supporters a glimpse into Team JAF and what is driving them to cross the finish line on Patriots Day 2015.

NAME: Julie Cashman
HOMETOWN: Mansfield, MA
AGE: 44
OCCUPATION: Nurse
FAMILY (Children/spouse): Husband: Brian, Children: Mick (19), Liam (16), Caileigh (14) & Emma (13)
What inspired you to run for the Joe Andruzzi Foundation Marathon Team this year?
I lost my father to cancer when I was 12 – I was the youngest of four girls, and my mother worked full time while caring for my Dad throughout his illness. A foundation like JAF during that time would have been so helpful to my family. JAF's ability to provide financial assistance to families & their contributions to ongoing cancer research is incredible!
What's your marathon fundraising goal? How do you plan on reaching that goal?
My marathon fundraising goal is $5,000 and I am happy to say I have reached it – but I'm still going!
Have you ever run a marathon before? If so, which?
Yes, I ran the Marine Corps Marathon in 2013.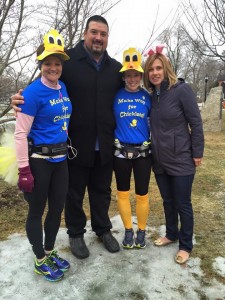 How's training going? What is your regimen?
My training is going great. Last year, I suffered an injury just seven weeks before the marathon & was unable to run. I have followed a Hal Higdon training plan along with Charity Teams training plan & support from Susan Hurley & Bill Pennigton.
How do you motivate yourself to train when it's freezing cold or snowing?
Someone once said to me they have a love/hate relationship with running…my reply was I don't have that relationship, I always love running & the gifts it gives me, I may not always have a great run but I still love it.
Well as you know it's been a really tough training winter, the patients & their families have much tougher conditions than this weather could ever be! I step out the door with a confidence in my step & know that this is about something so much bigger than just snow or sub zero temperatures!
What would surprise the inexperienced about marathon training?
That you can do it – you not only develop a belief in yourself, but others believe in you too!