For 20 Team JAF runners, months of intense training and fundraising all came down to an unseasonably warm Patriot's Day in Boston.
The team members – mostly made up of runners receiving John Hancock Non-Profit Program Boston Marathon bibs – each dedicated their winter and early-spring towards a singular goal: to raise crucial funds in support of the Joe Andruzzi Foundation's mission of providing help, hope, and a reason to smile for cancer patients and their families when they need it most.
Simply put: mission accomplished!
The entire Boston Marathon weekend was such an amazing experience for our Foundation – starting on Friday night at CharityTeam's annual Boston TEAm Party, and continuing into Saturday morning's BAA 5K and our annual Team JAF Pasta Dinner later that night on Boylston Street. But, in the end, it will be the culmination of months of hard work that will stick out in our minds for years to come.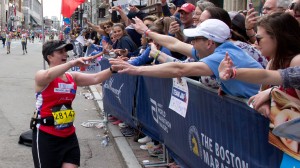 To date, 20 Team JAF runners have raised more than $245,000 through the 2017 Boston Marathon, which, at a minimum, will allow the Foundation to provide 350 new grants to cancer patients and families across New England!
Thinking back to our first year fielding a Boston Marathon team (2011), it's hard to fully grasp just how far we have come – all because of the incredible network of runners and supporters who have donned the Team JAF singlet along the way. Because of their selflessness and generosity, our all-time Boston Marathon fundraising is approaching $1.5 million!
There are so many individuals and organizations we need to thank, but, of course, it all starts with the runners. From the bottom of our hearts, thank you Katie Adelstein, Jen Andruzzi, Valerie Chirichiello, Lindsy Connolly, Joe Dimuccio, Melissa Frontino, Mike Garofalo, David Lennox, Brian Lively, Michael Nelson, Amelia Patsalos-Fox, Amy Pepe, Jerika Phelps, Joel Phelps, John Ponte, Brenda Reynolds, Lorraine Reynolds, David Santoro, Frank Seyboth and Jase Simmons!
It's impossible to fully capture the feelings of gratitude we have for so many friends and supporters who helped make JAF's 2017 Boston Marathon campaign such a success. Of course (and as previously mentioned), the runners, but also the families, friends, and donors who have supported each of their campaigns over the last few months.
As you might imagine, the "Thank You List" doesn't just stop there. The entire Joe Andruzzi Foundation wants to send our appreciation and gratitude to:
The John Hancock Non-Profit Program, which helped make Marathon Monday possible and allowed us to take our Team JAF roster to new heights.
Susan Hurley of CharityTeams, who once again led an incredibly successful Boston Marathon campaign for Team JAF. As our team captain, Susan always works tirelessly to put our runners in a position to succeed through training and fundraising – and this year was no different. She is the ultimate coach, helping our runners set and achieve their Marathon goals – and she continues to be a model ambassador for the Joe Andruzzi Foundation's mission. (Not to mention, Susan honored the Joe Andruzzi Foundation with a beautiful award at the CharityTeams TEAm Party last Friday night, and we already have it proudly displayed in the JAF office!)
New Balance, which generously donated Team JAF's 2017 Boston Marathon singlets, as well as decorations for our Saturday night Pasta Dinner.
The Boston Athletic Association and its army of volunteers, who we are indebted-to and in true awe-of.
UNO Pizzeria & Grill on Boylston Street & its friendly staff for once again hosting Monday's Team JAF watch party, which was an enormous success.
Patients at Hasbro Children's Hospital in Rhode Island for making each Team JAF runner a Marathon cheer sign.
Michelle Calado, a JAF grant recipient, mother to a young cancer survivor, and our speaker at Saturday night's Pasta Dinner – who shared her inspiring story with our runners and reiterated just how important their fundraising is to the patients JAF serves.
And, New England Acura Dealers & Acura of Peabody, who generously donated a 2017 Boston Marathon bib to JAF Executive Director Jen Andruzzi, who ran and fundraised for Team JAF in support of our CJ Buckley Brain Cancer Research Fund at Boston Children's Hospital. If you haven't already, be sure to check out the amazing video Acura and its team put together to highlight Jen's Boston Marathon campaign.
If you were not able to make it to the Marathon on Monday, be on the lookout for our Facebook photo album later in the week for some amazing shots – and if you would still like to contribute to Team JAF's 2017 Boston Marathon campaign, donations will be accepted through May 31, 2017 at http://bit.ly/TeamJAFBOS17.
And one last time – thank you to everyone who made JAF's 2017 Boston Marathon journey such an overwhelming success. To the runners and everyone who donated to Team JAF, please know how important you are to our foundation – we couldn't be happier to have you in our corner.
Now…who is ready to run Boston in 2018!?!?