After months of intense training and fundraising, all 19 of our 2016 Team JAF Boston Marathon runners crossed the line finish line on Marathon Monday – raising $208,000+ along the way in support of cancer patients and their families.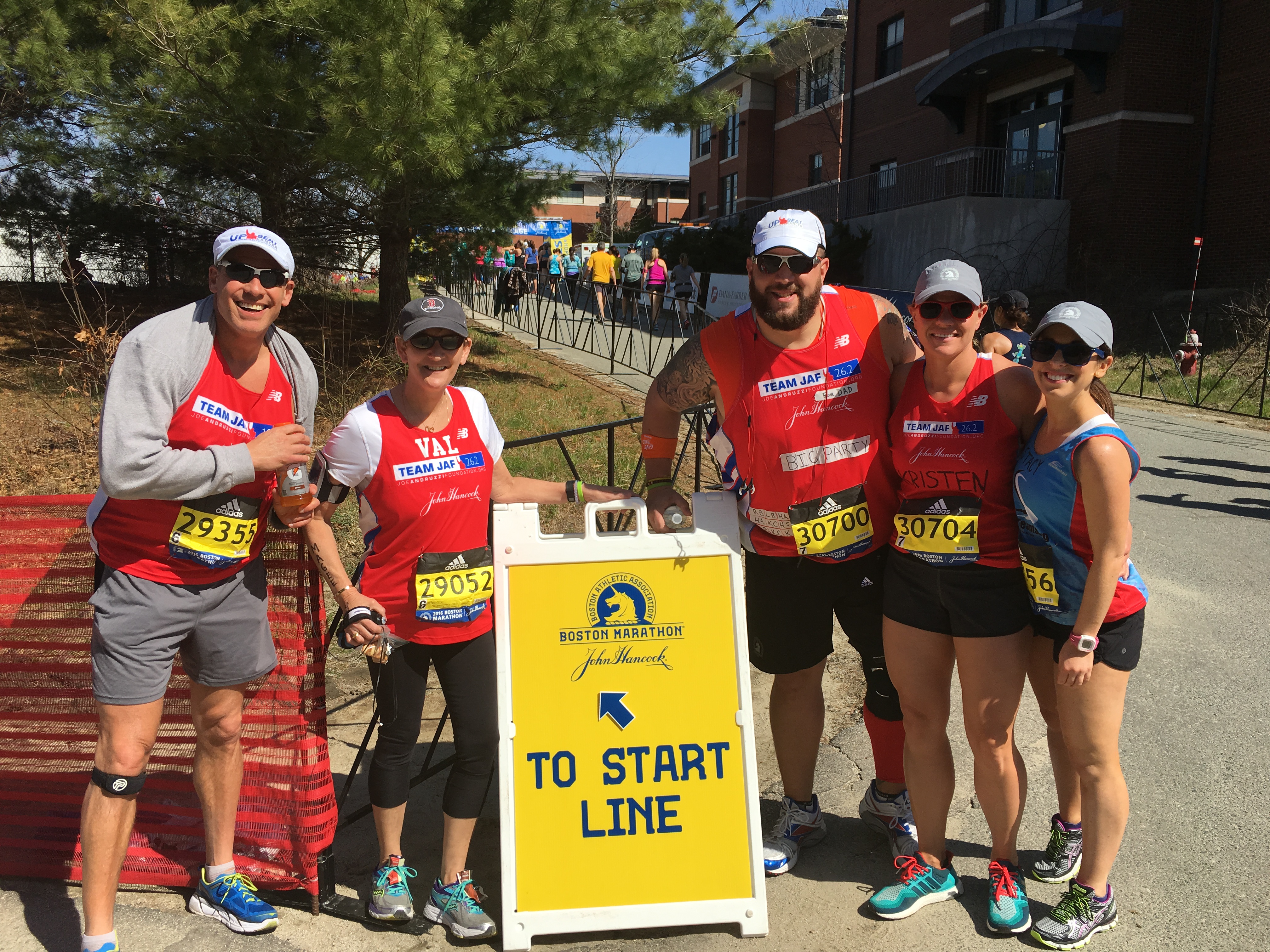 It goes without saying, but on behalf of the entire Foundation, I want to send a special thank you to Matt Birnie, Valerie Chirichiello, Kelly Fisher, Barry Foland, Katie Horan, Kristen Knight, John Lapointe, Kathleen Lussier, Don McCarthy, Matt McKay, Maureen O'Connor, Sarah Parsons, Amy Pepe, John Ponte, Jim Pustinger, Dave Santoro, Sarah Sceery, Susan Sly, and last, but not least, my wife (and JAF's Executive Director) Jen Andruzzi.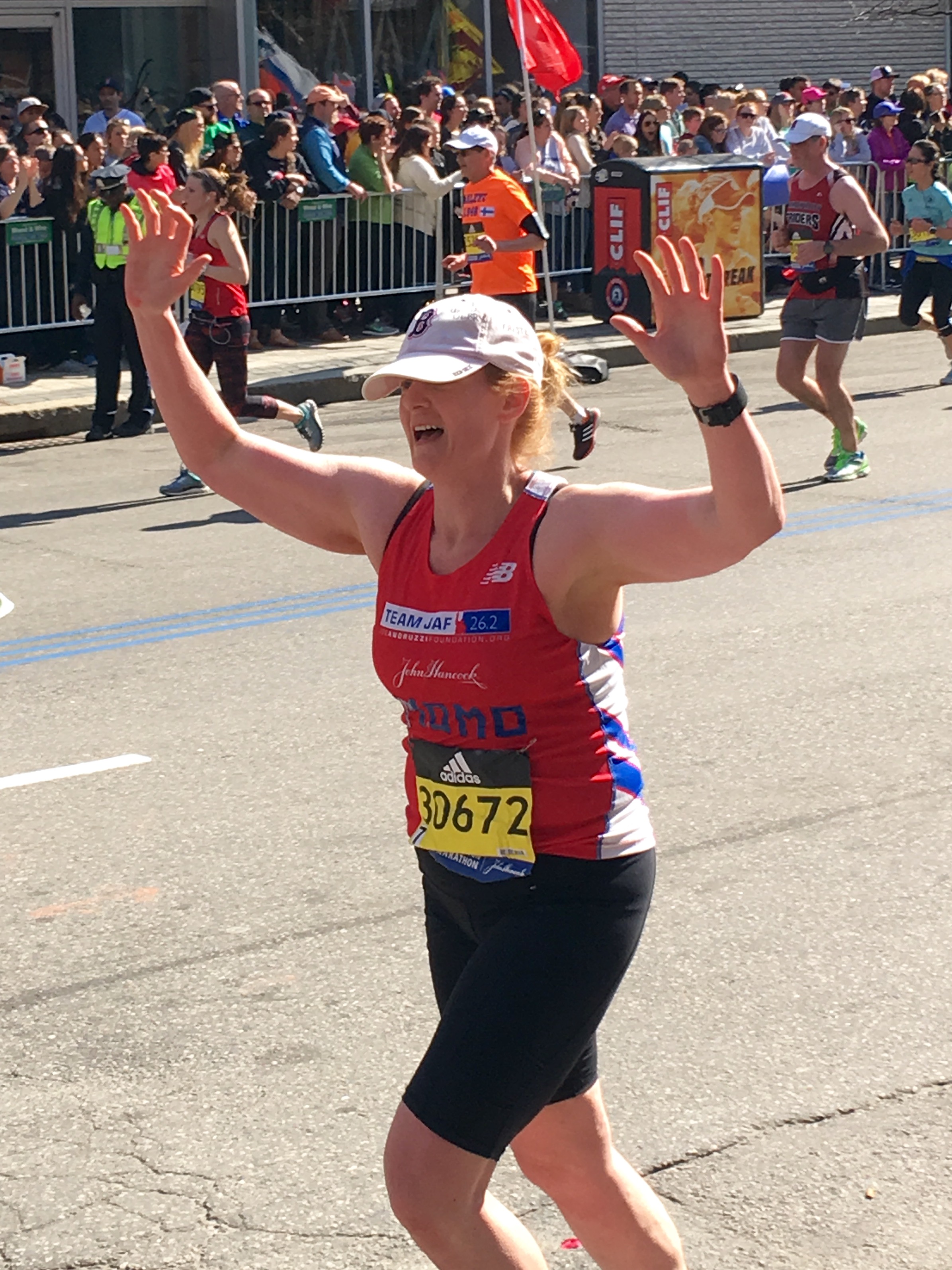 As a direct result of your collective efforts, the Joe Andruzzi Foundation will now be in a place to assist more than 300 new cancer patients in the weeks and months to come. Thank you so much for believing in us and being such great advocates for our foundation. We could not be more thrilled to have you as a foundation ambassador and all you do to further our mission.
The entire Boston Marathon weekend was such an amazing experience for our Foundation – starting on Friday (One Boston Day) and continuing to Saturday's BAA 5K and our annual Team JAF Pasta Dinner later that night.
As Jen mentioned to Team JAF runners at the team dinner, this was a very unique year for our annual Marathon campaign. Not only is it our sixth year running and fundraising through the event – time flies! – but the 2016 team will always have a special legacy in Team JAF's history because their generosity and determination pushed our all-time Boston Marathon fundraising past the $1 million mark!
And what is most amazing is just how many friends and supporters went into making this year's campaign such a success! Of course, the runners, but also the families, friends, and donors who have supported each of their campaigns over the last few months. You truly help JAF continue to expand our reach across the country – thank you so much for your generosity.
But the thank you list doesn't just stop there. We still need your help in sending our gratitude to our incredible list of supporters, like:
The John Hancock Non-Profit Program, which helped make Marathon Monday possible and allowed us to take our Team JAF roster to new heights.
Susan Hurley of CharityTeams, who once again led an incredibly successful Boston Marathon campaign for Team JAF. As our team captain, Susan always works tirelessly to put our runners in a position to succeed through training and fundraising – and this year was no different. She is the ultimate coach – helping our runners set and achieve their Marathon goals – and she continues to be a model ambassador for the Joe Andruzzi Foundation's mission. As I mentioned earlier, Team JAF's all-time Boston Marathon fundraising recently exceeded the $1 million mark, and so much of that has to do with her guidance and support over the years!
New Balance, which generously donated Team JAF's 2016 Boston Marathon singlets, as well as socks to all 19 of our runners.
The Boston Athletic Association and its army of volunteers, who we are indebted-to and in true awe-of.
UNO Pizzeria & Grill for hosting Monday's Team JAF watch party, which was an enormous success.
CVS Health, for helping to sponsor the watch party.
The Mandarin Oriental & its staff for hosting a spectacular Pasta Dinner on Saturday night.
Patients at Hasbro Children's Hospital in Rhode Island for making each Team JAF runner a Marathon cheer sign.
Melanie Gouck, a former JAF grant recipient and our speaker at Saturday night's Pasta Dinner, who shared her inspiring story with our runners and reiterated just how important their fundraising is.
ALEX AND ANI for hosting our 2016 Team JAF runner celebration event at the House of Blues Boston next month.
And, our friends at The Paper Store – whom we just launched a partnership with – and have been tremendous supporters of Team JAF's 2016 Boston Marathon campaign.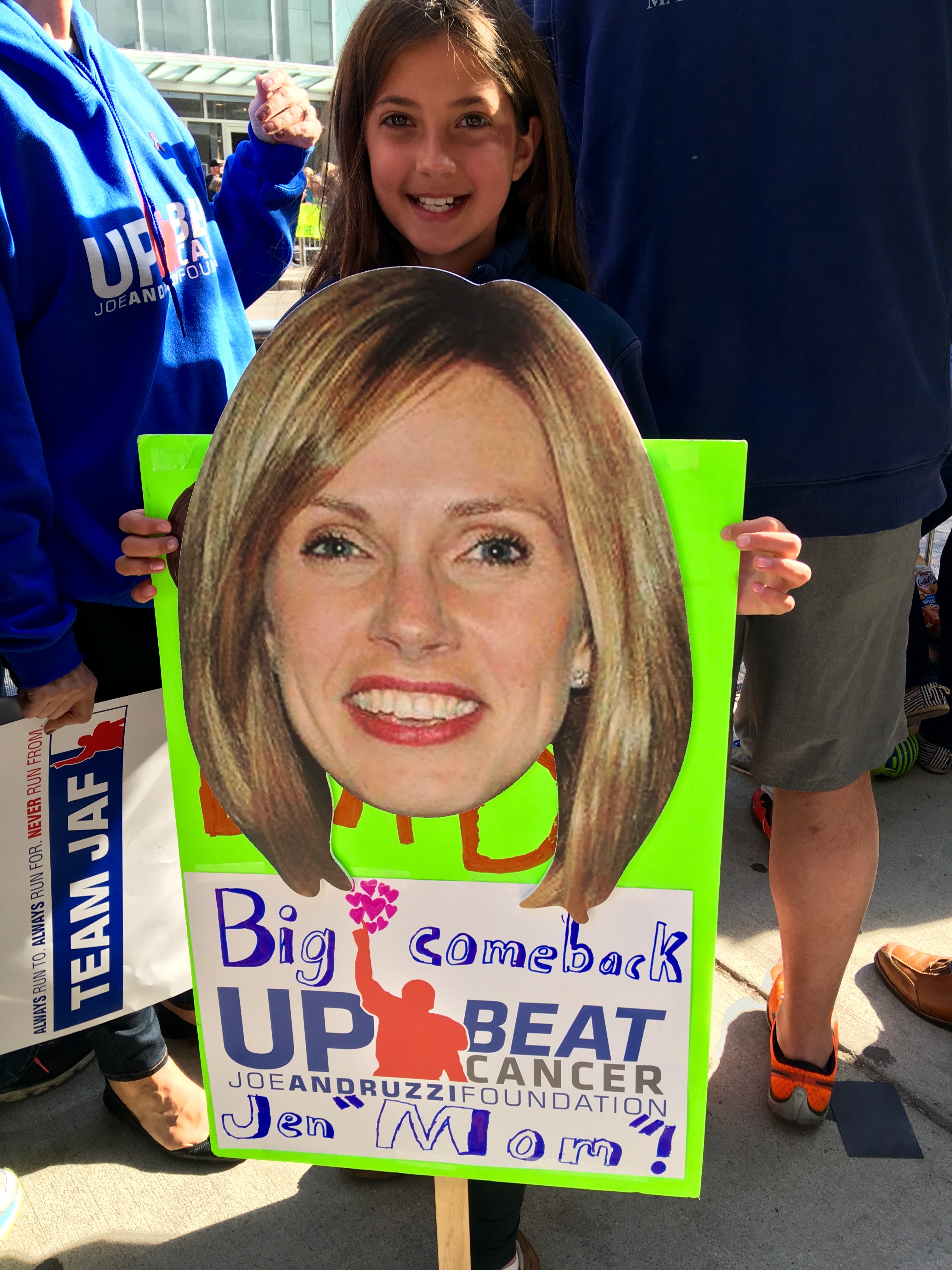 And one last time – to our amazing runners: Thank You! What makes you so unique is that you can choose to do whatever you want with your time, and you chose to harness that power, join Team JAF, and pay-it-forward for the betterment of those in need. When you committed to this journey you each chose to make major sacrifices to your bodies, your social lives, your schedules, etc. It's the ultimate selfless act, and its exactly why we are so thankful and proud to have you a part of our team. You represent everything our foundation believes in, and if we say thank you a million times it still won't be enough.
Finally, if you were not able to make it to the Marathon on Monday, check out our photo album on Facebook – and if you have not yet had a chance to contribute to Team JAF's 2016 Boston Marathon campaign and wish to do so, donations will be accepted through the end of the month at http://bit.ly/donate2teamjaf16.
Thank you – we can't wait to get started on our 2017 Marathon journey with you all!
– Joe Andruzzi
P.S. – If you haven't checked it out yet, read about Jen's incredible 30-day Boston Marathon training/fundraising journey (here), and check out WCVB's piece on her surprise patient visit below.