Often I get asked questions about why we raise money for pediatric brain cancer research as well as to help patients and their families with every day bills. Basically, everything we do is based on personal experience. Here is more of our story (https://joeandruzzifoundation.org/wp/our-story/).
The first year that Joe was playing for the New England Patriots was a tough transition for me. I'd left my job and family behind, but was raising two children. In our spare time, Joe and I visited ill patients because we both were passionate about making a difference.
You know that we met C.J. Buckley in 2001 soon after he was diagnosed with an inoperable brain tumor. I can't put my finger on what made meeting C.J., his parents, sister and grandmother different than all the others. Was it that his parents were dedicated to getting him the best possible care in the world like we would? Was it our Italian heritage connection? Was it that our kids connected despite their different ages? I still remember C.J. playing video games with my son even when he wasn't feeling well. I see my kids doing the same now for other kids who are struggling.
Then in 2002, C.J. went into the hospital just before Thanksgiving. We met his wonderful physician Dr. Mark Kieran at Children's Hospital Boston and knew that C.J. was in the best possible hands. However, C.J. passed away just a few days later. I hired babysitters so I could bring coffee and bagels to the Buckley's house every morning. We attended the funeral and were moved listening to his father talk about C.J. as his personal hero.
This family that embraced us also inspired us to do something. Joe and I wanted to keep this from happening to other children as well as show the Buckleys how much they meant to us. We decided to start a fund in C.J.'s memory and the Buckleys chose Dr. Kieran as the recipient.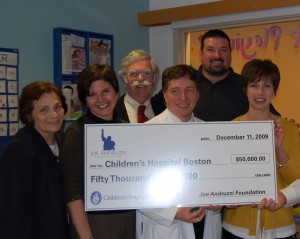 Lucy Buckley, Jane Melchionda, Carter Buckley, Dr. Mark Kieran, Joe and Jen Andruzzi
Dr. Kieran is the top physician and researcher for pediatric brain cancer. Nothing will prevent him from finding a cure. He's unstoppable. Dr. Kieran also is special because he can translate the most complex issues into simple words that anyone can understand. To us he's a Board member, a friend and someone we hope our children will admire as much as we do.
So shouldn't the story end here? Not exactly. We knew that there were many cancers other than brain cancer. We also felt very fortunate that when Joe was battling cancer we didn't worry about how to pay for hospital parking, our mortgage or child care. Sadly, disability doesn't provide for a family and many struggle with these issues.
While Joe was undergoing his treatment for non-Hodgkin's Burkitt's lymphoma, I tried to distract myself by learning more about what other foundations did to help families with these payments. I couldn't find much at all. So when Joe was healthy it was clear how we could help other patients and their families alleviate these concerns and focus on healing.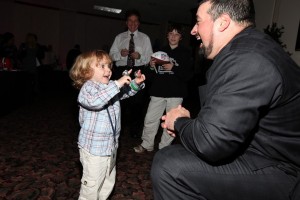 Braiden Norton and Joe Andruzzi
Please join us in reaching out to more families by donating what you can now.