There was no better event to mark the return of JAF's in-person (Up)Beat events than Boston Harbor City Cruise's Codzilla Thrill Rides!  JAF (Up)Beat Opportunities are events for cancer patients and their families to spend time away from treatment and enjoy fun and special occasions, experiences, or outings.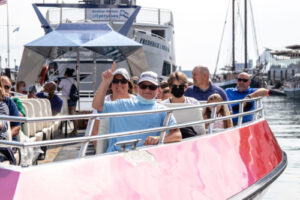 On Thursday, July 28, seventy-five patients and their families from across New England communities such as Fall River, Revere, and Rockport–charted their maps to Boston's Seaport and hopped on the electrifying boat ride. The "Codzilla" boat is a massive 70-foot-long red speedboat with quick turns and speeds up to 40 miles-per-hour.  
On a sunny summer morning, the boat roared to life with the laughter and joy of people and kids of all ages—with many patient recipients and families saying this marked their first-time taking part on Codzilla.  
One of those families was the Ancahas Family from Worcester, MA.  Parents, Megan—a breast cancer patient—and Christopher, sat alongside their two children, Kayah and Kalea, laughing with each bounce on the water. Also aboard was Joyce and Sean, who joined JAF after having lost their husband and father, Jimmy, to cancer two years ago. 
Families spent time chatting with Jen and Joe, getting a picture with Joe and trying on his Super Bowl rings. Along with putting their rain ponchos to good use when they got drenched by a sudden turn or spin.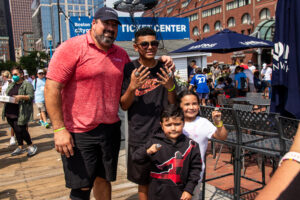 While zipping through the Boston Harbor waters, folks even got to check out such sights like Spectacle Island and Deer Island and kids got to hear the story of the fictional "Codzilla" brought to life by the exuberant tour guide.  
After trekking back to the mainland with Journey's "Don't Stop Believin'" blaring, the group arrived back at the dock as people waved to nearby onlookers. Folks enjoyed catered lunches from Panera and received tickets to check out the New England Aquarium to close out this magical day. 
JAF wants to send a huge thank you to all patients and their families who attended as well as to longtime JAF supporter Shelia Green and Boston Harbor City Cruises. Along with a thank you to Strategy Red for documenting the event. It's fair to say that for at least one hour, JAF helped remove the clouds of cancer worries, allowing giggles, smiles, and precious memories for patients and their families.