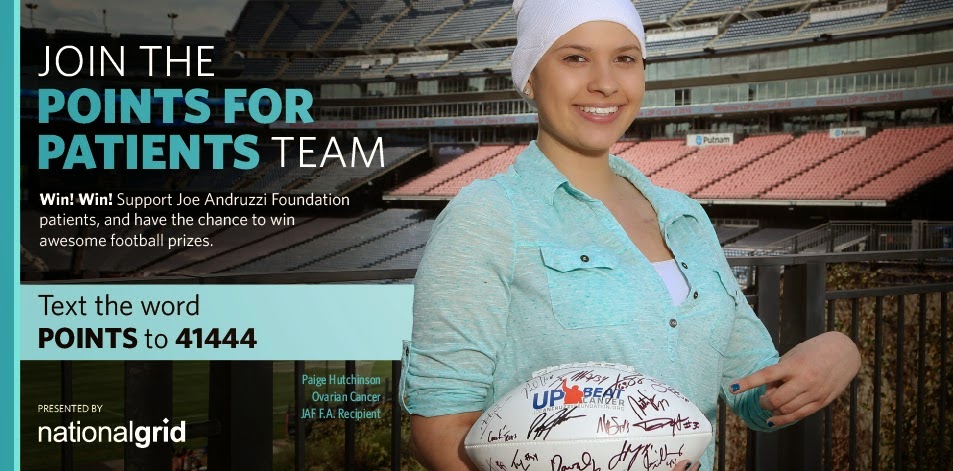 This holiday season, as you gather with loved ones who've traveled from near and far, and keep those who cannot be there in your heart, pause for a moment of gratitude. Families like those our foundation supports know the importance of spending time with loved ones and staying positive, even during life's greatest challenges. We want to help more and more cancer patients and their families experience (Up)Beat moments in 2015, and National Grid is giving us even more time to do it! They've generously extended the Points for Patients campaign into the post-season, and we couldn't be more excited!
Now through the NFL playoffs, National Grid will match donations, dollar for dollar, up to $25,000. The campaign helps JAF provide help, hope and a reason to smile by supporting the organization's financial assistance program, which provides grants to help cover everyday expenses for cancer patients and their families during treatment.
If you need a reason to donate today, we have FIVE! By donating, you will help patients like: Jessy Lopes, a 26-year-old father from Pawtucket, RI, who has Hodgkin's lymphoma; 16-year-old Paige Hutchinson from Cumberland, RI, who is bravely fighting ovarian cancer; 14-year-old Rylee Fontes from Attleboro, MA, who remains upbeat while battling thyroid cancer; two-year-old Braxton McHale from Seekonk, MA, who was diagnosed with leukemia; and from North Dighton, MA, 57-year- old Valerie Bowers, who keeps positivity alive while fighting breast cancer.
Every donation matters, regardless of how big or small. To donate and for a chance to win fun New England themed football prizes, text the word POINTS to 41444.
Thank you for your unwavering support and Happy Holidays!
– Jen & Joe Andruzzi