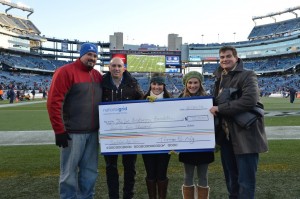 Obviously, as a former Patriot and huge fan, the end of this football season is bittersweet for me. Like the rest of New England, I'm bummed the Patriots missed out on the big game. But Jen and I are celebrating a BIG win for our Foundation this season: National Grid's massive donation to help cancer patients and their families pay the bills during treatment!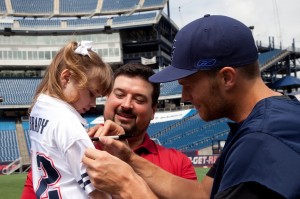 This program specifically serves patients who contact us directly for help with mortgages and rents, car payments, heat bills and other regular household expenses. At this point – through our strong partnerships with local cancer treatment facilities – many of our grant requests comes from hospital social workers and patient advocates. But because we're still a grassroots organization, it's important to Jen and I to keep helping families who mail us personal letters, call us on the phone and send us emails. Many of these families are desperate for help paying their bills, and we want to be there for them.
Well, it turns out Tom threw 38 touchdown passes during the 2012 season (and playoffs), equaling $26,600. But National Grid 
didn't
 stop there. Our generous sponsor matched $16,725 worth of public donations AND added an extra $58,275 to help exceed the program's goals – pushing our fundraising total to
$
118,325!
Jen and I are immensely grateful, and we can't stop smiling.
In addition, we're also thankful to
CBS Radio Boston/98.5 The Sports Hub
, which plugged the campaign and aired promotional spots voiced by Tom throughout the season. The Patriots Radio Network also sponsored JAF patients at home games, recognizing our grant recipients by blasting their names across the stadium and airwaves. These happy memories will last a lifetime for these patients, who got to experience the Patriots at Gillette.
Thank you, Tom, for your unwavering support over the years, for your quiet giving and loyalty to our cause
. Patients and families struggling with cancer will be better off this year, because you cared. And a huge thank you to National Grid for making Touchdowns by Tom an overwhelming success. It was a fun ride, and we 
couldn't
 have met our fundraising goal without your commitment and generosity!