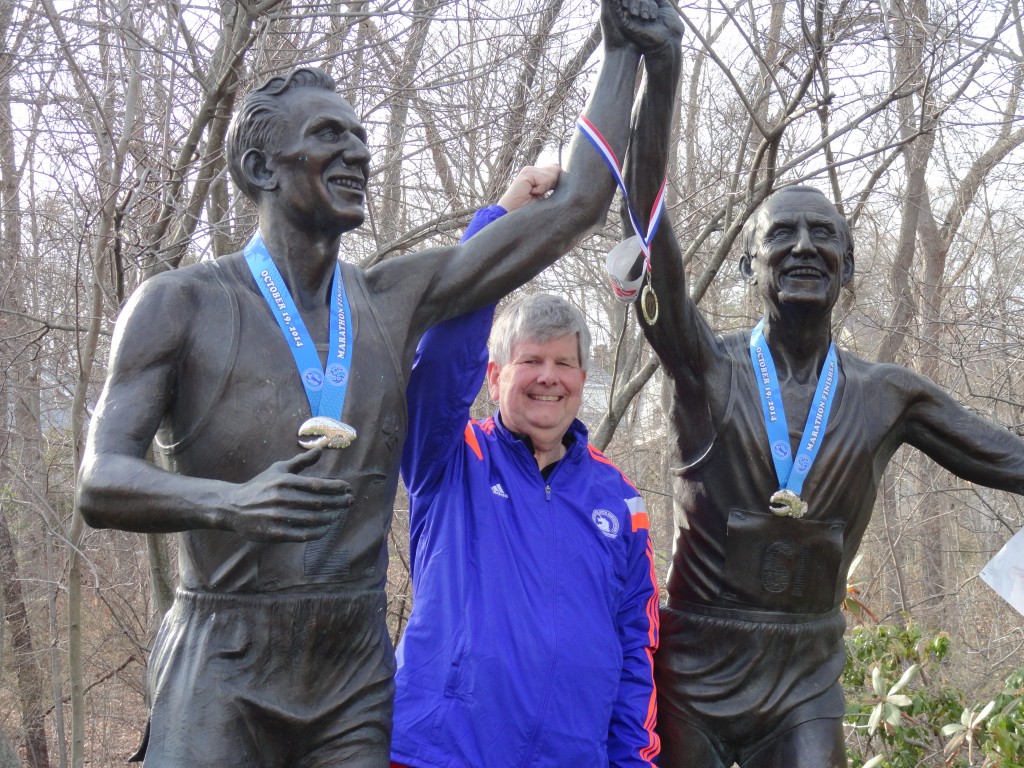 If you asked 100 people why they run, it's very possible that you would receive 100 different answers. Some run for exercise, some run for fun, others enjoy the competition.
For Bill Donovan, running literally saved his heart – and he's determined to use his second lease on life to help "pay-it-forward," one stride at a time.
"I was a soccer player in high school, but I never did track or cross country," Donovan remembers when asked about the origins of his love for running. "When I started getting into running 5Ks and 10Ks it in the late 70s, early 80s, it was more of a social activity than anything else".
"It was a good way to stay in shape and make friends," he says. "And there were always great parties after."
As time went on, and family obligations demanded more of his time, running took a back seat, explains the 63 year-old. "But I picked it back up five or six years ago."
Shortly after, Donovan's life would take a drastic turn – one that would challenge his body and mind in the years that followed.
"The interesting thing is, I had a few heart-related episodes – a heart attack about six years ago, and as a result, I started walking and jogging more," recalls Donovan. "After the heart attack, I set some personal goals for myself: within a year, I wanted to run  a half marathon. By the end of the following year, I had run three half marathons."
"Mind you," Donovan stresses, "this is with two stents in my artery."
His next goal was to run a full marathon – and Donovan put the time in – a vigorous training regimen to get him ready for the athletic achievement of his life.
"I was probably three weeks out, and one day I felt a tightness in my chest," he says. "It was the same tightness I had felt a few years earlier after the minor heart attack. They set up some tests and I was going to come back to see my doctor a few days later, but the night I saw the cardiologist I went into cardiac arrest."
"My heart stopped," he recalls. "I was at home, just lying down to bed – thankfully, my wife was there – and my heart just stopped. Luckily, my heart was in good shape because of all of the running and training, and it just jump, kind of, restarted itself."
Donovan's wife immediately called 911, and he was rushed to the hospital for test and evaluations. The following day, while in an MRI tube, the same thing happened again – Donovan's heart had stopped.
"They pulled me out of the tube and started working on me," he says. "Thankfully, it jumpstarted itself again".
The third episode, however, was the most frightening for Donovan and his family.
"I was transferred to the hospital my cardiologists worked at, and I'm in the ICU getting ready to go to bed one night, and it happened again," Donovan remembers. "This time, they had to use the defibrillator to bring be back."
"My cardiologist told me I needed a plumber and electrician," he says. "The plumber [surgeon] is going in to clear any blockage with a stent, and then I'm going to put in a combination pacemaker/defibrillator.  After three episodes in 24 hours, I guess you could have called it an insurance policy."
In the days that followed, Donovan's mind immediately returned to concerns about his passion, but doctors promised him that he could run again – just not the full marathon he had been preparing for.
A testament for his commitment and joy for running, Donovan completed his first full Marathon – in Burlington, VT – only eight months later. And then another one the following Fall in honor of the Marine Corps in Washington, D.C. And then the Chicago Marathon the following year.
…………………………….
Last year, Donovan – born and raised in Needham/Greater Boston; now residing in Middletown, Connecticut – received every New England runner's dream: an entry into the 2015 Boston Marathon.
"It was one of the greatest experiences of my life," recalls Donovan of the race, which, coincidentally, connected him with the Joe Andruzzi Foundation.
Donovan ran the 2015 Boston Marathon for the New England Patriots Charitable Foundation – a cause he was connected with through a life-long friendship.
Donovan grew up with – and went to high school alongside – Chuck and Christine Allen, parents of Lexi Solder (Allen), the wife of current New England Patriots co-captain Nate Solder.
"I grew up in Needham with Lexi's parents, and we've always remained very close," Donovan says. "I've known Lexi since she was a little kid, and have gotten to know Nate over the years – and I have always been blown away by how much charitable work they both do. It inspired me to run for the Patriots Charitable Foundation."
Though Joe Andruzzi and Nate Solder's playing days never coincided, Joe has long-been a sort of mentor for his fellow offensive lineman, and Andruzzi has coached Solder over the years as part of his strength and conditioning position with the Patriots. When Solder was diagnosed with testicular cancer in 2014, one of his first calls was to the Andruzzi – a fellow cancer-survivor.
Needless to say, the Andruzzi's and Solders have become close friends – so it was no surprise that when Bill Donovan came down the home stretch of the 2015 Boston Marathon, who was cheering for him on Boylston Street at the Joe Andruzzi Foundation's Marathon Watch Party?
Lexi Solder.
…………………………….
"I was over Lexi's parents' house last October with another high school friend to watch the Patriots/Colts Sunday Night Football game," Donovan remembers. "Ironically, they were talking about how great it was to be a grandparent."
"The next morning, we heard the news about Hudson."
On Monday, November 16, 2016, Nate Solder – during his 2016 (Up)Beat Award acceptance speech at the Joe Andruzzi Foundation's annual Gratitude Gala – revealed to a stunned room at Gillette Stadium's Putnam Club what Bill Donovan learned a month earlier: Lexi and Nate's three-month-old son, Hudson, had been diagnosed with cancer.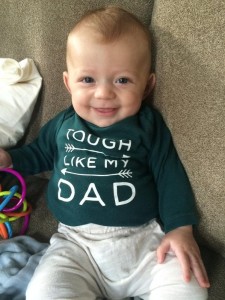 In the days that followed, Nate and Lexi – both long-time supporters of JAF – asked that those wishing to support Hudson's battle make a donation towards the Joe Andruzzi Foundation's Tough Like My Dad
Fund, appropriately named after the adorable photo of Hudson the Solders shared with the gala audience.
Proceeds of the Fund benefits JAF's mission of providing financial assistance to cancer patients and their families – allowing them to focus on recovery, not mounting rent/mortgage, utility or other household bills.
"For the last four years, I have been to this event, sitting and watching families tell their stories about how the Joe Andruzzi Foundation has helped them," Solder shared during his speech at the Gala. "You never know if you will be the one up here telling your story. Life is unpredictable and we will all be affected in one way or another by the devastating effects of this disease. All we can do is rally around each other when the tough times do come."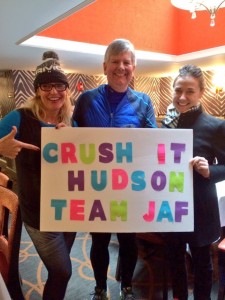 In the days that followed, Donovan, too, wanted to rally around the Solders – and when he heard about the Joe Andruzzi Foundation's United Airlines New York City Half Marathon team, the decision was easy.
"When I found out Nate and Lexi wanted those wishing to support Hudson to donate funds towards the Joe Andruzzi Foundation through the Tough Like My Dad fund, I thought I had to do something to support the cause," Donovan recalls. "Running the NYC Half Marathon for Team JAF just made so much sense, and with the Solders' blessing, I was all in."
Those wishing to support Donovan's NYC Half campaign may do so by visiting his donation page.
"I think it's important to build awareness and reach out to the Solders to let them know we're all thinking of them and Hudson in our hearts and prayers," Donovan says of his fundraising campaign.
"I'm really looking forward to the [March 20] race – I'm very excited about it," he says. "I feel good. I'm slow, but that's not going to change," Donovan jokes. "[Team JAF Captain] Susan Hurley of CharityTeams has been a great help with training and fundraising – it's been a life-changing experience."
"I'm glad the Foundation is expanding its reach to Connecticut, New York, and New Jersey," he adds. "I'm proud to be a part of that."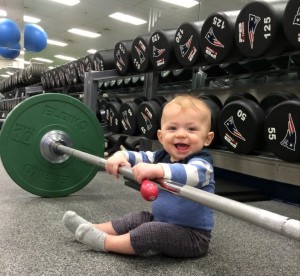 Throughout his training, Hudson has remained a source of inspiration for Donovan.
"Lexi shared a photo the other day of Hudson in the Patriots weight room next to a barbell," Donovan says. "The other morning my legs were sore, and didn't want to go out for a training run."
"Seeing that photo of Hudson, with his hands up on barbells, made me think," Donovan jokes. "If he's working out, I can't take the day off."