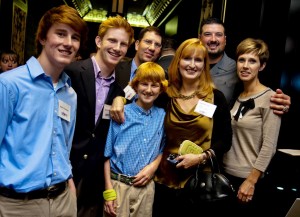 Our Foundation is coming off a real high this week after unveiling our new (Up)Beat Cancer initiative at our first-ever Boston event – a night dedicated to the resiliency of children and their incredible power to inspire us all as they face down illness. The courage of the many children we've met over the years, through our philanthropy and visits to Boston Children's Hospital, kept Joe strong during his own cancer battle and continues to permeate everything we do as an organization.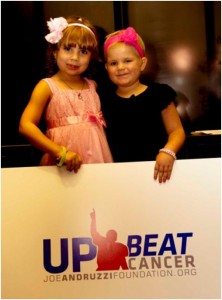 The energy at Empire Asian Restaurant & Lounge was amazing, as we toasted Joe's fifth anniversary of being cured of cancer and our fourth year as a Foundation, helping families overcome the financial burden that accompanies cancer treatment. We met a lot of new friends, while reconnecting with our loyal supporters. Many of our patient families also came out, including our adorable friends Jackie Mullen and Phoebe Davis (pictured left).
Joe spoke emotionally, as did our friend
Jen D'Auteuil (top)
, whose son Drew was diagnosed with
aplastic anemia at 10 years old. Jen has written a book,
"Anatomy of a Miracle,"
about her family's cancer battle and it was moving to hear her speak about their experience.
It was truly a fantastic night on the Boston waterfront and we're so appreciative to Ed and Joe Kane, Randy Greenstein and Chef Kevin Long of Big Night Entertainment Group for donating their beautiful new space to us for the evening, and for all the hard work of our friends at Digitas and Millennium for helping us crystalize our Foundation's rally cry: (Up)Beat Cancer!
So what is (Up)Beat Cancer?
It's a new initiative that fully expresses who we are as an organization: fun, full of laughter and happiness. Upbeat. Inspired by Joe's appreciation for the irrepressible positivity of children fighting cancer, we're committed to helping patients live joyfully. We truly believe that laughter is the best medicine, and that patients benefit immensely from getting out of the hospital and taking their minds off their illness.
We've always operated with a positive outlook here at JAF, but now we're taking it to a new level. We're sporting a new logo, a
revamped website
and a new energizing
manifesto
that emphasizes silliness, play and belly laughs. Because there is more to life than worrying about cancer!
We're calling on all of our friends – new and old – to join us in our new ventures this fall. We need volunteers, donors and followers on Twitter, Facebook and our website. And, of course, we're looking for sponsors and friends to join us at our upcoming fifth annual gala at Gillette Stadium on December 3.
There are so many ways to get involved and we truly appreciate everything our supporters do for us and the families we serve.
It's going to be a fun-filled football season and we can't wait to rally our community to help us (Up)Beat Cancer!