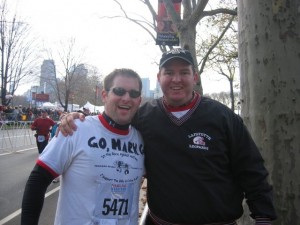 Meet Joe Andruzzi Foundation Marathon Team member Mark Ravalico, a 34-year-old financial salesperson from Baltimore, Maryland, who's enlisting his entire family in our cause. Like me, Mark's a former football player, now using the discipline, drive and athleticism he developed in college to run for cancer patients.
Thank you, Mark, for your hard work and uplifting attitude. We'll look forward to you "Shipping up to Boston" soon!
— Joe Andruzzi
JAF: Why did you join the Joe Andruzzi Foundation Marathon Team?
Mark: I have always wanted to run Boston. When I decided this was the year I was going to do it, I went online and found Susan Hurley's website. I was particularly attracted to the JAF because my family, like so many, has lost loved ones to cancer. In addition to my grandmother, who passed from cancer before I was born, my cousin, Greg See, died of a brain tumor at 23 years old. Joe's story was particularly inspiring to me because when Greg was diagnosed, he was playing football for the Florida Gators. I too played college football, along with my brothers, at the Division 1-AA level, Lafayette College. We are a family of football players. I have known of Joe as a player for years. Getting to know him as a survivor and support the foundation he and his family have created has been a great experience.
JAF: What is your inspiration?
Mark: When I ran my first marathon in 2004 (San Diego Rock n' Roll), I was inspired to honor the legacy of my cousin by raising money for St. Jude's Children's Hospital, an organization that his mother identified as very meaningful to his family throughout his battle. I am blessed to be able to run. I have been fortunate to run two more marathons and continue to raise money for people in need with every effort. I am inspired to use my ability for the good of others, because so many can not get up and run at all.
JAF: Have you ever run a marathon before?
Mark: I have run three marathons: San Diego Rock n' Roll in 2004, Philadelphia (my boyhood hometown) in 2006 and New York in 2009
JAF: What advice would you offer other marathon runners?
Mark: Read the book "The Non-runners Marathon Trainer" by David Whitsett. Use it as your guide. It is a phenomenal tool for managing the physical and emotional challenge of training. And it WILL make you successful. In addition, I would say, don't wear earphones on race-day, take in the crowds, soak it up. HAVE FUN!! Don't stress. You are ready for this, enjoy it. And enjoy the love and support that your family and friends give you over the months leading up to and on race day. It makes it all worthwhile.
JAF: What do you like about running?
Mark: I love the sense of accomplishment. I love being able to do something that so many people believe they themselves could not do. I am a firm believer that ANYONE can run a marathon, if they set their minds to it. But, most do not. I like being one of the ones that has and continues to do so. I love the high you get when you're ten miles into a run and you're just getting warmed up. Not a lot of people know that feeling and most think you're crazy, because they've never even run ten miles, much less gotten there and said to themselves, "Wow, I'm pumped to go another eight or nine miles."
JAF: How's training going?
Mark: I have not trained enough. Training is going well, but I feel behind. I felt that way until I got out on the course on Feb. 18 with the other charity runners and confirmed I'm on track. I run three days per week and take my wife's spin class each week. So I am logging four workouts per week and – totally – anywhere from 22 to 25 miles at this point. I do long runs of 14 or 15 miles on Saturdays.
JAF: How do you motivate yourself to train when it's freezing cold or snowing?
Mark: The cold and the snow are motivating, are you kidding!! When you get out on a trail that's covered in snow and you see maybe three or four other people over the course of a 7-mile run, that's motivating. You wink at each other as you pass by, because you know you're all nuts. You know there are so few like you and you're getting it in. While most are huddled inside, you're out there logging the miles. Who wants to run on a sunny, 70-degree day? That's boring. Anyone can do that! The elements get me fired up!
JAF: What music pumps you up?
Mark: The song "New York" by Jay-Z. It was a big motivator for me when I was training to run NYC. Still gets me going. Anything about Boston. "Love that Dirty Water" by the Sandells. Dropkick Murphy's "Shipping up to Boston." I get chills just typing it. I picture myself coming down Boylston and crossing the finish line in front of the screaming fans to that song and I just soar.
JAF: What's your marathon goal?
Mark: Finish. I have run all of my marathons in just under four hours. But I don't care….I just want to finish. That's been my goal for every one of them.
JAF: What are you doing to fundraise?
Mark: I did Super Bowl Squares. I had a baby pool for my brother's baby, who was born this year. Thomas Lucio Ravalico! He's a New Hampshire native and his parents are HUGE Pats fans, so I am pretty sure they named their boy after Tom Brady. I am hosting a bar party in Hoboken, New Jersey, (my sis lives there) and will have a silent auction party in Baltimore. My wife will teach a "Charity Spin Class" at the gym. Basically, getting the whole family involved. They rule.
JAF: Do you do other charity work?
Mark: I have thought about doing other things in the past, but nothing really took hold. Right now, this is my focus.
JAF: What else should we know about you?Mark: I should note that ten years ago, when I did play football, I was an offensive lineman and weighed 284 pounds. I lost the weight quickly and have kept it off with running. Running, more specifically, such challenging runs like marathons, so that I absolutely have to train. I have maintained my weight at between 205 and 210 pounds since college. Running is the reason I am able to stay fit.