David Santoro has been a runner since he was in grammar school. Back then, David excelled in the mile run portion of the yearly Presidential Physical Fitness Test his school participated in—winning several running awards. His performance caught the eyes of the track coaches at his high school. Soon enough, David was out on the track field and beyond—also taking up cross country to stay in shape.
As part of his college's cross-country team, David and his friends would head out for long training runs, logging as much as 17 miles. The group quickly developed a passion for long-distance running.
"We were just kind of enjoying ourselves," David said, looking back on those times. "It was a lot of fun, so the thoughts started to formulate in our heads of, 'Hey, you know if we can do this, we could probably run a marathon.'"
In 1987, David participated in his first Boston Marathon, which wouldn't be his last. To date, David has run 69 total marathons, including in places like Chicago and New York. According to David, it comes down to believing that you can run the race—saying first-time runners should never be concerned about their time and stay focused on finishing.
A marathon that has always stood out to David is one he ran in Bermuda in the 1990s. For David, it was much more of a test mentally because of running two laps around the entire island by himself.
"It was kind of miserable," said David. "The first lap was fine; there was a crowd out there. Then everybody peels off, and you're kind of out there all by yourself in the second half. It's really easy to stop and give up. I think when you get into that headspace, you're like, 'You know, I'm done.' But, if you get into that conversation in your head of, 'Okay, yeah, but I want to get this finished.' then you can do it."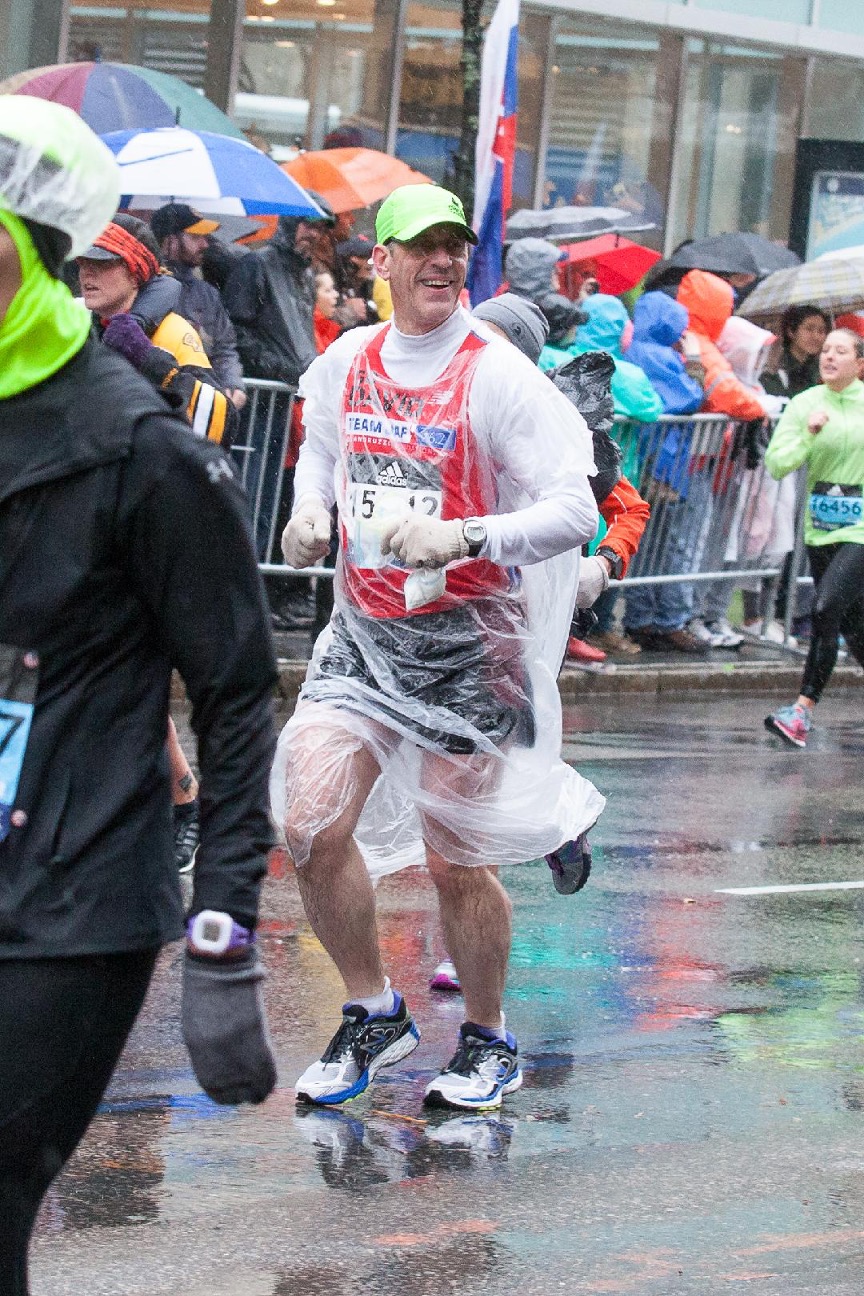 While he is a qualified runner, David has always wanted to do something more than just run. He wanted to give back. That's why for 12 straight years, David has been a part of the Joe Andruzzi Foundation's (JAF) Boston Marathon team.
"I love what JAF is doing," David said. "The fact the Foundation is helping people going through cancer treatments; I just think it's really great, and Jen and Joe are great people."
Running for JAF means a lot to David, as cancer has repeatedly impacted his family. In 1999, David's mom passed away from breast cancer. Five years later, David's father-in-law passed from stage IV lung cancer.
To David, it was hard watching both family members go through their cancer journeys. His mother underwent numerous treatment options, including chemotherapy, radiation, and stem cell replacement. His father-in-law had been experiencing pain in his midsection and trouble swallowing for years before they found the tumor in his lung had impinged both his stomach and esophagus.
Unfortunately, cancer's impact on David and his family hasn't stopped. In December 2022, David's wife, Diane, detected a lump on her chest. Diane was soon diagnosed with breast cancer.
The Santoro's feel 'very optimistic' about Diane's treatment options. However, they're well aware of the ramifications cancer can bring financially.
"I think a lot of people don't realize how financially draining a diagnosis can be for a family," said David. "I'm a financial planner, and I see it every day and talk to people about that all the time with having an emergency fund. If they don't have that, and then they get this cancer diagnosis, and it's like, 'okay, now, how are we going to pay for all of it?'"
David was a part of the 2013 Boston Marathon team when at 2:49 p.m., two explosions occurred at the finish line. Having finished the race and met up with family, David was getting cleaned up at a hotel room in Copley Square when he heard his daughter and her friends come sprinting in.
"They said they were on one of the bridges and felt that shake. I said, 'Okay, well, that's kind of weird,'" said David. "Then we started hearing all kinds of different stories. It became, 'Okay, this is not good; let's get out of the city.'"
After walking all over the financial district in Boston, David and his family were able to talk their way onto a red-line train that had a stop near the van the family drove. In David's words, it was a hectic ending to a day that started like any other.
David knows April 17 will be a memorable day for many reasons. However, he's keeping his focus on running to support JAF's mission.
"Having something like JAF out there, they help a lot of people," David said. "They help keep patients in their houses, help keep the heat on, whatever they can do to help out is huge because it takes one less worry away when you're trying to fight this."
Check out this WCVB Channel 5 story about David, Joe, and Jen reflecting on the 2013 Boston Marathon.
To learn more about David and the entire 2023 JAF Boston Marathon team, click HERE.