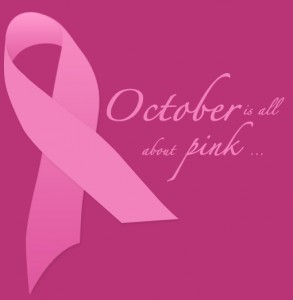 Seems like pink ribbons are everywhere this year, and they're a welcome sight – the public awareness campaign for National Breast Cancer Awareness Month is working! After more than 25 years of spreading the word, more and more women are educating themselves on breast cancer and getting regular mammograms.

Most of us know someone who's battled breast cancer, or someone who's cared for a loved one. So we urge you to fly your ribbons, wear pink and attend one or more of the many breast cancer-related events in and around Boston this month. From walks and races to Zumbathons, a big Bananarama benefit show to studies and panel discussions, there are a lot of exciting ways to support breast cancer patients and research.

Here at JAF, we plan to celebrate "Pinktober" with a special blog post, honoring the experiences of our Foundation's breast cancer patients.

Breast cancer is the second most common cancer (following non-melanoma skin cancer) among women in the United States, according to the Centers for Disease Control; it's the fifth leading cause of death in American women.

Early detection is key to successful treatment, which is why the CDC recommends regular mammograms for women between the ages of 50 and 74 years old. Women over 40 should discuss screenings with their doctors, particularly if they have a family history of breast cancer. Your doctor can arrange the test, and most insurance companies pay for them. The CDC's National Breast and Cervical Cancer Early Detection Program also provides access to breast and cervical cancer screening services to needy women.

These screenings are especially important, because breast cancer starts out small and does not initially manifest in symptoms or signs. Regular mammograms can detect cancer far earlier than it can be felt, and when the disease is found early, many women can enjoy a full recovery and long, healthy lives.

There's no way to prevent breast cancer, sadly. But maintaining a healthy weight, exercising and limiting alcohol intake can all decrease the risk, experts say. If breast cancer runs in your family, talking to your doctor about your family's medical history and prevention can also be helpful.

So let's join the Pink brigade and share what we know about breast cancer this month. Because awareness can save lives!