Yan Perez-Garcia doesn't have a typical cancer story – if there is one. His journey spans three states, dozens of surgeries, near-death experiences and multiple specialists – in just 10 years.
Diagnosed with rare brain tumors at only six months old, his ability to remain alive is awe-inspiring. "He's not giving up," said his mother, Yansen.
It happened in three days, in October 2008, she remembered. Yan got very sick on a Thursday. By Friday, he was in Children's Hospital, in Tampa, Fl., where the family lived at the time. By Saturday, he had a CT scan. And that was how they found the first of three small, cancerous tumors lodged in his brain.
"Everything happened so fast," she said. "I didn't really realize he had cancer."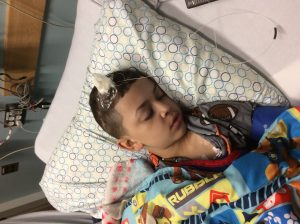 On October 10, Yan had his first surgery to remove the tumors. By the end of the month, he was undergoing chemo. Then doctors sent him home, just days before his birthday in February. The prognosis was bleak.
"They said, 'just celebrate his birthday, because it will probably be his only one,'" Yansen remembered.
But Yan had other plans. He was the youngest of his mother's six children, but he was tough. In his first two years, he was in and out of the hospital, for surgeries and chemo. Staff did not know what to make of him; he was very ill, yet he ran the hallways, full of energy.
When he was about 4, things got more complicated when he stopped responding to treatment.
"They were not going to do any more chemo, they were sending him home to hospice," Yansen said. "I said, 'I'm not going to take my kid home to die.'"
Medicaid was threatening to cut off payment for his treatment and Yansen was desperate. She started reaching out to other hospitals, in other states. Everyone said no. Then they found Dr. Johannes Wolff, at Tufts Floating Medical Center in Boston. He specialized in Yan's rare cancer, and he said yes.
In August 2011, Yansen threw her son in the car and drove straight to Tufts; she had a connection in Salem and free housing at the Cam Neely House. Yan's older brother and sisters – Jose, Pamela and Jennifer – stayed behind with her husband.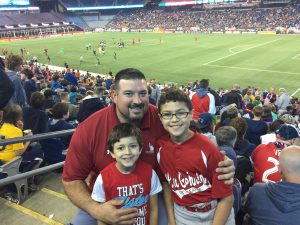 Dr. Wolff was shocked by how healthy Yan looked, she said. "He was so messed up on the inside and so OK on the outside."
Yan was eventually diagnosed with hydrocephalus, an accumulation of fluid on the brain. In 2012, he received his first shunt – the beginning of his chronic headaches. But in 2013, Dr. Wolff left for the Cleveland Clinic. And by December of that year, Yan was failing.
Again, doctors were lost. Yansen called Dr. Wolff, repeatedly, for advice. "I said, I'm not going to let him die,'" she said. "And he said… 'bring him here.'"
By now, she had all her children in Massachusetts. This time, they all packed into the car for the harrowing trip to Ohio. Originally from Puerto Rico, Yansen never got used to snow driving. It was long, scary trip, and Yan was very sick.
Over the next eight months, Yan had more than 20 surgeries and multiple infections, as his Cleveland team inserted and removed shunts. But he survived. In August, the family returned to Massachusetts and moved to Worcester. More surgeries followed – along with headaches, vision problems, and pain. Yan still has a feeding tube and he often needs a wheelchair.
He is now in third grade and tries to go every day, though he often falls asleep. His speech and reading are delayed, and he's struggling to relearn things he's forgotten. He still has three tumors, which are stable.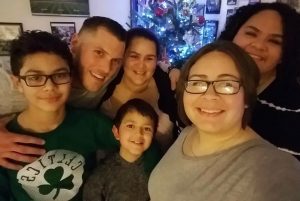 But he's caught in a cycle; he receives a new shunt and feels better. Then, the headaches return. Doctors won't replace the shunt until it's broken. Surgery helps. And then it starts again.
But Yan loves basketball and football, and is part of the Team Impact program at Assumption College, where his older sisters attend school. He never misses a game. He even tries to play flag football.
"He will run for a little bit, and then he's tired," his mom said. "But he keeps trying."
Yan's illness has taken a huge toll on the family. Separated from Yan's father, Yansen must support her family. But Yan's extended hospital stays make working impossible.
While Yan was undergoing chemo, they lived in free housing for cancer patients. But he's not currently in treatment, so they must live in public housing and get by on assistance. Yansen also found the Joe Andruzzi Foundation online and received help with the family's rent.  
"We're just trying to survive," she said. "It's really hard."
But Yan's will to live helps keep her strong. "This kid will get out of a hospital bed to go to a game," she said. "He wants to be like all the other boys. That's what drives him."