Two very exciting things have already happened thanks to your generosity to the Joe Andruzzi Foundation!
The foundation awarded its first grant in the amount of $2500 to a wonderful single woman in Western Massachusetts. This strong, brave woman has been battling follicular non Hodgkin lymphoma for 11 years. She is now waiting to find a match in the National Bone Marrow Registry. She has been unable to work for some time. With the support of friends and family she keeps on fighting. Please add her to your thoughts and prayers. She needs your help too.
The C.J. Buckley Brain Cancer Research Fund at Children's Hospital Bos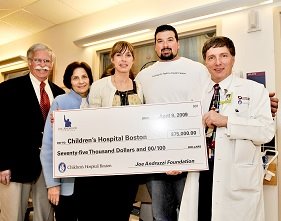 ton, supporting pediatric neuro-oncology research and improved treatment outcomes for young patients and their families struggling with brain cancer will receive $75,000 from the proceeds raised at the "New England Celebrities Tackle Cancer" event in December.
The board of directors is working to finalize a system to facilitate of targeted grants that will help support patients and their caregivers.
The Foundation will make announcement about grants as plans are solidified in Spring-Summer 2009.
Stay Tuned!
Jen Andruzzi