On Saturday, September 26, seven dedicated athletes took to their spin bikes at the NRG LAB in Franklin, MA, for a two-hour, outdoor spin-a-thon raising funds and awareness for the Joe Andruzzi Foundation (JAF).
Included in this group were JAF's President and CEO, Jen Andruzzi, her daughter, Teresa Andruzzi, JAF Staff members Gillian O'Brien and Deana DeSilva, NRG LAB employees Karin and Sarah Giuliano, and longtime JAF supporter and two-time "spin-a-thoner" Mark England.
Halfway through the event, the group was inspired by an emotional and motivational speech by Jane, a former JAF patient recipient and JAF volunteer: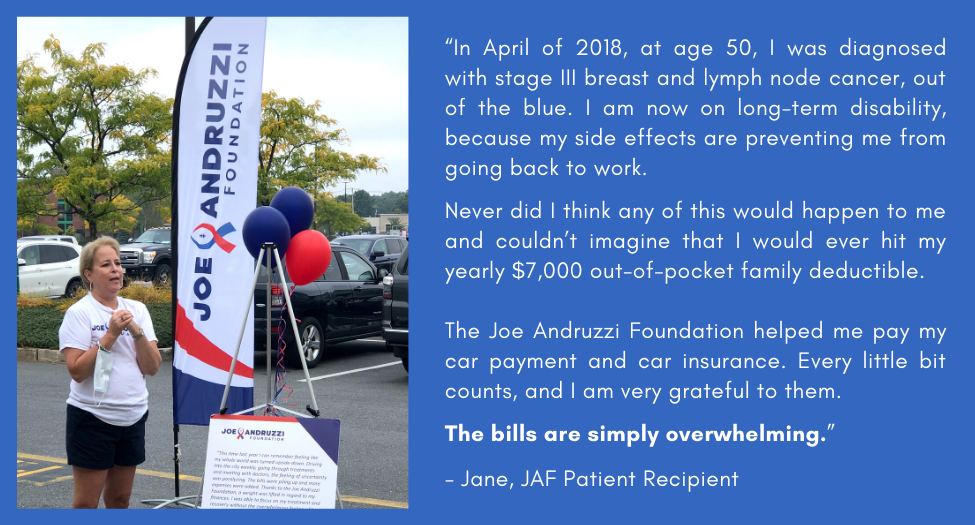 Although it was a small crew, they certainly had a powerful support system. Through these athletes' hard work and their supporters, this team raised over $9,000 for New England cancer patients and their families.
Shout out to Mark England and MD England and Sons for their incredible work. Through Mark's generous supporters and MD England and Sons matching gift program, they raised over $5,000 alone.
And we also want to send a big thank you to the NRG LAB Staff, especially Luther White and Karin Giuliano, and their amazing instructors, Tony and Kelsey, for providing an extraordinary outdoor experience; DJ RyMax for providing the rocking tunes; GNC Franklin for providing product for our athlete goodie bags; and to all our athletes and their supporters for helping make this event a BIG success!