Cancer doesn't stop, and neither do oncology healthcare professionals.
Social workers, patient advocates, resources specialists, and individual oncology caregivers have worked tirelessly to meet patients' needs throughout the ongoing pandemic – and that's why, for this year's Giving Tuesday, the Joe Andruzzi Foundation is focusing on giving back to these healthcare partners working on the front lines of cancer care.
This dedicated community of professionals has not missed a beat over the past two years, connecting those in need with access to JAF funding by working with them to submit grant applications for patients and their families. Many of these healthcare professionals have done this while working remotely, still managing to build trust and develop crucial relationships with patients. Their efforts have ensured JAF's resources continue to reach those most in need during the most difficult of times.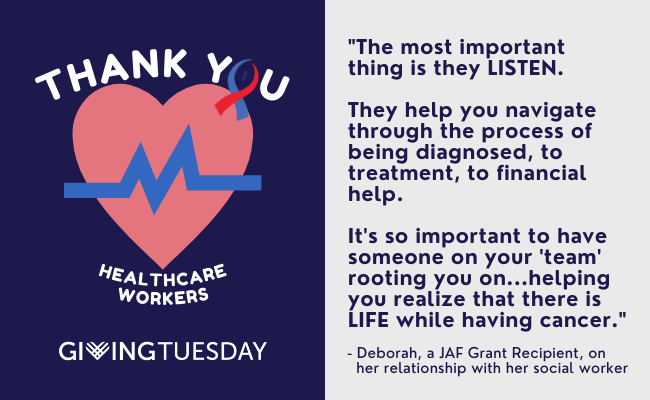 In recognition of their efforts, the Joe Andruzzi Foundation, together with our Healthcare Council's Presenting Sponsor, Bob's Discount Furniture, are sending special self-care packages this week to 228 social workers across all six New England states to thank them for never stopping to provide emotional support and financial navigation to cancer patients throughout the COVID-19 pandemic.
This Giving Tuesday, the Joe Andruzzi Foundation invites our community to join us on this day of appreciation. Follow us on our social media channels for inspiring stories about these dedicated healthcare professionals and their patients, and you can even honor a healthcare worker you know by making a donation to JAF here. (Be sure to call out your honoree in the notes section of the donation!)
Let's celebrate those who have been on the front lines and who have helped JAF give hope to cancer patients with an act of kindness and a gift with impact.