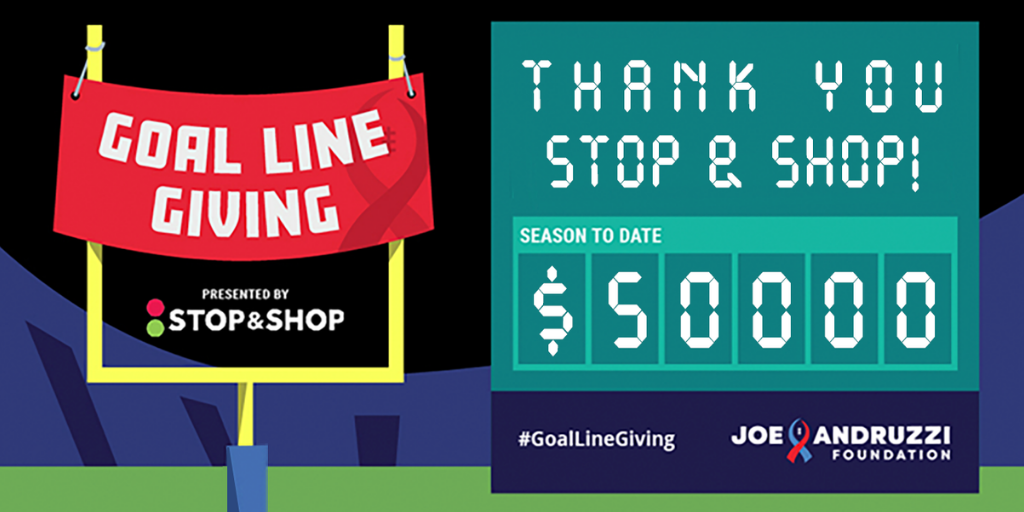 Before the season, our friends at Stop & Shop pledged to donate $100 to the Joe Andruzzi Foundation for each point New England scored on the football field to help local cancer patients and families address the issue of food insecurity and afford fresh meals during treatment.
New England scored 420 points over 16 games, resulting in $42,000 being raised through this year's #GoalLineGiving program…BUT, thanks to their incredible generosity and belief in JAF's mission, Stop & Shop has rounded up its donation to an even $50,000!
Accessing nutritious food during cancer treatment can play a key role in a patient's health outcome, and we can't thank Stop & Shop enough for its commitment to our Foundation as their drive to help communities enjoy better food and better lives.
Throughout the season, Stop & Shop provided gift cards, which allowed JAF to provide direct support to 400+ patients and families who reported experiencing food insecurity as a result of financial barriers during their treatment. An additional 150 cancer patients and family members received direct financial assistance from Stop & Shop's Goal Line Giving sponsorship to help with their critical household expenses.
We are so grateful for the team effort with Stop & Shop this past football season which helped many New England cancer patients focus on their treatment and not worry about putting food on their family's table!
"Food insecurity is a concern for many New Englanders, but even more so for families coping with cancer.

As a company that prides itself on supporting local communities, partnering with JAF on this campaign just made sense. We are proud to partner with Jen, Joe and the entire JAF team and look forward to supporting families during their fight against cancer."

– Jennifer Brogan, Stop & Shop Director of External Communications and Community Relations