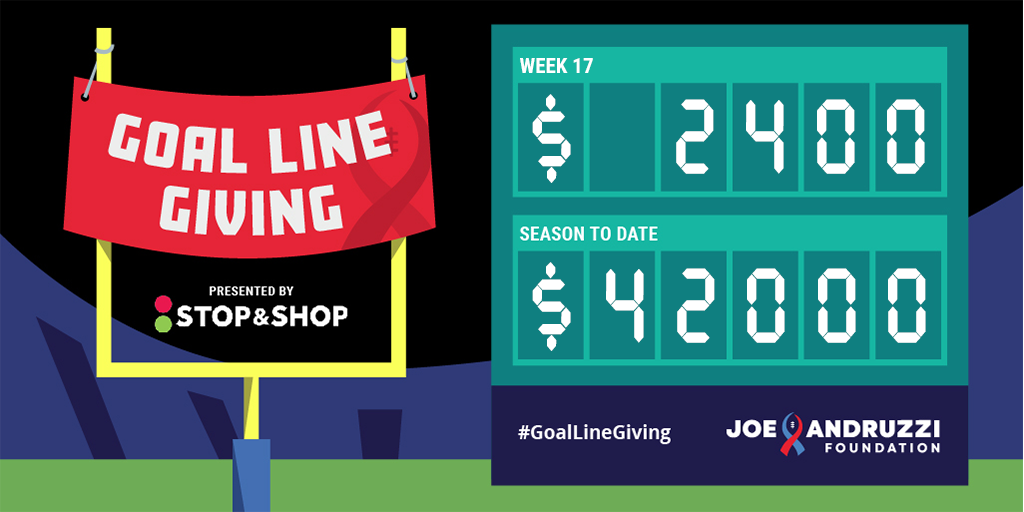 The Joe Andruzzi Foundation (JAF) is teaming-up with Stop & Shop this football season to assist New England cancer patients and families dealing with food insecurity.
Through the 2019 "Goal Line Giving" campaign, Stop & Shop will donate $100 to JAF's Financial Assistance Program for every point New England scores this season, which will be used to help families afford groceries while undergoing cancer treatment.
For 11+ years, the Joe Andruzzi Foundation has provided more than 10,000 grants to help thousands of cancer patients and their family members battling the cost of cancer by assisting with non-medical expenses such as household bills, car payments, gas, and utilities. But with more than one-quarter of all JAF financial assistance patient applicants dealing with the issue of food insecurity, the Foundation is grateful to be teaming up with Stop & Shop – a business known for its philanthropy and long history of community engagement – to provide local families with access to fresh food for healthy meals before, during, and after treatment.
Follow along with the Foundation's social channels using the #GoalLineGiving hashtag during New England games this season – JAF's Twitter account (@JoeAndruzziFndn) will be live-updating fundraising totals as each point is scored.
And be sure to bookmark this page and check back weekly as we update the Goal Line Giving scoreboard!
"Food insecurity is a concern for many New Englanders, but even more so for families coping with cancer.

As a company that prides itself on supporting local communities, partnering with JAF on this campaign just made sense. We are proud to partner with Jen, Joe and the entire JAF team and look forward to supporting families during their fight against cancer."

– Jennifer Brogan, Stop & Shop Director of External Communications and Community Relations