To The Finish Line & Beyond!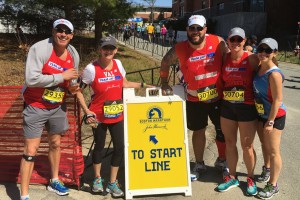 April has always been one of our favorite months of the year – the snow is usually gone, the sun is finally waking up from its hibernation, and we get to watch our amazing Team JAF Boston Marathon runners cross the Boylston Street finish line in support of our mission.

April 2016 was no different, but, believe it or not, Marathon Monday was not the only amazing thing JAF was up to this month – read on to learn about how we spent the last 29 days!
All the best,
Jen and Joe Andruzzi
---
JAF BY THE NUMBERS
2016 TEAM JAF BOSTON MARATHON RUNNERS: 19
2016 TEAM JAF BOSTON MARATHON FUNDRAISING TO DATE: $214,774
---
Team JAF Raises $215,000 Through '16 Boston Marathon!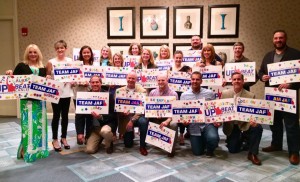 After months of intense training and fundraising, all 19 of our 2016 Team JAF Boston Marathon runners crossed the line finish line on Marathon Monday – raising nearly $215,000 along the way in support of cancer patients and their families.
It goes without saying, but on behalf of the entire Foundation, we want to send a special thank you to Matt Birnie, Valerie Chirichiello, Kelly Fisher, Barry Foland, Katie Horan, Kristen Knight, John Lapointe, Kathleen Lussier, Don McCarthy, Matt McKay, Maureen O'Connor, Sarah Parsons, Amy Pepe, John Ponte, Jim Pustinger, Dave Santoro, Sarah Sceery, Susan Sly, and Jen Andruzzi.
As a direct result of their collective efforts, the Joe Andruzzi Foundation will now be in a place to assist more than 300 new cancer patients in the weeks and months to come. Thank you so much for believing in us and being such great advocates for our foundation. We could not be more thrilled to have you as a foundation ambassador and all you do to further our mission.
Please help us thank our generous supporters who helped us reach and exceed our 2016 Boston Marathon campaign goals: The John Hancock Non-Profit Program, Susan Hurley of CharityTeams, New Balance, the Boston Athletic Association, UNO Pizzeria & Grill, CVS Health, the Mandarin Oriental, Patients at Hasbro Children's Hospital, ALEX AND ANI and our friends at The Paper Store.
If you were not able to make it to our Marathon Monday Watch Party at UNO Pizzeria on Boylston Street, check out our photo album on Facebook – and if you have not yet had a chance to contribute to Team JAF's 2016 Boston Marathon campaign and wish to do so, donations will be accepted through the middle of May at http://bit.ly/donate2teamjaf16. Read more about Team JAF's amazing 2016 Boston Marathon journey by clicking this link.
---
Jen Surprises Patients With Boston Marathon Campaign Funds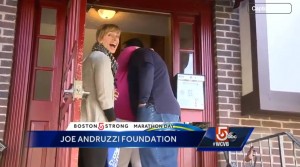 On Friday, March 25, JAF Executive Director Jen Andruzzi was presented with the opportunity to receive a late entry into the 2016 Boston Marathon, and with only 30 days to train and fundraise, she jumped right in.
"The truth is, my motivation to run the Boston Marathon has little to do with myself," Jen wrote in a March 31 blog post. "I'm doing it in honor of individuals who are diagnosed with cancer every day and have no choice but to begin treatment immediately. These patients do not get a heads up, or ample time to prepare themselves for the physical toll they are about to endure. I am taking this 30-day challenge head on, and every stride I take will be for those who receive a cancer diagnosis and do not get the option of training for treatment."
Jen initially set her 30-day fundraising goal at $18,200 – representing 26 patients who would be able to receive a JAF Financial Assistance Grant through her campaign (one for each mile) – but her message resonated with JAF supporters, and she ended up surpassing $30,000!
As part of her campaign, Jen has decided to hand-deliver some of the funds she raised, in the form of JAF grants, directly to patients at their homes. Check out the great piece WCVB filmed about it, which aired on Marathon Monday.
---
The Paper Store, JAF Team Up For Patients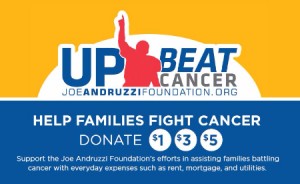 Over the years, we've been honored to partner with some amazing companies that believe in, and support, our foundation. Earlier this month, we were so excited to share that The Paper Store – the largest family owned and operated chain of Specialty Gift Stores in New England – would be partnering with the Joe Andruzzi Foundation from April 14th through April 24th to assist in our mission.
All 59 Paper Store locations in Massachusetts, New Hampshire, Connecticut, Maine, Rhode Island and New Jersey sold JAF-branded decals at checkout for a $1, $3 or $5 donation, with 100% of the proceeds coming back to JAF.
We're so proud to announce that the 10-day campaign raised a total of $31,048.47! JAF will now be able to assist more than 44 (new) cancer patients and their families going through treatment.
Please help us send a very special THANK YOU to the Anderson family and everyone else at The Paper Store who made this campaign a possibility. The Paper Store's commitment to giving back to the community and helping others so perfectly aligns with what we believe in here at JAF!  Read more about this amazing program on our blog by clicking here.
---
Run For Team JAF at the 2016 Falmouth Road Race!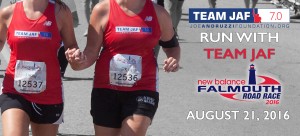 Our team will join more than 12,000 runners on Sunday, August 21 as we gather for the scenic 7-mile run in the heart of Cape Cod – all to raise funds in support of JAF's mission. Team JAF had a blast running the historic course in 2015, raising more than $70,000 for the Foundation – and we're looking to go even higher this year!
Space is limited, so don't wait! To apply to run with Team JAF at the 44th New Balance Falmouth Road Race, complete our online application today! (A $35 non-refundable fee applies for all submissions).
Runners who need a guaranteed entry through the Foundation are required to fundraise a minimum of $1,250, and runners who have their own entry, but wish to join the team, are required to fundraise a minimum of $500 — all of which directly supports Joe Andruzzi Foundation patient-families.  Visit our events page to learn more.
---
Two Supporters Enter The Ring For JAF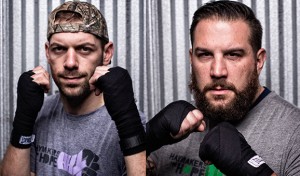 Haymakers For Hope – a charity boxing event featuring first time amateurs – will feature two JAF supporters raising money for our mission! On Thursday, May 19 at the House of Blues Boston, JAF supporters Andrew Gregory and Don McCarthy (a recent Team JAF Boston Marathon runner) will each step into the ring against opponents who are also raising money in support of area cancer-related charities.
Stay tuned for more info on Andrew and Don's campaigns in the coming weeks on our blog, but in the meantime, be sure to grab tickets to the event (select "Gregory" or "McCarthy" on the drop-down) and support their fundraising goals!
---
2016 Golf Fights Cancer Marathon Supports JAF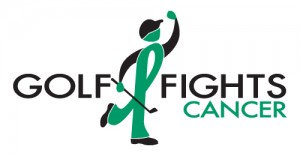 Our friends and supporters at Golf Fights Cancer have selected the Joe Andruzzi Foundation to be the beneficiary of one of our favorite golf events of the year: the 2016 Golf Marathon to be held Friday, June 17 on 36 holes at Juniper Hill Golf Course!
The event's format is simple:
Be a golfer of any skill level
Play 100 holes between 7AM and 4PM (Don't worry, it's doable.)
Customize your fundraising page and raise a minimum of $3,000 from friends, family and colleagues
The event aims to collectively raise $250,000 in a single day for JAF patients and their families, so sign up today and help us spread the word! To sign up, visit GFC's Crowdrise event page, or email at Cheryl@golffightscancer.org!
---
Catch Lady Antebellum While Supporting JAF!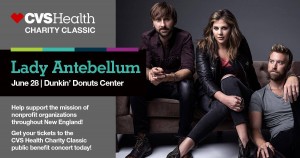 Help us make a positive impact by purchasing tickets to see seven-time GRAMMY award-winning group Lady Antebellum on 6/28 at the Dunkin' Donuts Center Providence!
Enter promo code 22TKML at http://bit.ly/1Mrmq3b when purchasing tickets from now until 6/21 and the Joe Andruzzi Foundation could win a $5,000 grant from CVS Health Charity Classic!  More info on our facebook page!
---
Eighth Annual Joe Andruzzi & Friends Golf Tournament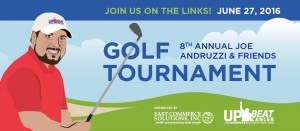 The Joe Andruzzi Foundation will return in 2016 to the beautiful Pinehills Golf Club in Plymouth, MA for our 8th Annual Joe Andruzzi & Friends Golf Tournament, presented by East Commerce Solutions, Inc.
To guarantee your spot in this year's event, please register today at http://bit.ly/golfwithjaf16, or visit our events page to learn more.
---
#UpBeatCancer Spotlight
Kate Greene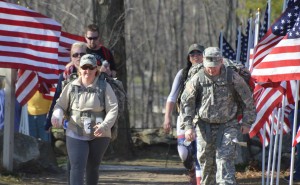 Congratulations to Kate Greene, a former Team JAF Falmouth Road Race runner, who completed the 2016 Tough Ruck last weekend – with a broken arm – in honor of her late husband LTC Michael Greene, who passed away peacefully on February 10, 2013 after a courageous 18 month battle with cancer.  Check out our facebook post about this courageous lady!