April Finish Lines Bring May Smiles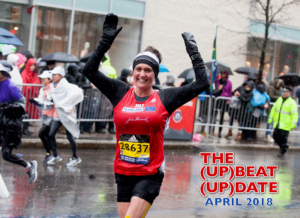 Between spring event planning and Marathon Monday cheering, April has always been one of the busiest months of the year at the Joe Andruzzi Foundation. The snow is usually gone, the sun is finally waking up from hibernation, and we get to watch our amazing Team JAF Boston Marathon runners cross the Boylston Street finish line in support of our mission – this year, a little more rain-soaked than others.
Not to mention…there is so much excitement in the air as we celebrate JAF's 10th anniversary next month – but before we fully spring forward into May, let's recap the month-that-was at JAF.
All the best,
Jen and Joe Andruzzi
---
JAF By The Numbers:
$1.68 Million
ALL-TIME TEAM JAF BOSTON MARATHON FUNDRAISING
111
DAYS UNTIL 2018 FALMOUTH ROAD RACE
---
A Rainy, but Triumphant, Marathon Monday for Team JAF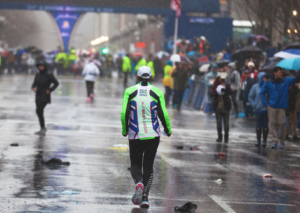 Despite punishing weather that had not been seen on Patriots Day for 30+ years, all 19 of the Joe Andruzzi Foundation's "Team JAF" Boston Marathon runners crossed the Boylston Street finish line on Marathon Monday – a feat that perfectly captured the spirit, commitment, and determination the team had exuded throughout its training season leading up to the race.
To date, these 19 Team JAF runners have raised more than $176,000 through the 2018 Boston Marathon, which will empower the Foundation to provide hundreds of new grants to cancer patients and families across New England in the months to come.
If you were not able to make it to the Marathon on Monday, check out our Facebook photo album for some amazing shots – and if you would still like to contribute to Team JAF's 2018 Boston Marathon campaign, donations will be accepted through May 15, 2018 at http://bit.ly/teamjaf18. For a full Boston Marathon recap, click here to read our blog post.
---
Calling All Runners: Join Us this August in Falmouth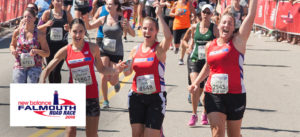 Speaking of Team JAF athletes…we're looking for 50 charity runners for the scenic 7-mile race through the heart of Cape Cod on August 19 at the Falmouth Road Race – all to raise funds in support of JAF's mission of providing help, hope, and a reason to smile for New England cancer patients and their families.
Our team had a blast running the historic course in 2017, raising more than $100,000 for the Foundation – and we're looking to go even higher this year! Will you come along for the strides?
Already have an entry? We are also accepting applications from those in possession of a bib who wish to run and fundraise as part of a non-profit team.
Interested in running Falmouth for Team JAF? Click here to apply, or visit: http://bit.ly/jaf18frrapp
---
Tee-It-Up 'FORE' New England Cancer Patients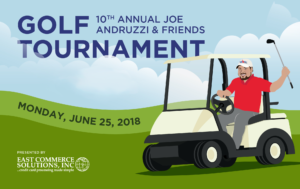 The Joe Andruzzi Foundation returns to Pinehills Golf Club in Plymouth, MA, on Monday, June 25 for the 10th Annual Joe Andruzzi & Friends Golf Tournament at Pinehills Golf Club (Plymouth, MA), presented by East Commerce Solutions, Inc.
Last year's tournament raised $300,000, and proceeds from this year's event will once again benefit JAF's mission to provide help, hope, and a reason to smile, for New England cancer patients and their families by contributing financial support when it is needed most.
To guarantee your spot in this year's event, please register today at http://bit.ly/golfwithjaf18
---
Give Mom the Gift that Pays-It-Forward this Mother's Day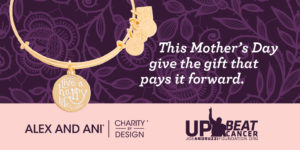 This Mother's Day, give the gift that pays it forward: the Live A Happy Life charm from ALEX AND ANI.
In addition to enjoying the bangle itself, Mom will love knowing that ALEX AND ANI contributes 20% of the purchase price from each charm sold to the Joe Andruzzi Foundation to provide help, hope, and a reason to smile, for New England cancer patients and their families by contributing financial assistance when it is needed most.
Purchase your bangle today!
---
JAF Makes Annual Children's Hospital Donation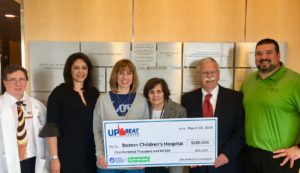 A few weeks ago, we had the honor of making the trip to Boston Children's Hospital for JAF's annual donation to the CJ Buckley Pediatric Brain Cancer Research Fund. The Fund, which Jen and Joe Andruzzi established in 2003 – five years before starting the Joe Andruzzi Foundation – honors a young man who touched their lives back in Joe's playing days.
The $100,000 donation represents funds raised by JAF through Executive Director Jen Andruzzi's 2017 Boston Marathon campaign as well as proceeds from the David Yurman/Joe Andruzzi Foundation event last fall – and brings JAF's all-time contributions to the the CJ Buckley Pediatric Brain Cancer Research Fund to $850,000!
Lucy and Carter Buckley – CJ's parents – joined Jen and Joe at Children's for the special check presentation, as well as Dr. Mark Kieran, Director of Pediatric Neuro-Oncology at Children's, and Raye Anne Johnson, Store Director of David Yurman. For more on this visit, click here!
---
JAF Patient Story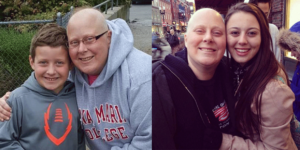 "I believe I'm going through all this so I can tell other people. I want them to search for help and find me."
Read about Laura's cancer journey – and her desire to inspire others through her strength and story – in the latest JAF Patient Story: http://bit.ly/2FgKw3p