Running Down the Last Days of Summer!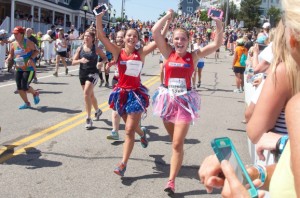 It's been an (Up)Beat summer at the Joe Andruzzi Foundation, and though it flew by, August was a jam-packed month for us! We ran seven miles, met Patriot's superstars, celebrated several milestones, and welcomed home a dear friend. But that's not everything that kept JAF busy in August – read all about the month that was below!
All the best,
Jen and Joe Andruzzi
---
JAF BY THE NUMBERS:
2015 total fundraising $754,653
2015 financial assistance given out to date $637,267
---
Team JAF Conquers the 2015 Falmouth Road Race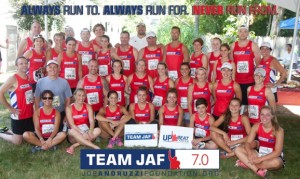 After months of training and fundraising, Team JAF's 2015 Falmouth Road Race campaign culminated in a fantastic run on Sunday, August 16 in Woods Hole.
Fifty-four members of the team donned Joe Andruzzi Foundation singlets for the 7-mile, scenic Cape Cod race – raising, to date, more than $78,000 for JAF along the way! Thank you to our amazing runners. We could not be more thrilled to have you as ambassadors of our foundation, and all that you do to further our mission!
The 43rd annual New Balance Falmouth Road Race not only marked our fourth consecutive year fielding a fantastic team for the event, but it also pushed our fundraising total to nearly $350,000 since we started participating in 2012. This has allowed us to assist close to 500 JAF patient families in paying necessary bills, allowing them to focus on what really truly matters: getting better.
We also want to thank our amazing partners and supporters that made our 2015 Falmouth campaign possible: The Kelly family, for hosting our runner after party; New Balance, for our beautiful singlets; the Team JAF cheering sections who lined the race course, giving our runners an extra boost; and everyone who contributed to putting the post-race party together, including Patty Kelley, Honey Dew Donuts, The Sausage Guy, Friendly's, Quality Beverage, New England Spinal Care, Marathon Sports, and Carvossa Disposal! We can't thank you all enough!
Still want to make a donation to Team JAF? Our fundraising pages will be up until September 11, and can be found at http://bit.ly/TeamJAFRunsFalmouth2015.  To read more about this amazing group, click here!
---
Dream Camp Scores a Touchdown for JAF Patients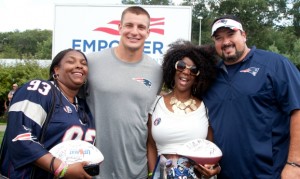 This month we also scored another touchdown, helping patients and their families fight cancer with an (Up)Beat attitude at our annual Dream Camp event. Thanks to the Patriots Charitable Foundation, cancer patients and their families enjoyed a fantastic afternoon at Patriots training camp at Gillette Stadium, watching the action from a special VIP tent, getting autographs, and of course meeting some of their favorite NFL stars.
Dream Camp is just one of the Foundation's (Up)Beat outings, providing cancer patients and their families with the opportunity to leave their cancer worries behind and enjoy life's special experiences. We are so grateful for the support from our (Up)Beat partners like the Patriots Charitable Foundation, and we can't wait to keep dreaming through next year!
Click here to learn more about our Summer 2015 outings!
---
JAF Celebrates Two Years with Alex and Ani!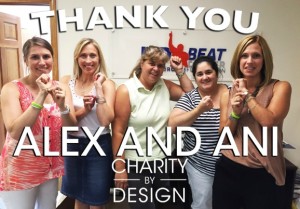 August 6th marked the two-year anniversary of our incredible partnership with ALEX AND ANI | CHARITY BY DESIGN – when we launched our "Positive Is How I Live" bangle, specifically made for the Foundation, and to date, thousands of bangles have been purchased. 20% of the proceeds from every bangle, which retails at $28.00, directly supports JAF's mission of providing help, hope, and a reason to smile for cancer patients and their families by contributing financial and emotional support when it is needed most.
We can't believe its already been two years since we designed the charm, which features the word "Positive" in languages from all over the world, transcending cultural barriers to remind everyone to stay (Up)Beat in the face of adversity. The positive message also gives strength to anyone struggling with any battle, reaching beyond our organization to bolster anyone in need of positive reinforcement for any reason.
On behalf of our entire organization, I'd like to extend a HUGE Thank You to ALEX AND ANI | CHARITY BY DESIGN. Your commitment to our Foundation is continuing to help cancer patients and their families overcome unforeseen obstacles and discover the incredible power of an upbeat attitude!
We've got our bangles on but if you haven't gotten your "Positive Is How I Live" bracelet yet, make sure you get one today! To learn more and purchase a bangle, visit their website.
---
JAF Hosts Welcome Home Party For Nationwide Charity Motorcycle Rider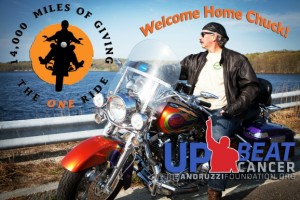 Our Foundation has always believed in the power of "paying it forward" – a slogan Joe has preached since his playing days with the Patriots, when he would spend time visiting hospitals or participating in community fundraisers. It's hard to find a better example of this than Chuck Furey – a long time supporter of our foundation.
Chuck was at Forum for JAF's Marathon watch party in 2013, and in an instant, he sprung into action as a first responder following the tragic events of that day. As the months went by, Boston came together as a city, a community and a nation. Knowing the importance of local charity work first hand, Chuck had a newfound appreciation for how the act of charitable giving spans beyond one's backyard – and he knew he wanted to get involved on a larger scale.
And with that, Chuck created The ONE Ride – a 14,000-mile solo charity motorcycle ride touching all four farthest points in the Continental United States. Chuck selected five foundations across the country to share equally in all of the charitable proceeds, including the Joe Andruzzi Foundation.
On August 19, we were thrilled to throw Chuck a welcome home party and fundraiser at Trinity Bar & Restaurant in Norton, MA. A packed crowd of his friends and family joined with JAF staff and supporters awaiting his arrival, and when he pulled in to the parking lot, Chuck received an ovation he will never forget.
A big thanks to everyone who came out to support the event, as well as the hundreds of people who donated to Chuck's cause!  Read more about it here.
---
JAF Volunteers at 13th Annual CJ Buckley Regatta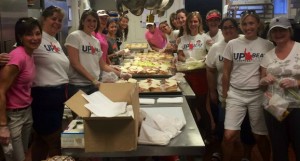 Many of you know the story of C.J. Buckley – one of the inspirations for us starting JAF – who we were blessed to meet years ago as he was battling an inoperable brain tumor. CJ touched our hearts in an unusual way, and he and his family became extended family members to the Andruzzis. In 2003, we started the C.J. Buckley Brain Cancer Research Fund at Boston Children's Hospital in his honor, and on August 6, his birthday, we remembered his upbeat attitude, positivity, and courage he fought cancer with. Just a few days before, on Monday, August 3, JAF staff and board members volunteered at the 13th Annual CJ Buckley Regatta at Goddard State Park in East Greenwich/Warwick, RI. The three-day event benefits the CJ Buckley Foundation, in memory of CJ Buckley, who passed away December 2002 from brain cancer. Check out photos from the event on our Facebook page (here).  To learn more about the CJ Buckley Regatta please go to the website.
---
2015 Gratitude Gala: Above and Beyond Save the date!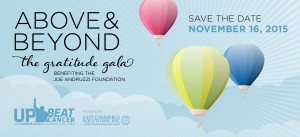 The Joe Andruzzi Foundation's night of gratitude and celebration returns to Gillette Stadium's Putnam Club again this November for the annual Gratitude Gala, presented by East Commerce Solutions, Inc.!  More information coming shortly but for now click here.
---
 2016 Boston Marathon® Save the date!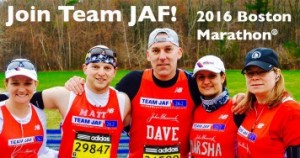 On Monday, April 18, 2016 – Marathon Monday – the Joe Andruzzi Foundation's "Team JAF" runners will take strides against cancer at the 2016 Boston Marathon® for the sixth straight year. Team JAF is made up of charity runners, as well as those receiving entries through qualification or outside invitations. All fundraising by Team JAF members directly supports the Foundation's mission of providing help, hope, and a reason to smile for cancer patients and their families. To be notified when Team JAF's 2016 Boston Marathon® application period opens, email TeamJAF@joeandruzzifoundation.org.
---
8th Annual Joe Andruzzi & Friends Golf Tournament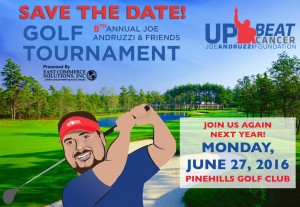 The Joe Andruzzi Foundation's will return in 2016 to the beautiful Pinehills Golf Club in Plymouth, MA for our 8th annual Joe Andruzzi & Friends Golf Tournament, presented by East Commerce Solutions, Inc. Check back in early 2016 for details on foursomes. For questions regarding sponsorship opportunities, please contact events@joeandruzzifoundation.org.  To read more about the event click here.
---
#UpBeatCancer
Spotlight Cancer Survivor Andrea Vandette Pays It Forward Through Team JAF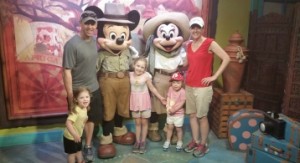 In addition to raising funds for the Falmouth Road Race, Team JAF runners were also encouraged to spread our (Up)Beat philosophy along the way, showing how a positive attitude can conquer any hurdle. From something as simple as running a race, to something as strenuous as battling cancer, a positive outlook can transform the outcome.
One of our 2015 runners – Andrea Vandette, a Foxboro mother of three – is a perfect example of what this mission is all about. In October of 2013, Andrea was diagnosed with breast cancer. After 16 rounds of chemotherapy, surgery, and radiation, she was left frail and defeated.
"Cancer can almost take more of a toll on you mentally than it does physically," Andrea recently told JAF. "I decided to take the outlook of: 'forget this, this isn't happening to me. I have a long life to live'….attitude is everything."
After watching her husband Chris fundraise and run the 2014 Falmouth Road Race for Team JAF, Andrea knew she wanted to join the 2015 team.
Click here to read the full story behind Andrea's inspiring journey, and what led her to 'pay it forward' to JAF cancer patients.