Savoring the Last Days of Summer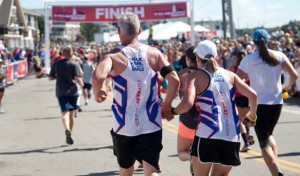 Though it sounds like a cliché, we really can't believe how fast the summer is flying by. Technically, autumn doesn't start until September 22, but with football a week away and the leaves starting to change, it's hard not to look ahead to fall 2016 and the Joe Andruzzi Foundation events and initiatives to come.
But before we get the rakes out of the garage, let's take a look at what kept the JAF busy in August!
All the best,
Jen and Joe Andruzzi
---
JAF BY THE NUMBERS
TEAM JAF FALMOUTH ROAD RACE RUNNERS: 58
2016 TEAM JAF FALMOUTH ROAD RACE FUNDRAISING TO DATE: $92,451
---
Team JAF Cruises Through Cape Cod at the 44th Annual New Balance Falmouth Road Race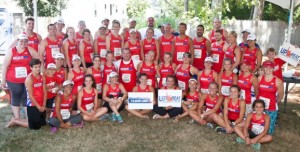 On Sunday, August 21, 58 Team JAF runners crossed the finish line of the 44th Annual New Balance Falmouth Road Race, donning Joe Andruzzi Foundation singlets for the 7-mile, scenic Cape Cod race.
It's hard to believe this was our fifth consecutive year fielding a team for the event – it feels like it was just yesterday that we ran our first Falmouth Road Race. Each year just keeps getting better and better.
In fact, we're excited to announce that Team JAF's 2016 Falmouth Road Race runners collectively raised more than $92,000 (and counting!) throughout this year's campaign – allowing us to assist 130+ new cancer patients in need of financial relief! Also, it means that our Falmouth Road Race teams have crossed the $400,000 mark in all-time fundraising throughout our five races!
Still want to make a contribution to Team JAF or an individual runner? Our fundraising pages will be up until September 29, and donations can be made at: http://bit.ly/2aJnNU4. Couldn't make it to Falmouth for the race? Check out photos from the day on our Facebook page here.  Read more about our big day on our blog.
---
Get Your (Up)Beat Comedy Night Tickets While They Last!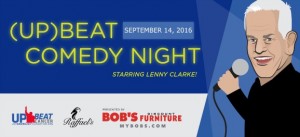 Join the Joe Andruzzi Foundation (JAF) on Wednesday, September 14 in Walpole, MA as we host our Third Annual (Up)Beat Comedy Night fundraiser, presented by Bob's Discount Furniture.
The evening, headlined by funnyman Lenny Clarke, features a cast of New England's best comics – like Tony V, Artie Januario, Brad Mastrangelo, Graig Murphy, Christine Hurley, Dave Russo, and Johnny Pizzi.
All proceeds raised through the event – hosted at Raffael's (1601 Main Street, Walpole, MA), which has once again been generously donated by co-owner Joe Bartucca for the night – will support the JAF's mission. Score your tickets today while you still can!
---
Save The Date: Ninth Annual Gratitude Gala, Presented by East Commerce Solutions!

Ladies and Gentlemen, step right up and come celebrate a night of gratitude and celebration under the Big Top for the Joe Andruzzi Foundation's circus-themed gala and live auction – to be held Monday, November 21, 2016 at Gillette Stadium's Putnam Club! Be dazzled under the bright lights when our ninth annual marquee event comes to town, featuring signature cocktails, fine cuisine, and record-breaking fundraising!
Keep an eye out for details on tickets in the coming weeks!
For additional information, including event details and sponsorship inquiries, please contact: events@joeandruzzifoundation.org.
---
JAF Host Patients at Annual Patriots Dream Camp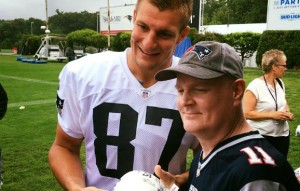 Wednesday, August 10 was the ultimate example of the power of positivity, when the Joe Andruzzi Foundation (JAF) hosted its annual Patriots Dream Camp outing – where, thanks to the New England Patriots Charitable Foundation, we invite JAF recipients and local patients and their families to take in a day of training camp with their families from a special VIP tent next to the practice field at Gillette Stadium.
The purpose of the event – as is the same with all of JAF's "(Up)Beat Opportunities" – is to provide patients and their families with the opportunity to leave their cancer worries behind and enjoy life's special experiences, even if just for an afternoon. This all relates back to JAF's mission stressing the power of positivity, and staying upbeat throughout a diagnosis.
And boy, was there fun to be had! Trying on Joe's Super Bowl rings? Check. Getting an autograph from Tom Brady? Check. Taking photos with Gronk, Jimmy Garoppolo, and the entire offensive line? Check, check, check!
Check out photos from our 2016 Patriots Dream Camp patient outing on our Facebook page here: http://bit.ly/2bj89ME. Read more about this very fun day here!
---
JAF Staff & Board Volunteer at Annual CJ Buckley Regatta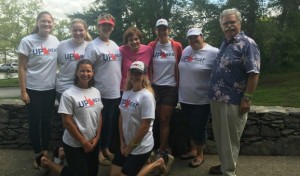 On Monday, August 1, JAF staff volunteered at the 14th Annual CJ Buckley Regatta in East Greenwich, Rhode Island.
The two-day event benefitted the CJ Buckley Foundation, in memory of CJ Buckley – a young man whose spirit inspired Jen and Joe before he passed away in December of 2002 from brain cancer. For more information on the event, and to see an amazing video of the annual Regatta, visit: http://cjbuckleyregatta.net/.  Check out our Facebook post!
---
2017 Boston Marathon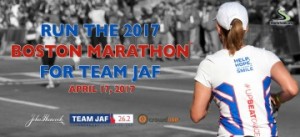 Save the date! On Monday, April 17, 2017 – Marathon Monday – the Joe Andruzzi Foundation's Team JAF runners will take strides against cancer at the 2017 Boston Marathon® for the seventh straight year.
Team JAF is made up of charity runners, as well as those receiving entries through qualification or outside invitations. All fundraising by Team JAF members directly supports the Foundation's mission of providing help, hope, and a reason to smile for cancer patients and their families.
To join the list to be notified when Team JAF's 2017 Boston Marathon application period opens, email TeamJAF@joeandruzzifoundation.org.  To read more about our Team JAF Boston Marathon event, click here.
---
Team JAF Runner Spotlight
Mike Garofalo

Mike Garofalo – a Connecticut-based sales engineer, devoted husband, and father to two boys – knows just how quickly life can make a 180-degree turn. From his wife Amy's 2011 Multiple Myeloma diagnosis, to being on the front lines of the 2013 Boston Marathon, Mike's journey has repeatedly intersected with the Joe Andruzzi Foundation (JAF).After a 15-year retirement from the world of running, Mike decided to join Team JAF for the 2016 Falmouth Road Race, and in the process, became our highest individual fundraiser for the event – but that's just the beginning of the story.
Read our latest Team JAF Runner Spotlight to learn the circumstances that led Mike and Amy to become some of JAF's biggest supporters.