Joe Andruzzi Foundation's (Up)Beat (Up)Date: August 2018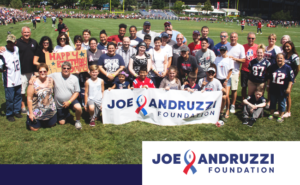 Though it sounds like a cliché, we really can't believe how fast the summer is flying by. Technically, Autumn doesn't start until September 22, but with football just over a week away and the leaves starting to change – *gulp* – it's hard not to look ahead to Fall 2018 and the JAF events and initiatives to come.
But before we get the rakes out of the garage, let's take a look at what kept the Joe Andruzzi Foundation busy (and running) in August!
All the best,
Jen & Joe Andruzzi
---
JAF By The Numbers
$115,800
TEAM JAF'S FALMOUTH ROAD RACE FUNDRAISING TO DATE
16
DAYS LEFT TO DONATE TO TEAM JAF'S FALMOUTH CAMPAIGN
---
Team JAF Raises $115,000 Through Falmouth Road Race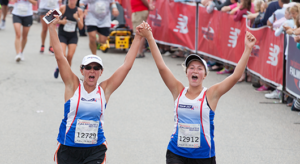 Huge congratulations are in order for the Joe Andruzzi Foundation's 2018 "Team JAF" Falmouth Road Race runners who spent all summer training and fundraising in support of our mission. By the time all 64 Team JAF runners had crossed the finish line on Sunday, August 19, they had collectively raised more than $115,000 for New England cancer patients and families!
It's hard to believe this was our seventh consecutive year fielding a team for the event – it feels like it was just yesterday that we ran our first "Falmouth" in 2011. Since that first race, nearly 400 Team JAF runners have come together to raise over $650,000 towards the Joe Andruzzi Foundation's mission. Simply amazing.
To our incredible runners: please know that there is nothing more selfless in life than sacrificing time, resources, and sweat for a greater purpose, and we want you to know just how much we appreciate it. Your hard work will provide much-needed relief for the patients and families JAF serves throughout the year, and for that we will forever be grateful.
Still interested in making a contribution to Team JAF or an individual runner? All fundraising pages will be accepting donations through Friday, September 14, 2018, at www.teamjaf.org. Looking for photos of Team JAF at this year's Falmouth Road Race? Check out our photo album on Facebook here.
---
JAF Patients Enjoy Day At Pats Dream Camp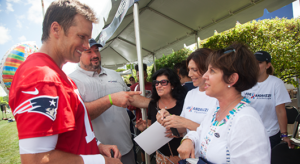 On Friday, August 3, the Joe Andruzzi Foundation hosted its annual Patriots Dream Camp outing – where JAF recipients and their families get to experience a day of training camp from an exclusive VIP tent on the Empower Practice Field at Gillette Stadium. Thanks to the New England Patriots Charitable Foundation, JAF patients enjoyed a fantastic day taking in training camp, snapping photos, and, of course, meeting some of their favorite NFL stars. (One of our attendees even brought a certain G.O.A.T. a balloon for his birthday)
The purpose of the event – as is the same with all of JAF's "(Up)Beat Opportunities" – is to provide patients and their families with the opportunity to leave their cancer worries behind and enjoy life's special experiences, even if just for an afternoon. This all relates back to JAF's mission stressing the power of positivity and staying upbeat throughout a cancer battle.
For photos from this year's Dream Camp patient outing, follow this link.
---
JAF Night At The PawSox A Home Run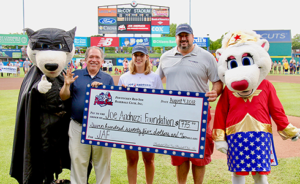 On Saturday, August 4, the Pawtucket Red Sox hosted the Joe Andruzzi Foundation and its supporters for a "JAF Night at the PawSox" outing at McCoy Stadium in Pawtucket, Rhode Island.
For the month leading up to the game, the PawSox ran a special promotion where general admission tickets were available to Foundation supporters at a very special rate – just $10 – with $5 of each ticket purchased benefiting JAF's mission. 100+ JAF supporters ended up purchasing tickets through the promotion, and they – along with JAF leadership, staff, and patient recipients – had the honor of representing JAF on the field for a special pre-game recognition ceremony. (Joe even got to throw out the first pitch!)
We want to send a big THANK YOU to the entire PawSox organization for hosting JAF, and to all of the JAF supporters who came out for the event. Be sure to follow this link to see more photos from the outing!
---
Codzilla Outing Delivers Splashes, Smiles For JAF Patients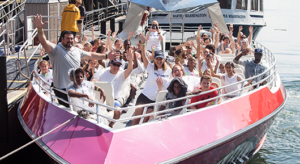 On Wednesday, August 15, JAF hosted more than 15 cancer patients and their families at Long Wharf in downtown Boston for our ninth annual Codzilla Thrill Ride outing, thanks to our friends at Boston Harbor Cruises. Codzilla is a high-speed powerboat that whips around Boston Harbor at upwards of 40 miles per hour as music blares and waves splash. Most importantly, our annual outing gives patients a much-deserved day of laughs and fun away from treatment.
Thanks again to Boston Harbor Cruises and the entire Codzilla Thrill Ride staff who are so generous and a pleasure to be around each and every year. Follow this link to check out photos from this year's Codzilla event on our Facebook page.