Greetings from the Joe Andruzzi Foundation!
February has been a very busy month for us, especially our Team JAF runners, who have been relentlessly training in the cold weather to prepare for the Boston Marathon (just two months away!).
As each day passes, we're getting closer and closer to Marathon Monday and exceeding our fundraising goals. To that note, we're proud to say our Team JAF Boston Marathon runners have raised more than $185,000, which already eclipses our 2013 fundraising totals!
We can't wait to see everyone on Boylston Street this April, but in the meantime, let's take some time to highlight what JAF has been up to in February.
All the best,

Jen and Joe Andruzzi
---
Team JAF Hits Its Stride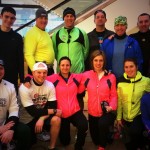 As many of you know, our Team JAF runners have been out there running and fundraising, in many cases right in the face of "polar vortex" temperatures. But nothing warms the soul quite like kindness and generosity, and thanks to so many of you, Team JAF passed the $185,000 mark last week.
Team JAF's 48 runners, made up of a diverse group of cancer survivors, athletes, veteran marathoners and those running in memory of loved ones, are a dedicated group who have not only committed to run 26.2 miles, but also to spread our (Up)Beat philosophy.
We are thrilled at the progress the team has made so far, and are excited to see each and every runner cross the finish line in April!
Want to support the team? Donations can be made through the Foundation's Crowdrise page. You can also track Team JAF runners throughout their Marathon training process via the Foundation's Twitter and Facebook accounts, the Foundation's blog, and the #TeamJAF hashtag.
---
Why We Run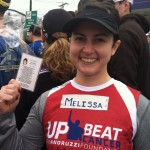 Speaking of the blog, we officially kicked off our Team JAF Runner Profile series in February, highlighting our (Up)Beat ambassadors and what motivates them to train for the Marathon. Team JAF is a collection of amazing individuals, each with a different story to tell, and we hope you'll check back in with our blog over the next couple months to learn more about our runners, track their progress, and help them reach their fundraising goals.
To read all Team JAF runner profiles to date, click here.
---
Knots For Love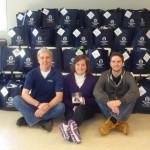 On Saturday, February 22, JAF remembered and honored our friend and angel Samantha Bourque, who lost her courageous battle with cancer in 2012. As a student at Bryant University, Samantha worked with her management class to design patient care packages for those in treatment, and her plan was put into action last weekend. Samantha's family and friends assembled over 60 care packages filled with items sure to bring comfort to any patient battling cancer – including a fleece "knots of love" blanket, personal comfort items like lotion, activities, crafts, playing cards, and JAF's own book of fun quotes, "Don't Lick Your Friends". We're so happy to see Samantha's plan realized, and if you haven't done so already, please take a moment to read about Samantha's amazing heart.
---
Friends of St. Patrick Walpole Times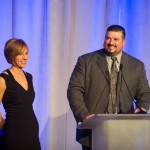 Each year, Friends of St. Patrick in Walpole – a group of local citizens focused on capturing the spirit of good will – honor outstanding contributions made to local charities. We're proud to say Joe and Jen Andruzzi will be honored as The Friends of St. Patrick's Person(s) of the Year for their positive contributions to local communities at the annual luncheon on March 14 in Walpole. In case you missed the Walpole Times article, check it out here.
---
Joe Goes 5 for 5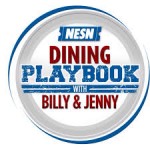 What are your top five favorite restaurants to eat at? In case you missed it, Joe revealed his favorite spots on an episode of NESN's "Dining Playbook" with Billy Costa and Jenny Johnson last week. Check out the clip here.
---
 Attention all Boston Globe Subscribers!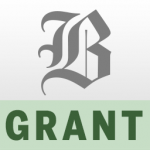 YOU can help the Joe Andruzzi Foundation (JAF) reach more cancer patients and families in need throughout New England – all thanks to the Globe's new GRANT initiative!
GRANT (Globe Readers And Non-profits Together) enables Globe subscribers to meaningfully support non-profits of their choice by donating vouchers toward free print advertisement space in The Boston Globe. JAF can then use those advertisements to spread our (Up)Beat mission and assist a growing number of patient families.
Here's how you can help:
The Boston Globe has mailed silver vouchers to all subscribers ($100 for seven-day subscribers, $50 for Sunday-only and digital subscribers)
If you have received a voucher, write "Joe Andruzzi Foundation" on the GRANT gift check and mail it back to the Globe – using the envelope provided – by Saturday, March 1
Subscribers who did NOT receive, but still want to designate a GRANT voucher before March 1, can email grant@globe.com
If you're not a subscriber, but would like to support us in this initiative, you can subscribe TODAY and participate. Contact circulationservices@globe.com
It's that simple, but goes a long way towards helping us alleviate the financial burdens of cancer, as well as fund critical pediatric brain cancer research at Boston Children's Hospital.
To learn more about the GRANT program, click here.