Snow Many Memories in February!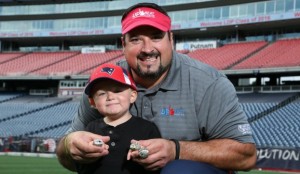 Despite more snow and chilling temperatures, February has been heating up at the Joe Andruzzi Foundation – with new events and initiatives well underway!
Our #TeamJAF Boston Marathon® runners have been out training through the streets of Boston to prepare for the 26.2 miles journey that awaits them in April. Our new motto – no sidewalks, no problem – has rung true for most of the month, and we couldn't be more proud of the team's perseverance and dedication to our cause.
And the same goes for our five NYC Half Marathon runners, who are just over two weeks away from hitting the streets of Manhattan – all in honor of our amazing patient families.

It's been a busy February – and, oh yeah, the Patriots won the Super Bowl! – so let's take a look back on the short, but jam-packed, month that was (and what's coming up this spring).
All the best,

Jen and Joe Andruzzi
---
JAF BY THE NUMBERS
ALL-TIME FUNDRAISING TO DATE: $6,700,000+
TOTAL 2014 FUNDRAISING: $2,100,000+
ALL-TIME PATIENTS ASSISTED TO DATE: 2,900
---
Team JAF Strides-On!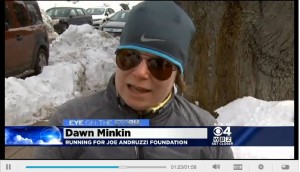 While January saw the official kick-off of our 2015 Boston Marathon® squad, February has been all about training. Our 2015 team is a diverse group of athletes, veteran marathoners and those running in honor/memory of loved ones. We are so grateful for each and every member of our team, and to all those who help them reach their fundraising goals.
Our Saturday volunteers have been unsung rock stars as well, manning water stations around the city to help our runners train as hard as possible – and just last week WBZ-TV's Paul Burton caught up with Team JAF's own Dawn Minkin to chat about her progress and why she's running. (Click here to check out the video!)
We also kicked off our annual Runner Profile series on our blog! Check out what drives one of our team's newest members – Lisa George – as she trains and raises funds for cancer patients in need.To help Boston Marathon runners like Lisa reach their fundraising goals, please visit: http://bit.ly/SupportTeamJAF.
---
JAF Takes to the Streets of NYC!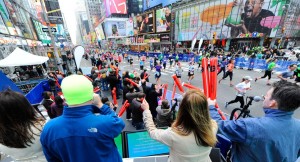 Since we started the Joe Andruzzi Foundation back in 2008, we have always been blown away by the generosity of our New York and New Jersey supporters – and in turn, we've been able to assist more than 350 patients in the area. Whether it's traveling hours to attend one of our foundation's fundraisers, or hosting a third-party event for a NY/NJ-area patient recipient, we've always felt the love from the good people of New York.
Because of years of unwavering support, we couldn't be more excited – for the first time ever – to bring our Team JAF runners to the streets of Manhattan on March 15, 2015 for the United Airlines NYC Half Marathon.
We've been lucky enough to find five amazing JAF running-ambassadors – Lorraine Reynolds, James Davis, Brenda Reynolds, Sandra Borzomi and Daniel Friedman! Please support their fundraising goals here, and be sure to follow their progress over our social channels and the #TeamJAF hashtag!
---
Saying Farewell to Forum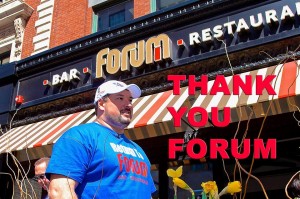 The entire Joe Andruzzi Foundation was saddened to learn this week that Forum will be closing its doors on March 1.
Please join us in thanking Forum's owners, management and staff – our friends who now feel more like family – for their 2+ years of support. Their resiliency symbolized what it means to be Boston Strong, and we are eternally grateful for all they have done to help our patient families.
Check out photos from one of our favorite memories – last year's "Return to Forum" Marathon watch party.
---
Attention All Boston Globe Subscribers

Please consider JAF for the Boston Globe's non-profit GRANT program (Globe Readers And Non-profits Together). With your support we can receive FREE ad space in the paper, helping us reach more cancer patients and families in need throughout New England.
Here's how you can help:
The Boston Globe has mailed vouchers to all subscribers ($100 for seven-day subscribers, $50 for Sunday-only and digital subscribers)•If you have received a voucher, write "Joe Andruzzi Foundation" on the GRANT gift check and mail it back to the Globe using the envelope provided.
Subscribers who did NOT receive, but still want to designate a GRANT voucher, can visit http://bit.ly/GlobeGRANT.
It's that simple, but goes a long way towards helping us alleviate the financial burdens of cancer, as well as fund critical pediatric brain cancer research at Boston Children's Hospital.
---
(Up)Beat Pledge Program Rolls into 2015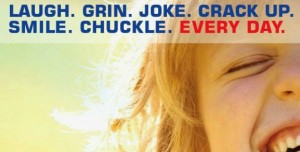 In 2015, please consider joining our (Up)Beat Pledge program, in which recurring monthly donations directly benefit cancer patients and their families. The need never ends, and that's why ongoing support is so important. Available levels include Smile: up to $10 monthly; Grin: up to $25 monthly; Happiness: up to $35 monthly; Laugh: up to $50 monthly; and Crack Up: $50+ monthly. Start donating today by clicking here.
---
New York City Half Marathon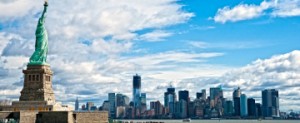 Team JAF will be at the United Airlines NYC Half Marathon on March 15, 2015 to help support cancer patients and their families!  Support these runners today!
---
Team JAF at the Boston Marathon

®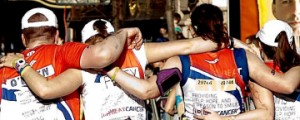 On, Monday, April 20, 2015, Team JAF takes to the streets of Boston to run the 119th Boston Marathon®.  We are still accepting Boston Marathon® qualified registered and invitational runners (required to raise a minimum of $1,500) for our team. Click here for an application. Even if you're not on Team JAF, you can still support the Foundation by helping runners with their fundraising: http://bit.ly/SupportTeamJAF.
---
(Up)Beat Comedy Night with Lenny Clarke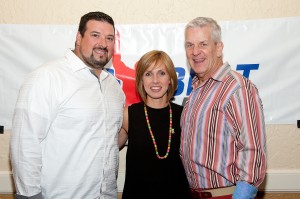 Funnyman Lenny Clarke and a cast of New England's best comics will return to Raffael's in Walpole (thanks again to Joe Bartucca) for the second annual "(Up)Beat Comedy Night" fundraiser!
All proceeds raised through the event support the Foundation's mission to alleviate cancer's financial burdens on patients and families, while also funding critical pediatric brain cancer research at Boston Children's Hospital.
Check our website for information on timing, purchasing tickets, and the full roster of comics set to perform.
---
Seventh Annual Joe Andruzzi Foundation & Friends Golf Tournament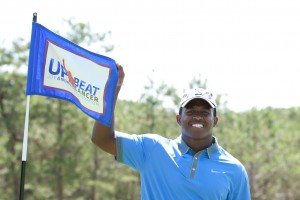 Save the date! Don't let that snow fool you – summer is right around the corner, and so is our golf event! New England athletes and celebrities will hit the links to raise money for cancer patients and their families at our annual event, to be held again at the beautiful Pinehills Golf Club in Plymouth, Mass. (named one of the "Top 10 You Can Play" by Golf Magazine!) Check back soon for more information on this year's outing.
---
Patient Profile: NELLY CAMARA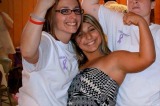 Nelly Camara — a bubbly and enthusiastic 17 year-old cheerleader — woke up and could not get out of bed on the morning of January1, 2014. Hours later, doctors would find a tumor on her spine the size of a clementine, setting off a grueling 14-month journey laced with surgeries, spinal taps, and intense rounds of chemotherapy. But Nelly refuses to let cancer keep her down — find out why in our latest JAF Patient Profile.