Counting Down the Last Days of Winter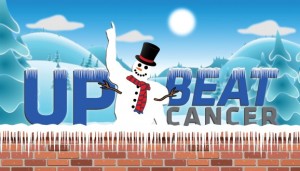 Boy, was February in New England a strange month! What started with a few inches of snow quickly turned into mountain-high piles…only to close out the month with a few near-sixty degree days!
Any early signs of spring are welcome around these parts, especially for our Team JAF New York City Half & Boston Marathon runners. Don't get us wrong, we love a good day of skiing or boarding on the mountain, but training for a half or full marathon is tough enough without the snowbanks and black ice!
Warmer days certainly seem to be lurking ahead (knock on wood!), but before we break our swim trunks out of storage just yet, let's recap the month that was at the Joe Andruzzi Foundation (and maybe even look ahead to some exciting things to come).
All the best,
Jen and Joe Andruzzi
---
JAF By The Numbers
$134,222
2017 TEAM JAF BOSTON MARATHON FUNDRAISING
192
PATIENTS TO BE ASSISTED (THANKS TO TEAM JAF)
---
Turning Positivity into Happiness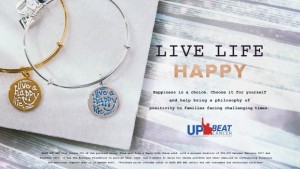 This past Sunday, we said goodbye to the "Positive Is How I Live" ALEX AND ANI charm bangle – which launched in 2013 to represent Joe's positive approach to battling cancer, with 20% of all sales being donated to the Joe Andruzzi Foundation. Four years later, donations from the bangle have allowed JAF to assist nearly 700 patients and their families battling cancer!
While we're sad to see the bangle go, it's "retirement" comes for a good reason – the Joe Andruzzi Foundation is teaming up with ALEX AND ANI once again to introduce a new CHARITY BY DESIGN piece: the "Live A Happy Life" Charm!
We're incredibly excited to tell you all about it this Friday (March 3) when the bangle hits shelves, online and in-stores, but we can share today that ALEX AND ANI will be contributing 20% of the purchase price back to the Joe Andruzzi Foundation and its mission.
Want to be one of the first to see the "Live A Happy Life" Charm in person? Join Jen, Joe, and the Foundation at the ALEX AND ANI Patriot Place (Foxboro, MA) location on Tuesday, March 7 (6:00 PM) for the official release event.
Until then, keep an eye on our social media channels and the #LiveAHappyLife hashtag for updates this week!
---
JAF Receives $27K Donation from Honey Dew Donuts!
A few weeks ago we were thrilled to announce that the third year of partnering with Honey Dew Donuts to raise funds for JAF's mission resulted in a $27,000 donation! This generous gift will allow our foundation to help over 38 families throughout New England in the coming months.
From November 1-13, Honey Dew Donuts supported the Foundation by selling $1, $3, or $5 window decals sold at participating locations. Customers throughout Massachusetts, New Hampshire, and Rhode Island rallied behind the cause and were able to raise an impressive $13,500 in just two short weeks. At the end of the partnership, Honey Dew Donuts matched all proceeds raised, resulting in the $27,000 donation.
Since our first year of partnership in 2014, Honey Dew Donuts has raised over $100,000 for JAF!  Click here to read all about our amazing partnership with HDD!
---
Only Hours Left! Register for the United NYC Half Marathon TODAY!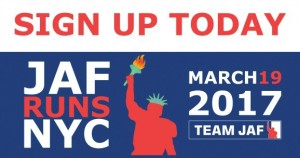 On Sunday, March 19, 2017, the Joe Andruzzi Foundation's Team JAF runners will once again take to the streets of Manhattan for the United Airlines NYC Half Marathon – a 13.1-mile tour of NYC, stopping traffic in Manhattan, from Central Park through Times Square to South Street Seaport – all to raise funds in support of JAF's mission!
We want YOU to come along for the ride (or, run!) – but the registration deadline closes at 4PM TODAY, Tuesday, February 28!
JAF still has one charity entry remaining, but time is running out! To apply, or for more information, click here. Interested applicants should contact Susan Hurley of CharityTeams by phone (978-852-7891) ASAP with any questions about joining our team.
---
Team JAF Superheroes Sprint Closer to Boston Marathon Goals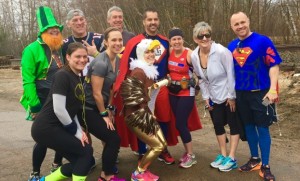 With less than 50 days until Marathon Monday, our 2017 Team JAF runners are entering the final stretches of their training and fundraising journeys!
To date, the team has raised over $134,222 towards its goal of $150,000 – all in support of JAF's mission of providing help, hope, and a reason to smile for cancer patients and their families by contributing financial and emotional support when it is needed most.
This past Saturday, February 25, the team participated in CharityTeams annual "Superhero 17" training run – a 17-mile tune-up where runners are encouraged to dress in the best costumes they can dream-up! Big thanks to everyone who came out to support our heroes, and if you missed it, be sure to check out our Facebook page later this week for photos.
And, to learn more about what's driving each Team JAF Boston Marathon runner, or to make a donation to the team, click here!
---
JAF Executive Director Sets Sights on Boston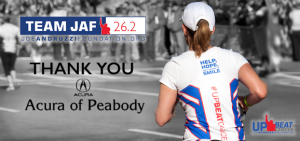 Thanks to some amazing supporters at Acura of Peabody, Jen Andruzzi's 2017 Boston Marathon dream is a reality!
After crossing the finish line on Boylston Street last Patriot's Day for the first time, Jen vowed that it wouldn't just be a "one-and-done" experience. This year, Jen will be returning to Team JAF, specifically raising funds to benefit the C.J. Buckley Brain Cancer Research Fund at Boston Children's Hospital – an initiative she, along with her husband, Joe, started 15 years ago and continue to support annually through the Joe Andruzzi Foundation.
To read about the three motivating forces driving her to run this year, click here!
---
#UpBeatCancer Spotlight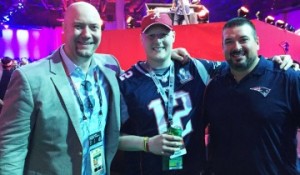 Super Bowl parties are filled with people you want to meet – celebrities, musicians, athletes, you name it…but no one was higher on Joe's list than Bobby Colantonio.
The Barrington, Rhode Island track and field superstar (and major Patriots fan) has been undergoing treatment for Ewing's Sarcoma at Hasbro Children's Hospital, but thanks to "A Wish Come True", he got to witness the greatest comeback in Super Bowl history in person!
We were so lucky to get to spend some time with Bobby during Super Bowl weekend, and we were blown away by the positivity and determination he is fighting against cancer with. We highly encourage you to click here to learn more about Bobby's inspiring journey!