It's A Bird!…It's A Plane!…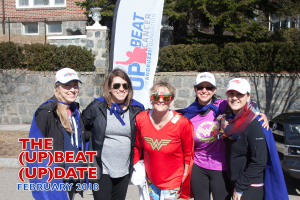 Last week's 70-degree day was certainly an exception to the normal rules of a New England winter, but the brief "heatwave" got us thinking of warmer days to come. Sure, we still have three weeks left until spring is officially here, but it's hard not to close our eyes and envision ourselves lining Boylston Street on Marathon Monday, or striping a drive down a Pinehills Golf Club fairway at JAF's annual golf tournament.
But before we start breaking out the SPF just yet, let's recap everything else that kept the Joe Andruzzi Foundation busy in February!
All the best,
Jen and Joe Andruzzi
---
JAF By The Numbers
47 Days
UNTIL THE '18 BOSTON MARATHON
$93,654
TEAM JAF'S MARATHON FUNDRAISING TO DATE
---
#TogetherForward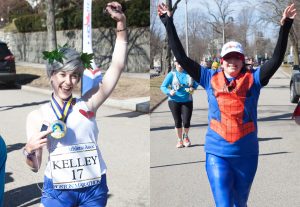 With less than 50 days until Marathon Monday, our 2018 Team JAF runners are entering the final stretches of their training and fundraising journeys!
To date, the team has raised over $93,000 towards its goal of $172,500 – all in support of JAF's mission of providing help, hope, and a reason to smile, for New England cancer patients and their families by contributing financial support when it is needed most.
This past Saturday, February 24, the team participated in CharityTeams annual "Superhero 17" training run – a 17 mile tune-up where runners are encouraged to dress in the best costumes they can dream-up! Big thanks to everyone who came out to support our heroes, and if you missed it, be sure to check out our Facebook page later this week for photos.
And, to learn more about what's driving each Team JAF Boston Marathon runner, or to make a donation to the team, click here!
---
JAF Patient Families Enjoy "Cool" Night At Disney On Ice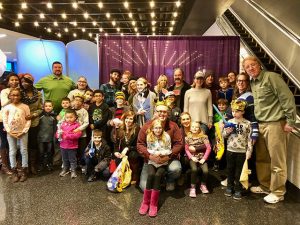 On Friday, February 16, a group of JAF patient recipients and their families got to enjoy a fun and relaxing evening – far away from the everyday burdens of cancer – at TD Garden for a very special Disney On Ice performance! The trip was part of the Foundation's ongoing series of "(Up)Beat Outings" – events and gatherings organized to help take patients' minds off of treatment, even if just for a night. We truly believe laughter can, at times, be the best medicine, and that patients and their families can greatly benefit from the relief of cancer's financial and emotional burdens so they can focus on what really matters: getting better and enjoying life.
"Heartwarming to meet this group of cancer patients and families," JAF Executive Director Jen Andruzzi shared on Twitter from the event. "Their stories of courage, determination, faith, and love is what we need to hear and see more of each and every day.
"Special thanks to Disney On Ice, Feldman Entertainment, and our friends at Regan Communications for making the outing possible!
---
Bellingham American Youth Football And Cheer Group 'Pays It Forward'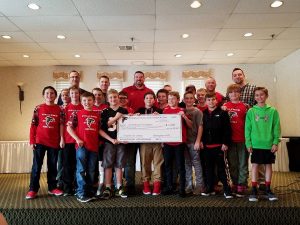 Bellingham American Youth Football and Cheer (AYFC) – a group committed to providing a fun, safe environment for local children to learn and love the sports of football and cheerleading – got a surprise visitor at its annual year-end banquet. Traditionally, youth sports banquets consist of award ceremonies where kids are given trophies for their athletic achievements. The Bellingham AYFC, however, decided to shake things up a bit.
Last year, the AYFC adopted a "Trophies for Charity" initiative, where youth Football and Cheer participants take their "trophy money" and donate it to a charity of their choosing – which turned out to be a $360 contribution to JAF.
Brian Abernethy, Vice President of Bellingham AYFC, brought back the Trophies for Charity initiative for this season, and in the end the group raised $1,100 in support of JAF cancer patients. JAF President Joe Andruzzi attended the year-end banquet to accept the donation on behalf of our organization and to pledge his appreciation to the 300+ coaches, kids, and parents in attendance. Thanks again to Brian and the kindhearted Bellingham AYFC kids who generously traded in their trophies for the betterment of local cancer patients in need! Read all about our visit here.
---
Champions Circle Business Spotlight–CROSS INSURANCE

JAF: Tell us a little bit about Cross Insurance and your roll there.
Gary Heaslip, President of Cross Insurance: We opened here a little over three years ago. Cross Insurance has had locations all over New England, but we previously had no presence in Rhode Island. I'm originally from Rhode Island, so [Cross Insurance Executive Vice President] Jonathan Cross reached out to see if I would be interested. I said, "of course!" I wanted to work in my community, so we opened, just myself and my assistant, Linda. Now, we have 52 employees. Then, in April of 2014, Cross purchased Troy, Pires & Allen, we went from nobody to the third largest property. Having the Cross Insurance brand as part of our platform has really been spectacular. Cross insures the Bruins and the Red Sox, which makes the brand even more recognizable in Rhode Island.
JAF: How did you personally get involved with the Joe Andruzzi Foundation?
Gary Heaslip: I got another phone call from Jonathan Cross asking for me to find a way for Cross Insurance to get involved. We were looking to create more Rhode Island business, and I thought, "I'd like to take that on myself". The passion and everything the Joe Andruzzi Foundation stands for is incredible and inspiring. It moved my wife, Dayna and myself to become donors on a personal level. There was no pressure or requirement from Cross Insurance to support financially, but this was a cause that we wanted to be a part of. Dayna has cervical cancer – she was diagnosed when she was 23, so we know this battle well.
JAF: Speaking of which – you and your wife Dayna recently joined JAF's Champion's Circle as an MVP Founding Member. What drew you to our new business giving society?
Gary Heaslip: I think a lot of it was our personal experience and what we had gone through. What drew us in were the people on the committee and the Andruzzi's – if we're going to invest in anything to help people in the future, this was the place to be. Once Dayna and I got more involved, we realized this is exactly where we should be. That's why we're going to do it again this year, too. To me, it's a no brainer. I'm very honored to be part of Champions Circle.
—–
Champions Circle is the Joe Andruzzi Foundation's new giving society designed to recognize exceptional businesses who want to play a key role in emotionally and financially supporting New England cancer patients and their families through their cancer journeys. The program is focused on highlighting businesses and business leaders who commit to making an impact locally with their annual gift to JAF. As a member of Champions Circle, you join like-minded business leaders who share a commitment in supporting cancer patients with impact at a local level. For more information, please visit www.jafchampionscircle.org.
---
Patient Stories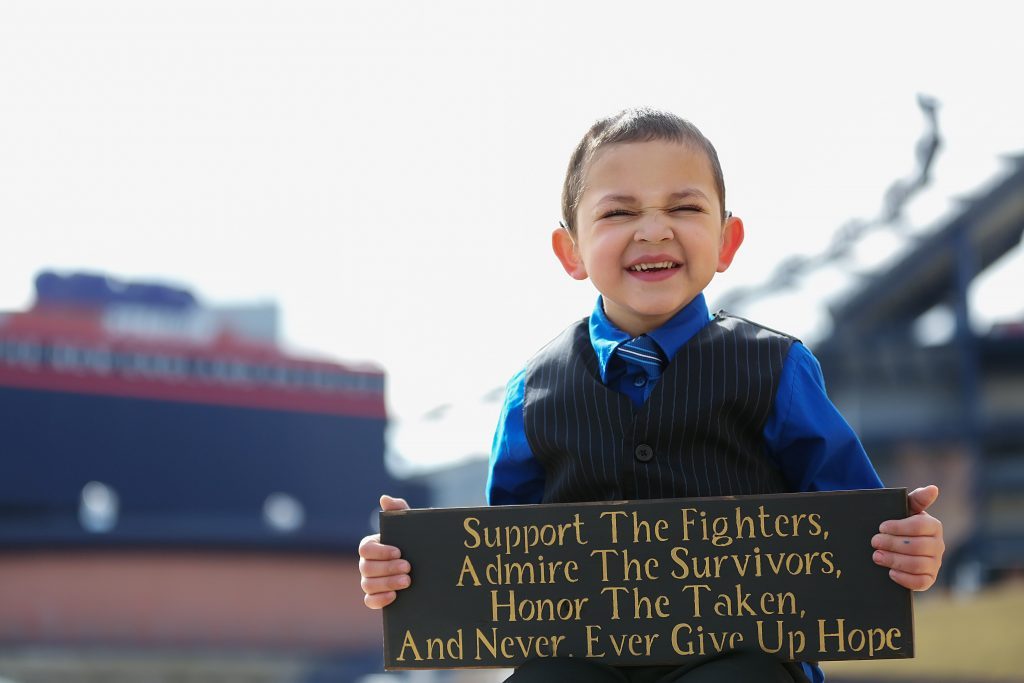 Yan Perez-Garcia doesn't have a typical cancer story – if there is even such a thing. His journey spans three states, dozens of surgeries, near-death experiences and multiple specialists – in just 10 years.
Diagnosed with rare brain tumors at only six months old, his perseverance is awe-inspiring. "He's not giving up," said his mother, Yansen.
It happened in three days, in October 2008, she remembers. Yan got very sick on a Thursday. By Friday, he was in Children's Hospital, in Tampa, Florida, where the family lived at the time. By Saturday, he had a CT scan. And that was how they found the first of three small, cancerous tumors lodged in his brain. "Everything happened so fast," she says.
Cancer, however, couldn't derail Yan from enjoying the things he loves – including basketball and football. "The kid will get out of a hospital bed to go to a game," his mother says. "He wants to be like all the other boys. That's what drives him."
Read all about Yan's inspirational journey in the latest JAF Patient Story here.