Sprinting Into the New Year!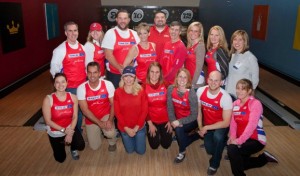 2015 was a milestone year for the Joe Andruzzi Foundation, but as Joe's old coach would say: "we're already on to 2016".
And if the first month of the new year is any indication of what's in store for 2016, we could not be more excited to see where it takes us!Between introducing our Boston Marathon runners and launching our first ever NYC Half Marathon awareness team, January brought so many smiles to our faces.
Read more about the month that was below!
Jen and Joe Andruzzi
---
JAF BY THE NUMBERS
2016 TEAM JAF FUNDRAISING TO DATE: $67,029
TOTAL FINANCIAL ASSISTANCE GIVEN OUT IN 2016: $79,872
---
Meet #TeamJAF's 2016 Boston Marathon® Runners!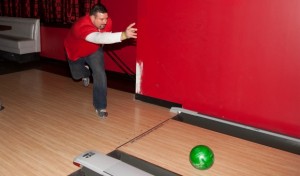 As many of you know on April 18, 2016 – Marathon Monday – Team JAF runners will take strides against cancer through the streets of Boston for the sixth straight year!
We are thrilled to announce that 18 runners will be making up the 2016 team – a diverse group of cancer survivors, athletes, veteran marathoners and those running in memory of loved ones, including: Matthew Birnie, Valerie Chirichiello, Kelly Fisher, Jodie Hooper, Katie Horan, Kristen Knight, John Lapointe, Kathleen Buckley Lussier, Don McCarthy, Matthew McKay, Maureen O'Connor, Sarah Parsons, Amy Pepe, John Ponte, Jim Pustinger, Dave Santoro, Sarah Sceery, and Susan Sly!
On Monday, January 18, members of Team JAF's 2016 squad joined at Splitsville in Foxborough for our annual Marathon kickoff party – where the team was able to meet each other, share the stories behind why they are running, and, of course, bowl!
Check out photos from the kickoff event here, and visit http://bit.ly/2016TeamJAF262 to make a donation to a Team JAF runner!
---
Join #TeamJAF at the NYC Half Marathon!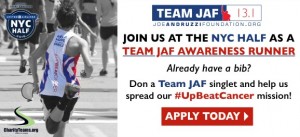 For the second time ever, we're sending Team JAF runners to the streets of Manhattan on Sunday, March 20, 2016 for the United Airlines NYC Half Marathon – and for the first time ever, Team JAF is fielding awareness runners to don the Joe Andruzzi Foundation's NYC Half Marathon singlets during the race to help spread JAF's mission throughout the New York area!
Already have a NYC Half bib – or are you a qualified or invitational runner looking to help out a worthy cause? Apply here to join the team today for free!
Whether it be a veteran charity runner lending their expertise to our mission, or a newcomer experiencing this process for the first time – all Team JAF NYC Half runners have the same goal: to help assist cancer patients and their families when it's needed most.
To make a donation to one of our NYC Half Marathon charity runners, or to learn more about our awareness team, visit: http://bit.ly/teamjafnyc.
---
Join the JAF Smile Brigade!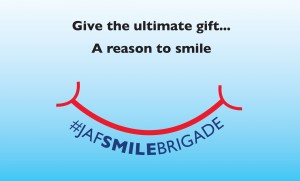 Providing cancer patients with help, hope, and a reason to smile has always been at the core of the Joe Andruzzi Foundation's (JAF) mission to alleviate cancer's financial and emotional burdens – but the need is never-ending, and that's why we are hoping you will join our JAF Smile Brigade: annual donors committed to helping defeat frowns all across the region.
Think of how far $700 can go to help with a monthly mortgage payment, or what $500 could do for a family struggling to make rent during treatment cycles. Think of last winter, and how $250 could have alleviated the strain of a monthly gas or oil bill. Even $100 can help families pay their phone bill, and $50 can provide much needed groceries.
And that's why we need your help to alleviate cancer's financial burdens on patients and families so they can focus on what really matters: GETTING BETTER!
---
Still Time to Support the #ToughLikeMyDad Fund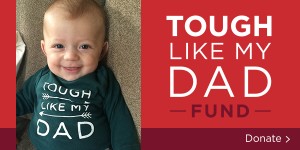 We want to thank Patriots co-captain and cancer survivor Nate Solder, our gala's keynote speaker, for bravely sharing his own experiences with cancer – including the diagnosis of his four-month-old son, Hudson, which was revealed to our gala crowd.
Nate, a testicular cancer survivor, and his wife, Lexi – both long-time supporters of JAF – have asked that those wishing to support Hudson's battle make a donation towards the Joe Andruzzi Foundation's Tough Like My Dad Fund, appropriately named after the adorable photo of Hudson the Solders shared with the gala audience in November.
Proceeds of the Fund have already exceeded $24,000!  Thank you for your support of Hudson and JAF's mission!
---
8th Annual Joe Andruzzi & Friends Golf Tournament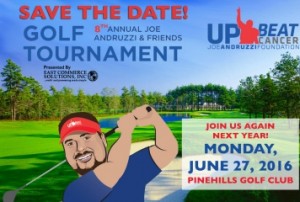 The Joe Andruzzi Foundation will return in 2016 to the beautiful Pinehills Golf Club in Plymouth, MA for our 8th annual Joe Andruzzi & Friends Golf Tournament, presented by East Commerce Solutions, Inc.
Continue to check our event's page for information.  For questions regarding sponsorship opportunities, please contact events@joeandruzzifoundation.org.
---
An Intimate Night with JAF in NYC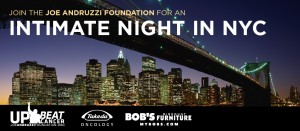 We invite our New York area supporters to join us this spring for an evening of cocktails and conversations in Manhattan as we introduce ourselves to one of our most rapidly growing patient communities.
The event – to be hosted at NYY Steak's Manhattan location (7 West 51st Street) – will give our New York supporters a chance to hear directly about the Joe Andruzzi Foundation from its President, Joe Andruzzi, and Executive Director, Jen Andruzzi, along with area patient recipients the Foundation has previously assisted.Stay tuned for more info and details about the upcoming Spring 2016 event!
---
JAF's Marathon Kick-Off Patient Speaker: Jodi Hanley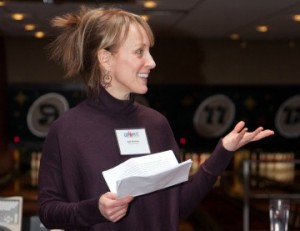 The highlight of our Team JAF Boston Marathon kickoff party was certainly our patient speaker, Jodi Hanley – a former hospice social worker who was diagnosed with, and beat, non-Hodgkin's Lymphoma before becoming an oncology social worker. Jodi, a former JAF patient recipient herself, shared her inspiring story with our marathon team, as well as the unique perspective she has having experienced so many different aspects of cancer's impact.
Jodi's profoundly impactful speech hit home with everyone in attendance, and reminded our runners of how their fundraising can make a direct impact in the lives of those who need it most.
"A dear friend and colleague of mine told me about the Joe Andruzzi Foundation and their patient assistance program – I had no idea that type of help existed, and within no time an application for a grant had been filled out and sent off in the hopes I would get approved for $700 to go towards my utility bills," Jodi told those in attendance.
"For some, $700 is not a lot, but I'll tell you, when those checks came in the mail it was a gift like no other. My husband and I could finally breathe," Jodi said. "We not only felt relief, but were incredibly appreciative and thankful that, due to the goodness and generosity of so many, we could pay a few bills. More importantly, our attention could be redirected back onto what mattered most at the time: my health."  Jodi also left our runners with an inspiring quote for them to remember when coming down Boylston Street in April.
"Run because you can. When you get tired, remember those who can't run, and what they would give to have this simple gift we take for granted. Run harder for them, and know they would do the same for you."
For more information on #TeamJAF's 2016 Boston Marathon team, please visit our event's page by clicking here.