An Extra SUPER Time Of Year At JAF!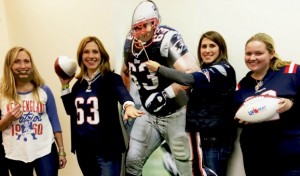 Have you stopped writing "2016" on everything yet? If so, that must mean January is wrapping up. And what a January it was! Between Boston Marathon kickoffs, check presentations, and successful campaigns coming to the close, the Joe Andruzzi Foundation really hit the ground running this year!
Oh, and we found a little time to hit the bowling lanes, too!
But before we look ahead to the big game this Sunday in Houston (!), let's recap everything else that kept the Joe Andruzzi Foundation busy in January!
All the best,
Jen and Joe Andruzzi
---
JAF By The Numbers
$86,735
2017 TEAM JAF BOSTON MARATHON FUNDRAISING
124
PATIENTS TO BE ASSISTED (THANKS TO TEAM JAF)
---
JAF Makes Annual Donation To Boston Children's Hospital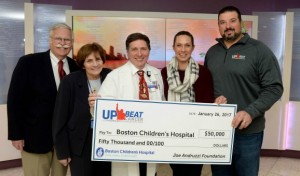 Last Thursday, we had the honor of making the trip to Boston Children's Hospital for JAF's annual donation to the CJ Buckley Pediatric Brain Cancer Research Fund. The Fund, which we established in 2003 — five years before starting the Joe Andruzzi Foundation — honors a young man who touched our lives back in Joe's playing days. To date, we're thrilled to say we have contributed $750,000 in CJ's name in support of the essential pediatric brain cancer research Dr. Mark Kieran is leading at Children's.
To learn more about the visit and JAF's history with the Fund, be sure to read Jen's latest post on the JAF blog.
---
LAST CALL: Run The NYC Half Marathon With Team JAF!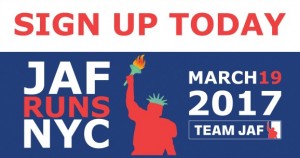 On Sunday, March 19, 2017, the Joe Andruzzi Foundation's Team JAF runners will once again take to the streets of Manhattan for the United Airlines NYC Half Marathon, and we want YOU to come along for the ride (or run!).
The race will take Team JAF runners on a 13.1-mile tour of NYC, stopping traffic in Manhattan, from Central Park through Times Square to South Street Seaport – all to raise funds in support of JAF's mission!
To apply, or for more information, click the here!
---
Goal Line Giving Campaign Finishes On High Note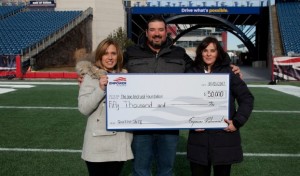 We're THRILLED to say that our good friends and supporters at Empower Retirement have decided to round-up their end-of-season Goal Line Giving donation to an even $50,000!
Back in September, we launched a campaign with Empower who pledged to donate $100 towards JAF's Financial Assistance Program for every point New England scored during the regular season. New England scored a total of 441 points through 16 games – equaling a donation of $44,100. To further the campaign's impact, Empower Retirement has rounded-up and donated an additional $5,900 to the Foundation, bringing its total Goal Line Giving contributions to $50,000.
Read more about the impact of the campaign on our blog!
---
Meet The Team: JAF's 2017 Boston Marathon Runners!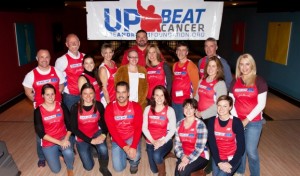 We are absolutely thrilled to announce that 19 runners will be making up the Joe Andruzzi Foundation's 2017 team. These runners join a growing group of Team JAF Boston Marathon alumni, which, to date, includes nearly 150 athletes who have collectively raised over $1.25 million since the Foundation's first Boston team in 2011. That means Team JAF runners have raised enough funds over six-plus Boston Marathons to empower JAF to assist more than 1,700 cancer patients in need. (And we haven't even started the 2017 race yet!)
Earlier this month, JAF held its annual welcome event at Splitsville Patriot Place, where the team was able to meet each other, share the stories behind why they are running, and, of course, bowl!
Visit our blog to learn more about the team and to see photos from the event!
---
Keep Up With Those New Year's Resolutions!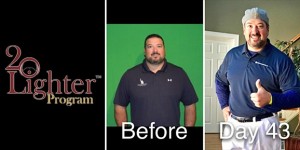 The Joe Andruzzi Foundation is excited to be partnering with 20Lighter – a doctor-supervised weight loss program completely personalized for each individual client (like JAF President Joe Andruzzi!).
Visit www.20Lighter.com to learn more – and mention JAF when signing up and a portion of your program fee will be donated back to support Joe Andruzzi Foundation patient families!
---
#UpBeatCancer Spotlight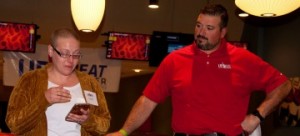 At the Foundation's annual Team JAF Boston Marathon kickoff party, we were absolutely honored to have former patient recipient Sarah Roque on hand to share her perspective on the importance of the funds runners are raising.
This past June, Sarah – a 34 year-old vibrant mother and wife from Attleboro, Mass. – discovered an irregular lump in her right breast. After a series of tests in July, she received the news everyone dreads to hear from their doctor: it was cancer; stage 2 breast cancer, specifically. By August 2, it had progressed to stage 4.
Without a doubt, her inspiring words will echo through the hearts and minds of our 19 runners as they come down Boylston Street on Marathon Monday. We encourage you to read more about her speech on the JAF blog.