Rolling Into 2018 Like…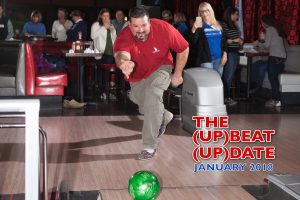 Have you stopped writing "2017" on everything yet? If so, that must mean January is wrapping up.
And what a January it was! Between Boston Marathon kickoffs, check presentations, and successful road trips, the Joe Andruzzi Foundation really hit the ground running, driving, and even bowling this year!
And there's another type of "bowling" just around the corner (Super Bowl-ing, of course) – but before we start dreaming of Lombardi trophies this weekend, let's recap everything else that kept the Joe Andruzzi Foundation busy in January!
All the best,

Jen and Joe Andruzzi
---
JAF By The Numbers
$1.2 Billion
ESTIMATED BUFFALO WINGS CONSUMED ON SUPER BOWL SUNDAY
50%
PERCENTAGE OF SEASONS TOM BRADY HAS REACHED THE SUPER BOWL IN HIS CAREER AS A STARTER
---
Maine Event: JAF Hits The Road!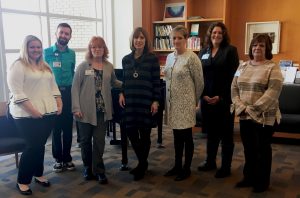 As our foundation approaches its 10th anniversary this May, we've set many lofty goals to help carry JAF's mission to the next level – like reaching all New England oncology patients facing financial distress over the next five years. An important component in achieving these goals is fully immersing ourselves within the states we serve to get a regional sense of the unique financial challenges cancer patients are facing.
Last week, JAF staff members – including Co-Founder & Executive Director Jen Andruzzi, Program Manager Shannon Mowles, and Community Outreach & Engagement Manager Valerie Chirichiello – took a road trip to the great state of Maine to meet face-to-face with social workers and healthcare professionals about the cancer patient populations they serve to ensure the Joe Andruzzi Foundation is doing everything it can to be a valuable financial assistance resource for those in need.
We want to thank the hard-working and inspiring patient advocates we met with at Harold Alfond Center for Cancer Care (Augusta, ME) and New England Cancer Specialists (Scarborough, ME) for sharing their time, knowledge, and valuable feedback with us! We can't wait to get on the road again for our next New England journey – stay tuned!
---
Team JAF Sprints Towards Patriots' Day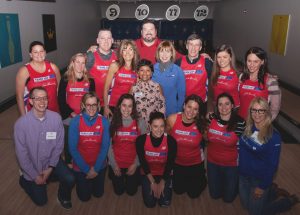 Considering the frigid temperatures New England has been navigating so far this winter, visions of a sun-soaked Boylston Street on Patriots' Day seems miles away. 26.2 miles, to be exact!
On April 16, 2018 (Marathon Monday), members of the Joe Andruzzi Foundation's "Team JAF" squad will take strides against cancer through the streets of Boston for the eighth straight year! We are absolutely thrilled to announce that 18 runners make up our 2018 Boston Marathon team – a mix of first-time runners and veteran marathoners, and, of course, those running to support cancer patients in need.
As is tradition, on Monday, January 15, members of the 2018 team and their guests joined together at Splitsville at Patriot Place in Foxboro, MA for the annual Marathon kickoff bowling party – where the team was able to meet each other, share the stories behind why they are running, and, of course, bowl! Carrie Letham, a Weymouth, Mass. resident and former JAF patient recipient, spoke to runners at the event about her cancer journey and the importance of the funds Team JAF is raising through the 2018 Boston Marathon.
Click here to read more about the team and our kickoff event!
---
Empower Rounds Goal Line Giving Donation Up To $50K!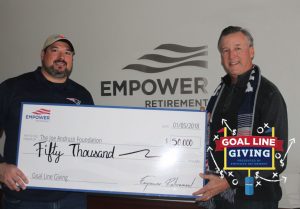 Last September, we launched year-two of a campaign in partnership with Empower Retirement who pledged to donate $100 towards the Joe Andruzzi Foundation's Financial Assistance Program for every point New England scored during the regular season. After a successful year filled with numerous touchdowns and field goals (and even a couple safeties), the Patriots scored a total of 458 points – equaling a donation of $45,800.
But, Empower's generosity didn't just end there…and that's why we're THRILLED to announce that our good friends and supporters at the retirement services provider have decided to round up its end-of-season Goal Line Giving donation to an even $50,000!
We are so grateful for Empower's generosity and are humbled to participate in such an impactful partnership for the second year in a row. Thanks to Empower Retirement, and the value they see within JAF's mission, we can now reach out to more families to relieve some financial stress so they can focus all of their energy on battling cancer!
---
Give Hope And Happiness This Valentine's Day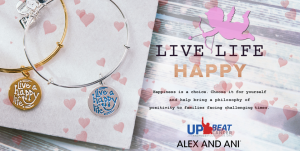 Of course, we don't have to remind you that Valentine's Day is right around the corner (psssst…it's Feb. 14!) – but if you still have shopping to do, consider giving the special someone in your life the gift of hope and happiness this year with ALEX AND ANI's "Live A Happy Life" charity bangle!
Your Valentine will love knowing that ALEX AND ANI donates 20% of the purchase price from each charm to the Joe Andruzzi Foundation in support of our mission!
---
Champions Circle Business Spotlight–ONE STOP PAINTING AND RENOVATING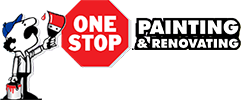 JAF: Tell us a little bit about One Stop Painting and Renovating.
Jeff Cohen, Owner and President of One Stop Painting and Renovating: One Stop Painting and Renovating has been providing award-winning quality service for over 30 years. Our focus is on painting (both interior and exterior) but we also have a power washing division and a carpentry division – all of which are supported by dedicated crews and trucks in each field to provide the highest quality to our customers. Our jobs range from small to very large, both residential and commercial. Our customers range from starter homes to multimillion dollar projects. Some of our other basic services include gutter (cleaning, repair, installation); carpentry (including rotted trim while painting your home); and specialty coatings (epoxy floors, chalkboard paints, Venetian plaster, even dry-erase coatings)!
But what we've been most proud of over the past 30 years is our reputation and the relationships we have developed throughout the regions we serve – we are always striving to give back!
If you need to hire a company to do some work, at least you know the money spent is going to get you a high-quality product while helping a local company provide for their employees and families as well as the greater community.
JAF: When JAF first started, you attended our Gala. How did you first hear about JAF?
Jeff Cohen: I knew Joe through mutual friends – I already had a good understanding of what his character was like. When you know someone's heart is in the right place, it's easy to get behind the mission. I had no doubts that whatever he did was going to be good.
JAF: You have your own Foundation, the Jeff Cohen Charitable Foundation. How have you seen the impact of your community support in conjunction with JAF?
Jeff Cohen: I've been hosting events and raising money for families on the South Shore, including families affected by cancer. Some of the families we've raised money for also have received help from the Joe Andruzzi Foundation.
JAF: One Stop Painting joined JAF's Champion's Circle as an MVP Founding Member. What drew you to our new business giving society?
Jeff Cohen: Joe inspired me to get involved; you have to respect anyone that does that much around the community. Whether I'm there or not, it's inspiring to watch what goes on. It's been great watching JAF grow over the years. With an organization like JAF, if you have the ability to help, you should. You have to pick the ones that have the most impact.
____
Champions Circle is the Joe Andruzzi Foundation's new giving society designed to recognize exceptional businesses who want to play a key role in emotionally and financially supporting New England cancer patients and their families through their cancer journeys. The program is focused on highlighting businesses and business leaders who commit to making an impact locally with their annual gift to JAF. As a member of Champions Circle, you join like-minded business leaders who share a commitment in supporting cancer patients with impact at a local level. For more information, please visit www.jafchampionscircle.org.
---
#UpBeatCancer Spotlight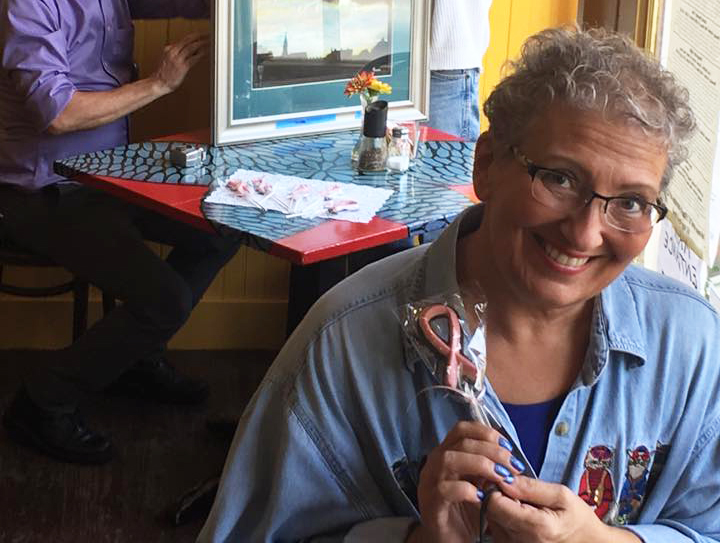 They say all art requires courage – so when cancer came knocking, Carla McGuire was ready for the fight of her life.Read all about Carla's inspirational journey in the latest JAF Patient Spotlight: http://bit.ly/2naBr56