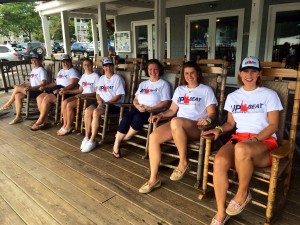 Greetings from the Joe Andruzzi Foundation and happy summer to you all! What a great season it has been thus far, with so many opportunities for our supporters to let their (Up)Beat attitudes shine!
We want to thank everyone who attended and supported our Sixth Annual Joe Andruzzi & Friends Golf Tournament, which was a great success. The tournament raised over $250,000 for the Foundation while having a blast! We also recently hosted our annual Dream Camp event for patients and their families at Patriots training camp. It was a remarkable day filled with remarkable people. Additionally, our staff and boad members were privileged to come together to lend a helping hand at the C.J. Buckley Sailing Regatta, marking our Second Annual (Up)Beat Volunteer Day!
As August quickly approaches, don't forget to sign up for the 42nd New Balance Falmouth Road Race on August 17 or join us in supporting our #TeamJAF runners! Also, make sure you buy your Macy's Shop for a Cause pass to receive a 25% discount good at ALL Macy's Stores on August 23–cost is only $5, 100% of which benefits the Foundation! The day also happens to be Joe's birthday, so let's make his day extra special by supporting a cause near and dear to his heart.
Enjoy the warm weather and stay tuned for more exciting updates from all of us at JAF; we have some very exciting partnerships and events coming this fall!
All the best,
Jen and Joe Andruzzi
---
JAF BY THE NUMBERS
2014 FALMOUTH ROAD RACE FUNDRAISING: $49,031


2014 FUNDRAISING TO DATE: $1,023,955




PATIENTS ASSISTED IN 2014: 863
---
Generosity Scores a Hole-in-One at 6th Annual Joe Andruzzi & Friends Golf Tournament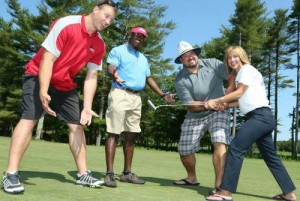 JAF closed out the month of June with our annual Golf Tournament. An all-star cast of celebrities and athletes joined us as we hit the links at Pinehills Golf Club in Plymouth, MA. to raise money for the Foundation. In one day, we raised more than $250,000! With the funds raised and everyone's (Up)Beat attitudes, we can continue to provide help, hope and a reason to smile to the families battling cancer. Thank you for such a wonderful day! Read more about it here!
---
Patients Enjoy VIP Treatment at Annual Dream Camp with New England Patriots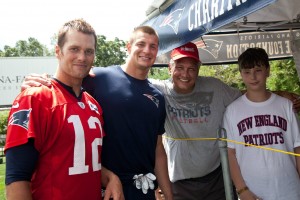 Thanks to the generosity of the Patriots Charitable Foundation, this year's Dream Camp was another resounding success as patients and patient families joined us for the up-close experience of being on the field during Patriots training camp at Gillette Stadium. During the morning of dreams, football and taking a time out from cancer, our guests enjoyed watching a thrilling practice, singing happy birthday to Danny Nickerson, and meeting their favorite football stars, including Tom Brady, Rob Gronkowski, Julian Edelman and Jerod Mayo.  Click here for the full story!
---
42nd New Balance Falmouth Road Race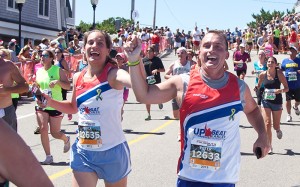 #TeamJAF is less than one month away from the 42nd New Balance Falmouth Road Race, and we're raising money and training harder than ever! For the third year, we'll be joining 12,000 runners for the scenic 7.0-mile run in the heart of Cape Cod, and we want you to run with us.
Registration for the public is officially closed, so the only way to get a bib is to run for your favorite charity. Check out the details and get your #TeamJAF bib today! If you can't join us on the course, please consider cheering our team on from the sidelines or donating to support the team.
---
Macy's Shop For a Cause: Support JAF In Style

We have been selected as a beneficiary for Macy's 9th Annual Shop For a Cause! Here's how it works: from now until the event, JAF will be selling $5 Shop For A Cause savings passes that can be used at any Macy's store across the country on August 23 (Happy Birthday, Joe!) where shoppers will receive 25% off regular, sale and clearance merchandise, including designer brands you love, as well as 10% off electronics, furniture, mattresses and area rugs. JAF keeps 100% of the sales from the $5 passes, and you get unbelievable savings! Click here to buy your pass today!
For more information, check out our blog!
---
PATIENT CORNER–Debbie Llanes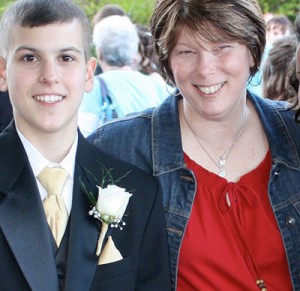 This month, we are highlighting Debbie Llanes and her amazing (Up)Beat story. After her son Joey was diagnosed with a brain tumor, she never expected to find a malignant lump in her breast. Now, Joey has been five years cancer free and Debbie for three! She is such a positive force, and we want to highlight her amazing spirit.
"If you have any inkling that there's something wrong, go to your doctor immediately. Cancer is non-selective so don't think it can't happen to you. Act quickly, stay positive and get ready for the news that you're cancer-free!"
We continue to cheer for the Llanes family, and send our well-wishes to Debbie's daughter-in-law Crista as she runs the Falmouth Road Race! Learn more about Debbie and her family in her Patient Profile.