Summer is Heating Up at JAF!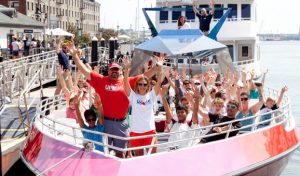 On behalf of our entire organization, we hope you are finding time to enjoy the dog days of summer. Can you believe it's almost August? At least that means football is right around the corner, though, right?But before we officially break the pigskin out of the fall storage closet, let's recap the month that was at the Joe Andruzzi Foundation!
All the best,
Jen and Joe Andruzzi
---
JAF By The Numbers
62
2017 TEAM JAF FALMOUTH ROAD RACE RUNNERS
$46,876
TEAM JAF FALMOUTH FUNDRAISING TO DATE
---
Sprinting Towards the Falmouth Road Race Finish Line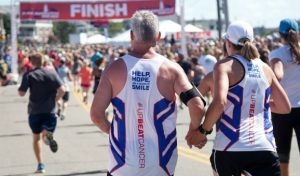 We are less than one month away from the 45th New Balance Falmouth Road Race (8/20), and our amazing runners have been busy raising money and training harder than ever! This year's squad – more than 60 strong! – will join the field of 12,000+ runners as we gather for the scenic 7-mile run in the heart of Cape Cod – all to raise funds in support of JAF's mission of providing help, hope, and a reason to smile for New England cancer patients and their families.
Though all Team JAF members ultimately share this goal, what makes this 2017 team so unique are the wide range of reasons driving each individual runner to join the team. "My motivation is to give back to an amazing organization that I have seen in action personally with their amazing help to my best friend's wife," says Team JAF's Chris Pilkington. "I am running to honor my grandma because even in her weakest moments she was still the most amazing person," Stephanie McHugh told us. "Running reminds me that in my own weakest moments, I am strong too!"
We are perpetually in awe of the individuals who commit themselves to run and fundraise for Team JAF, but they can't do it alone. They need your assistance to reach their lofty goals, and we hope you will consider visiting our 2017 team's fundraising pages to help push them across the finish line.
---
Sunny Skies and Bright Smiles Highlight Annual Codzilla Outing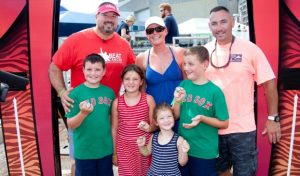 Thanks to our amazing friends and supporters at Boston Harbor Cruises, Joe Andruzzi Foundation patient recipients and their families got to enjoy a beautiful day out on Boston Harbor earlier in July for the eighth annual Joe Andruzzi Foundation Codzilla Thrill Ride (Up)Beat Opportunity!
Codzilla is a high-speed powerboat that whips around Boston Harbor at upwards of 40 miles per hour as music blares and waves splash. Most importantly, our annual outing gives patients a much-deserved day of laughs and fun away from treatment.
The event – part of JAF's ongoing series of (Up)Beat Opportunities – is designed to help take patients and families minds off of cancer, or the financial ramifications of the disease, so that they can enjoy a wet and wild day in the sun.
A big thanks again to Boston Harbor Cruises and the entire Codzilla Thrill Ride staff who are always so generous and a pleasure to be around each and every year. Be sure to check out photos from this year's Codzilla event on our Facebook page here and read more about the outing here!
---
JAF Night at the Paw Sox!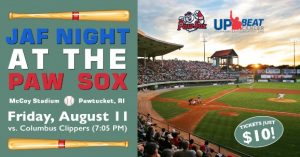 Join the Joe Andruzzi Foundation and the Pawtucket Red Sox for a "JAF Night at the Paw Sox" outing on Friday, August 11 at McCoy Stadium in Pawtucket, Rhode Island.
General admission tickets for the Paw Sox vs. Columbus Clippers game (7:05 PM) are available to Foundation supporters at a very special rate – just $10! – with $5 of each ticket purchased benefiting JAF's mission.
Those purchasing tickets through this page will also be able to attend a special pre-game, on-field ceremonial parade around the infield (must report to Gate A no later than 30 mins prior to start of game), receive a limited edition Nomar Garciaparra Bobblehead (free for the first 3,000 fans to enter stadium), and use a free $2 voucher at McCoy Stadium concessions (included with ticket).
Be sure to click this link to grab your tickets while they last!
---
JAF to Host Tri-Town Chamber's Networking Event
Attention all JAF supporters in and around the Foxborough/Mansfield/Norton area: you are invited to attend the Tri-Town Chamber of Commerce's August Business After Hours event at the Joe Andruzzi Foundation offices (49 Plain Street, North Attleboro, MA) on Wednesday, August 9 (5:00 – 7:00 PM).
The Chamber's Business After Hour networking events are designed as a great way to meet fellow Chamber members, to distribute your business cards and/or brochures, and to make meaningful connections in a comfortable atmosphere.
To register, please RSVP by August 4 to Gillian@joeandruzzifoundation.org.
---
Mark Your Calendars for the 10th Annual Gratitude Gala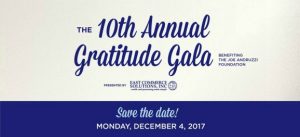 Save the Date! On Monday, December 4, 2017, you are invited to join us in celebrating the Gratitude Gala's 10-year anniversary at Gillette Stadium's Putnam Club in Foxboro, Mass. Trust us, this year's event is going to be BIG; you won't want to miss it!
Keep an eye out for exciting details on our events page and a formal invitation this fall, but in the meantime, please email events@joeandruzzifoundation.org for information on event info and sponsorship inquiries.
---
Champions Circle Business Spotlight–Behavioral Concepts, Inc.

JAF: Tell us a little bit about Behavioral Concepts, Inc.
Dr. Jeffrey Robinson [President and Founder]: Behavioral Concepts, Inc. [BCI] provides in-home, Center and community services for children, young adults, and their families affected by autism. We have Centers located in Worcester and Fitchburg that provide intensive day services for 3-6-year-olds, after-school services for all school-aged kids, and Saturday social skills. BCI enjoys a partnership with the Hockomock YMCA to provide specialized support for members with autism who wouldn't ordinarily be able to participate in the programs offered by the YMCA.
JAF: How did Behavioral Concepts, Inc. become such big supporters of the Joe Andruzzi Foundation?
JR: So many local families are affected by cancer, and the work the Foundation does to help alleviate the painful and financial burdens that come with a diagnosis has always resonated with me and our organization.
JAF: Behavioral Concepts recently joined JAF's Champion's Circle as a Founding Member. What drew you to our new business giving society?
JR: My wife and I were each recently affected by easily treatable forms of cancers. The impact of a cancer diagnosis, no matter how treatable, hits you hard. We were fortunate, but so many others are battling for their lives. There are thousands of local families fighting the disease, and it can be overwhelming just thinking about where to start to make a substantial difference across the region. Cancer truly affects everyone, and by teaming up with other local businesses, I feel strongly about the impact we can achieve through Champions Circle.
…
Champions Circle is the Joe Andruzzi Foundation's new giving society designed to recognize exceptional businesses who want to play a key role in emotionally and financially supporting New England cancer patients and their families through their cancer journeys. The program is focused on highlighting businesses and business leaders who commit to making an impact locally with their annual gift to JAF. As a member of Champions Circle, you join like-minded business leaders who share a commitment in supporting cancer patients with impact at a local level. For more information, please visit www.jafchampionscircle.org.
---
#UpBeatCancer Spotlight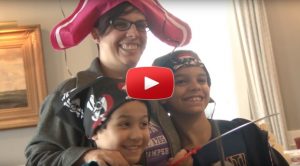 The Sailing Heals organization recently teamed up with the Boston Yacht Club in Marblehead, MA to host the annual 'Pirates and Princesses Treasure Hunt Adventure' – a special day for young cancer patients to cruise on power boats, hunt for treasures, enjoy a delicious pirate-themed lunch, and ultimately, imagine themselves as real pirate and princesses for the day, miles away from any hospital or treatment room!
This year, two JAF patient grant recipient families had the chance to attend and enjoy the festivities, and it's safe to say everyone had a swashbuckling good time! Thanks again to Sailing Heals for putting on such a wonderful and upbeat event, and for including JAF grant recipients! Check out the video above for a full recap of the event!