Swinging Through the First Days of Summer
Happy First Days of Summer!
Can you believe the Fourth of July is just days away? That means our annual Joe Andruzzi & Friends Golf Tournament has just wrapped.
But that's not everything that kept JAF busy in June – read all about the month that was below!
All the best,

Jen and Joe Andruzzi
---
JAF By The Numbers
$300,000+
2017 GOLF TOURNAMENT FUNDRAISING
425+
PATIENTS TO BE ASSISTED THANKS TO #JAFGOLF17
---
Ninth Annual Golf Tournament Raises $300,000!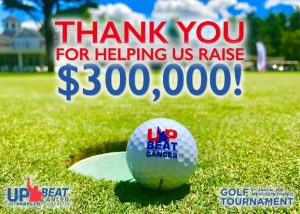 This past Monday – June 26, 2017 – hundreds of Joe Andruzzi Foundation supporters gathered at the immaculate Pinehills Golf Club in Plymouth, MA for the 9th Annual Joe Andruzzi & Friends Golf Tournament, presented by East Commerce Solutions, Inc.
The event was a hole-in-one! When it was all said and done, more than $300,000 had been raised to provide financial and emotional assistance to over 425 cancer patients and their families.
We want to thank all the participants and sponsors, board and committee members, volunteers,  and celebrities who generously donated to the event and auction, both with their time and resources. Be sure to check out our Facebook photo album for some amazing on-the-course shots and click here to read a full recap of the tournament.
---
Learn How Your Business Can Be a Champion for Those Living with Cancer!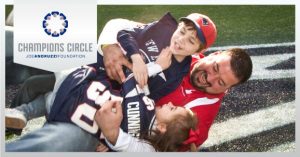 We are so proud to introduce JAF's Champions Circle: a new giving society designed to recognize exceptional businesses who want to play a key role in emotionally and financially supporting New England cancer patients and their families through their cancer journeys. The program is focused on highlighting businesses and business leaders who commit to making an impact locally with their annual gift to JAF.
As a member of Champions Circle, you join like-minded business leaders who share a commitment in supporting cancer patients with impact at a local level. In return, you and your business will be recognized and promoted through social media and other channels. Consumers often make decisions with their hearts as well as their heads and we want your business to do well, by doing good.
Follow this link to find out how your business can join the Champions Circle huddle today.
---
Save the Date: Milestone 10th Annual Gratitude Gala Coming this December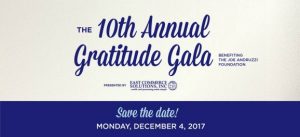 Mark your calendars! On Monday, December 4, 2017, you are invited to join us in celebrating the Gratitude Gala's 10-year anniversary at Gillette Stadium's Putnam Club in Foxboro, MA. Trust us, this year's event is going to be BIG; you won't want to miss it!
Keep an eye out for exciting details and a formal invitation this fall, but in the meantime, please email events@joeandruzzifoundation.org for information on event info and sponsorship inquiries.
---
#UpBeatCancer Spotlight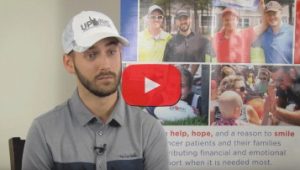 We want to send a special thank you to our friends at Regan Communications who helped produced this amazing patient profile video of former JAF grant recipient Matt McSweeney which was played during our post-round dinner reception at Monday's golf tournament. Matt's infectious smile and positive demeanor perfectly represent everything our (Up)Beat Cancer mission stands for and we were honored to have him with us for the day.
There were plenty other (Up)Beat Cancer moments at the golf tournament as well. For the second year in a row, a Pinehills Golf Club bartender donated his tips from the day to the Foundation and one of the dinner servers participated in our Fund-A-Need at the $100 level. A former patient recipient who the Foundation funded last year also dropped by Pinehills to surprise us with a donation! There is nothing that warms our hearts quite like seeing individuals pay-it-forward for the greater good, and the Joe Andruzzi & Friends Golf Tournament always seems to be filled with (Up)Beat Cancer moments!