Hoppin' Through the Last Days of Winter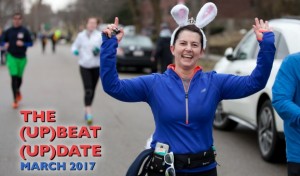 Can you believe it's already spring?
While the New England weather hasn't totally cooperated yet, there have been signs in the JAF world that warmer days are ahead – like the upcoming Boston Marathon and Ninth Annual Joe Andruzzi & Friends Golf Tournament! (Not to mention that Easter appears to have come early for some furry-tailed members of Team JAF – more on that below)
We may have recently turned the clocks forward, but before we close the book on March 2017, let's recap the month-that-was at JAF…
All the best,
Jen and Joe Andruzzi
---
JAF By The Numbers
$201,248
2017 TEAM JAF BOSTON MARATHON RUNNER FUNDRAISING
287
PATIENTS TO BE ASSISTED (THANKS TO TEAM JAF)
---
Start Spreading the News…
On Sunday, March 19, the Joe Andruzzi Foundation's Team JAF charity runners raised more than $10,000 as they hit the streets of NYC for the annual United Airlines NYC Half Marathon to raise funds and awareness in support of JAF's mission.
We want to send a big THANK YOU to New Balance for once again hooking our runners up with their amazing singlets, as well as Davio's Manhattan for hosting our team's pre-race welcome event.
And last, but certainly not least, we want to congratulate the amazing Team JAF charity and awareness runners for all they have done in support of our mission over the past four months. We are so incredibly lucky to have you all in our corner! To see photos from the big day, click here!
---
 17 Days Until Marathon Monday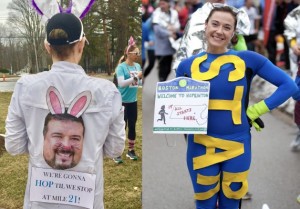 In just over two weeks, 20 Joe Andruzzi Foundation Team JAF Boston Marathon runners will be coming down Boylston Street on Marathon Monday – all of whom have been raising funds throughout months of training in support of JAF's mission. To date, our runners have raised more than $200,000 – and if you haven't already, there is still plenty of time to support the cause.
So how has the team been preparing for the big day? On Saturday, March 25 the Team JAF Boston runners participated in CharityTeams' annual Hop 21 long run, which, as always, produced some amazing photos – check them out on our Facebook page here. Our runners will do whatever it takes to get to the finish line, even if it means dressing up in wacky costumes!
Special thanks to Star Market, Marathon Sports, and BODYARMOR SuperDrink for donating product for our water stop. Check out Team JAF's Crowdrise Page!
JAF Exec. Director Runs Boston Thanks to Acura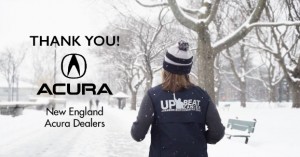 On behalf of the New England Acura Dealers Association (NEADA) and its partnership with the Boston Athletic Association (B.A.A), Acura of Peabody granted our own Jen Andruzzi access into the 2017 Boston Marathon and plans to champion her mission to raise $50,000 for JAF's C.J. Buckley Brain Cancer Research Fund at Boston Children's Hospital.
Cidalia Schwartz, marketing director of the Lyon-Waugh Auto Group, including Acura of Peabody said of the partnership, "Jen and the Joe Andruzzi Foundation have seen first-hand the challenges and adversity that so many cancer patients face on a daily basis. I know Jen is keenly aware that the pain and fatigue she has conquering 26.2 miles cannot be compared to the physical and emotional toll cancer patients and their families endure. This is why we can't think of a better recipient to receive entry into the 2017 Marathon."
We are so thrilled to partner with NEADA and Acura of Peabody to help raise additional funds through the 2017 Boston Marathon – and be sure to check out the amazing video the Acura team created to highlight Jen's campaign.
---
 Save The Date: Ninth Annual Joe Andruzzi & Friends Golf Tournament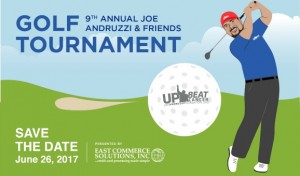 Join us for the Joe Andruzzi Foundation's Ninth Annual Golf Tournament, Presented by East Commerce Solutions, Inc., on Monday, June 26 at Pinehills Golf Club in Plymouth, Mass.
Last year's tournament raised a record-breaking $335,000, and proceeds from this year's event will once again benefit JAF's mission.
For sponsorship opportunities, or to inquire about playing in this year's tournament, please contact Gillian O'Brien at (508) 261-0630 or email events@joeandruzzifoundation.org.
---
 JAF, ALEX AND ANI Celebrate New Charm Bangle Launch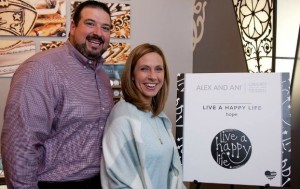 On Tuesday, March 7, Jen, Joe, and the Joe Andruzzi Foundation hosted a "Live a Happy Life" Charm launch event at ALEX AND ANI's Patriot Place location to celebrate JAF's new CHARITY BY DESIGN bangle. Earlier in the month, the Joe Andruzzi Foundation & ALEX AND ANI teamed up for the new "Live A Happy Life" bangle – and, as always, 20% of the purchase price will continue to support JAF's fight to (Up)Beat Cancer!
Be sure to click this link to see photos from the launch event.
---
 Boston Bruins Foundation Hosts JAF for 50/50 Fundraiser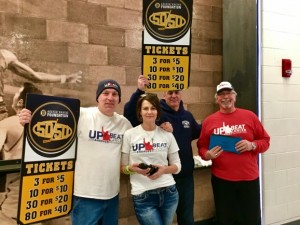 On Saturday, March 11, JAF staff and volunteers headed to TD Garden for the Boston Bruins/Philadelphia Flyers matinee – but not just to take in some hockey…
Thanks to an invitation from the Boston Bruins Foundation,  JAF was on-site selling 50/50 raffle tickets during the first and second periods of the game. By day's end, $11,000+ was raised in support of JAF's mission!
On behalf of the entire Joe Andruzzi Foundation, we want to thank Charlie Jacobs, Bob Sweeney, Zack Fitzgerald, and everyone else at the Boston Bruins Foundation for its generosity and support of the cancer patients JAF serves.
Be sure to check out photos from the game on our Facebook page.
---
 #UpBeatCancer Spotlight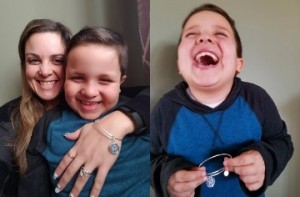 In honor of our new ALEX AND ANI charm bangle, we asked Michelle Calado – a JAF grant recipient – what "Live A Happy Life" means to her and her son Sebastian, a young cancer survivor.
Their story will absolutely inspire you: http://bit.ly/2mAI6Yp